The Trump administration is in place, and one of the new president's first targets is his predecessor's signature policy. The Republican-led Congress has already started work on dismantling the 2010 Patient Protection and Affordable Care Act.
And sure enough, one of Trump's first acts as president was to sign an executive order directing the Secretary of Health and Human Services and others to "exercise all authority and discretion available to them to waive, defer, grant exemptions from, or delay" any requirement of Obamacare that would impose a fiscal burden.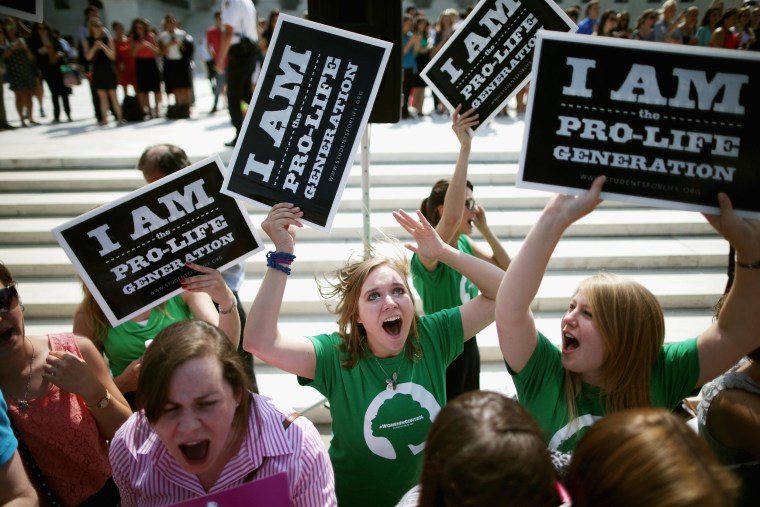 It's vague but Trump could decide either to disrupt or strengthen the healthcare system, said Larry Levitt, senior vice president for special initiatives at the Kaiser Family Foundation.
"Conceivably, blowing up the system early on could allow the Trump administration to point to the fact that the Affordable Care Act is collapsing and needs to be replaced — even if the collapse was caused by actions they took," Levitt said.
"They have a lot of tools at their disposal to put new rules in place quickly," he added.
Here are five that would be easy to change:
Free Birth Control
The Affordable Care Act requires health insurance to cover preventive services without a co-pay for all customers, including birth control. It's been one of the most controversial provisions and the subject of high-profile lawsuits.
And it's one the new Trump administration could end within days.
"They could end free contraceptive coverage entirely," Levitt said.
That's because the Health and Human Services Department defines counts as "preventive services."
"There are also women's services that are left up to HHS to determine and that includes free contraception," Levitt said. "That's something that could end pretty quickly." They could also make it easier for employers like Hobby Lobby, which pressed a lengthy lawsuit against providing birth control to employees, to stop providing the coverage.
Free preventive care
"The law lays out 10 categories of essential benefits that insurers have to provide," Levitt said.
"The details of the required benefits are left up to HHS. So for example, it's pretty clear from the statute that insurers have to cover hospital care, physician visits, drugs and other services."
But it doesn't say insurance companies have to pay for every single one. So the new administration could move quickly to allow more flexibility and let insurance companies decide they will only pay for a certain number of visits, or limit how many days they'll pay for in a hospital — no matter how sick someone is.
"There is nothing in the law that says hospital care has to be unlimited," Levitt said. And the new order, with its vague references to financial burden, could include this provision.
Cost Sharing
One thing the new administration could do immediately is stop paying insurance companies to help keep health insurance costs down for low-income clients, and that could create immediate chaos, Levitt said.
The federal subsidies to pay premiums are enshrined in the law, but the cost-sharing reductions reimburse health insurers for charging lower co-pays and deductibles for more than 60 percent of Obamacare customers. Congress has refused to allocate money to do that, but Obama's HHS kept paying them anyway.
"Insurers would still have to provide coverage with low copayments and deductions but they wouldn't get paid for doing so," Levitt said. "Their contracts with the federal marketplace allows them to get out of those contracts if the subsidies end."
Insurers could just dump customers who thought they were covered, he said.
"That would really be destroying the bridge behind you. There would be no turning back," Levitt said.
The Mandate
One aspect of the law that the GOP has spoken out against most strongly is the mandate requiring almost everyone to have some kind of health insurance or pay a tax.
"The Trump administration could virtually end the individual mandate all on their own by using their authority to grant hardship waivers," Levitt said. "There is no definition of hardship in the law."
Trump could just redefine hardship to include anyone who had to pay anything, for example.
Obama did the same thing himself when he said people living in states that didn't expand Medicaid could be exempt from the requirement — because it left the very poorest people out in the cold. Obama had planned for all 50 states to expand their Medicaid programs, but when many Republican-led states defied him, people who didn't make enough money to qualify for subsidies were left with no help in buying health insurance.
But it would enrage insurance companies, who demanded a mandate in return for the new provisions forcing them to cover all customers, including people who were already sick. For many Republicans, the individual mandate amounts to significant government overreach.
However, "it also protects insurers and provides stability to the market," Levitt said.
One possible replacement would take time: allowing people who are already sick to get coverage if they've kept steady health insurance coverage for at least 18 months. That would stop people from hurrying to buy health insurance only when they get sick.
Counting the numbers
The Obama administration kept trumpeting its ACA signup numbers right up to the end, and that was one of the most obvious successes of Obamacare: getting health insurance to 20 million people.
The new administration could stop reporting those numbers.
"All the final reports of how many people have signed up will be put out by the Trump administration," Levitt said. "There is a certain irony in that. There's nothing that requires them to put out those reports."