If flu seems to be everywhere all of a sudden, that's because it is, the Centers for Disease Control and Prevention said Friday.
Influenza is peaking at the same time across virtually the whole United States, making for a "very active" flu season, the CDC said in its weekly update on the annual flu epidemic.
"Flu is everywhere in the U.S. right now. There's lots of flu in lots of places," the CDC's Dr. Daniel Jernigan told reporters.
"The sense that the nation has right now is that a lot is happening."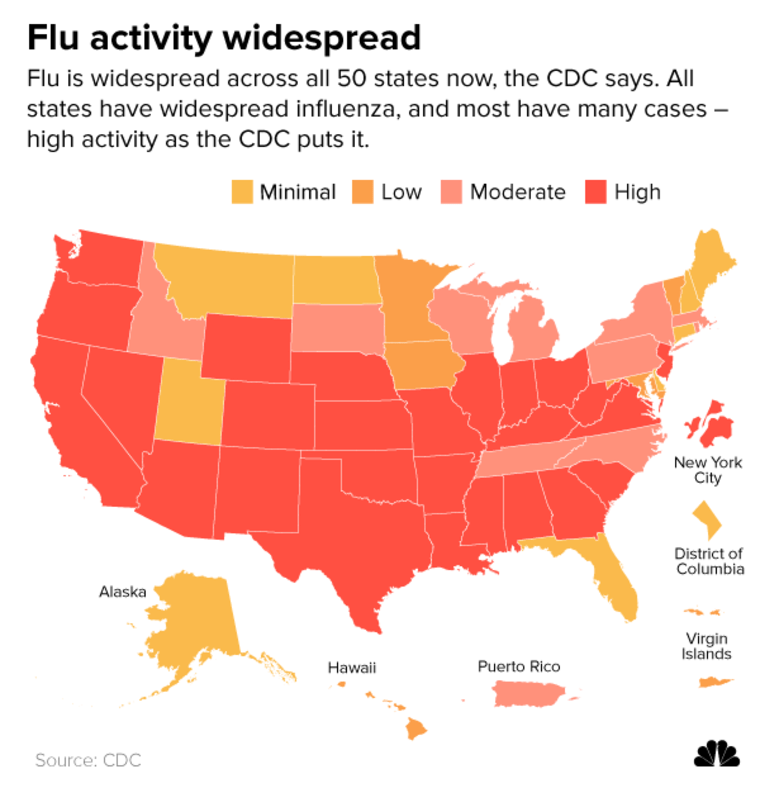 Flu rates were about doubled this past week over the week before, the CDC said.
The season is shaping up to be severe, but so far is not setting any records, Jernigan said. The virus has already killed 20 children and is sending many people into hospitals and emergency rooms.
"We are seeing a very active flu season. Early signs are that it might be severe," Jernigan said.
Related: Flu epidemic hits U.S. early this year
Some emergency rooms in several states have reported they are crowded and a few schools have closed, as happens almost every year, to help let local epidemics burn out.
"Flu seasons every year are bad," Jernigan said. "Each year in the United States we have an epidemic of flu. Clearly, yes, this is an epidemic."
Influenza is a major killer.
Anywhere between 140,000 and 710,000 people in the U.S. go to the hospital every year with flu and 12,000 to 56,000 people die from it, depending on the season.
Worst hit are the very young, the very old, and people with coexisting medical conditions such as asthma, diabetes and heart disease.
But flu can also kill perfectly healthy adults and children.
Each flu season is different and it's hard to compare one to another, but Jernigan said this season seems a little less severe than the 2014-2015 flu season. Several flu strains circulate in any given season and this year, H3N2, H1N1 and two strains of influenza B are circulating.
Related: Flu hitting early, looking tough
Right now, H3N2 is the most common strain in the U.S. Flu strains mutate a little constantly but the H3N2 now spreading is not a new mutant, the CDC said. The current vaccines on the market protect against all four of the most common strains.
"While flu vaccines are far from perfect, they are the best way to prevent getting sick from the flu," CDC director Dr. Brenda Fitzgerald said.
So far, it looks like the current vaccines on the market provide about 30 percent protection from H3N2 flu, the CDC said. But better estimates of how well the vaccine has been working won't be available until February.
It's not too late to get a flu vaccine, the CDC said, and there should still be plenty of vaccine supply. Sometimes there are second and even third waves of flu, so a state that's been hit hard by H3N2 might see a fresh wave of H1N1 flu later and then influenza B may pass through even later.
"In general, we see things peaking right about now," Jernigan said.
"Even if we have hit the top of the curve or the peak, it still means we have a lot more flu to go."
Related: Here's one reason flu vaccines can be so lousy
And certain people should seek immediate treatment if they think they might have flu. That includes people over 65, children under 5 and people with conditions such as asthma or diabetes.
If someone has any trouble breathing, they should seek immediate emergency care.
Three drugs on the market are effective against flu: oseltamivir or Tamiflu; zanamivir or Relenza; and peramivir. There are also generic versions of the name-brand drugs, Jernigan noted. They are not cures but if given immediately can make a bout of flu less intense.
National supplies are adequate but there could be spot shortages, the CDC said. Jernigan recommended calling ahead to a pharmacy before trying to fill a flu drug prescription to make sure it's on hand.