Late-night changes to the Republican health care plan have apparently made people hate it even more than they did before.
"The 'sweeteners' in GOP #ACArepeal bill are leaving a very sour taste in my mouth. They target the most vulnerable," Robert Doherty, top lobbyist for the American College of Physicians, said in a flurry of tweets about the American Health Care Act.
"More than 180 state lawmakers are voicing concerns with the House GOP healthcare bill. Americans need #FullRepeal," the right-wing Heritage Foundation weighed in.
The AHCA bill needs 216 votes to pass in the House of Representatives, which is scheduled to vote Thursday. No Democrat is likely to vote for it, which means it would take just 22 GOP votes against it to kill it. The Senate is an even tougher sell.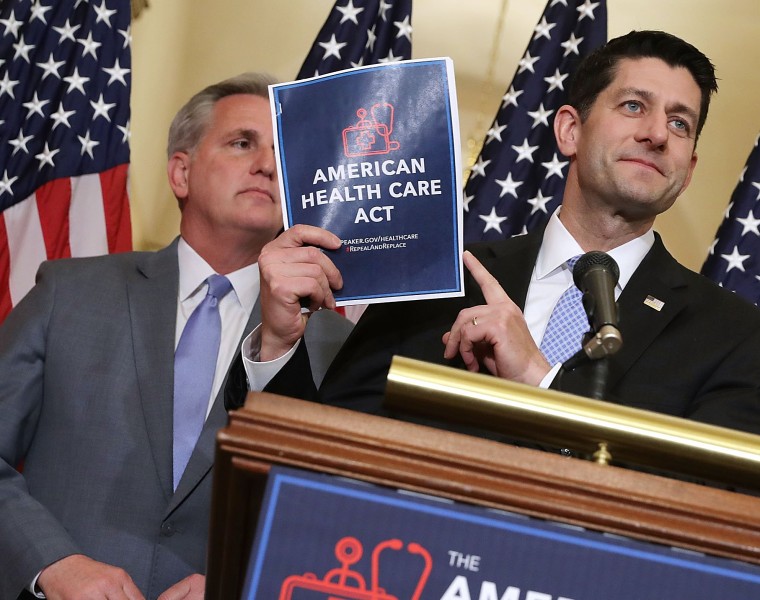 The House Energy and Commerce Committee released a list of changes late Monday night meant to address some of the strongest right-wing criticisms of the law, which is designed to begin to replace Obamacare.
They include more efforts to transform Medicaid, such as allowing states to opt for block grants instead of open-ended funding — something that almost certainly will make Medicaid a much smaller program.
The changes also would prevent any more states from opting in to the Medicaid expansion — one of the basic planks of the Affordable Care Act meant to get more people covered by health insurance. And it specifies that people currently enrolled in Medicaid would roll off. "As enrollees see their life circumstances and incomes change, they will naturally cycle off the program, allowing for a responsible unwinding of the expansion," committee staff said in a statement.
The provisions also would allow states to make more changes to Medicaid, including requirements that people work in return for receiving Medicaid.
They do allocate more money for the elderly to cope with inflation. Medicaid pays for nursing home and other long-term care for the poorest Medicare patients.
The tweaks accelerate the repeal of some taxes that paid for the ACA and they strengthen the stipulation that tax credits cannot be used to buy policies that would pay for abortions.
Some conservatives remained unimpressed.
"While I've been in Congress, I can't recall a more universally detested piece of legislation than this GOP health care bill," Michigan Rep. Justin Amash, a Republican, tweeted.
President Donald Trump met with Republican leaders in Congress Tuesday and urged critics to vote for the bill. He warned that the lawmakers risk losing re-election if they do not vote to pass the bill.
"I think we are going to get a winner vote," Trump told reporters as he left the Capitol. "They want a tremendous health care plan. That's what we have. There's going to be adjustments to it, but I think we'll get the vote on Thursday."