Republican senators introduced a partial replacement to the Affordable Care Act on Monday that would let states keep some aspects of the Obamacare law, but that would end the mandate requiring citizens to carry health insurance.
The measure, by Sen. Bill Cassidy of Louisiana and Sen. Susan Collins of Maine, is being billed as an "Obamacare replacement plan" that would empower states and get health insurance to more people.
Collins said the plan is clearer than an executive order President Donald Trump signed hours after his inauguration on Friday directing the Health and Human Services Department to "waive, defer, grant exemptions from, or delay" any ACA requirement that would impose a fiscal burden.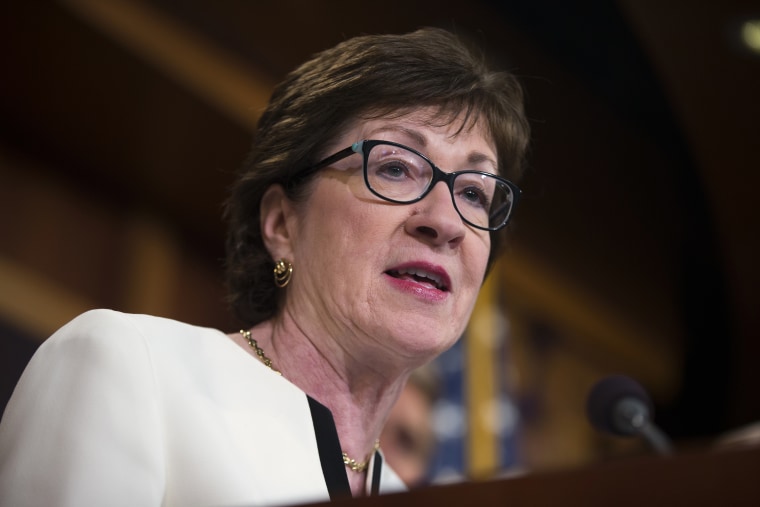 It orders agencies to give greater flexibility to states in implementing the health care law. It says the policy of the Trump administration is to "prepare to afford the States more flexibility and control to create a more free and open healthcare market."
Experts on both sides of the political divide said Trump's executive order did little to change the law.
"I think the executive order is in a large part symbolic," Douglas Holtz-Eakin, an economist and president of the American Action Forum. "It's important symbolism. There was a commitment to repeal and replace the Affordable Care Act," Holtz-Eakin told NBC News.
"It basically resets the policy direction of the administration, from expanding coverage, the Obama administration's goal, to reducing regulation and taxes, transferring responsibility to the states, and moving toward more market competition," said Timothy Jost, an emeritus professor at the Washington and Lee University School of Law.
"I think the executive order is in a large part symbolic."
"But it doesn't change anything yet on the ground. That will mostly need to be done by rulemaking by the relevant departments."
Related: Five Obamacare Provisions Trump Could Change Right Away
Collins called the executive order "very confusing". Her plan would allow states to automatically enroll people in bare-bones health insurance while allowing them to opt out.
It would give states money to either keep or replace the ACA's Medicaid expansion; 19 states still have not expanded that program to cover more people.
"We need legislation," Collins told reporters. "There are some improvements that can be made through the executive order, and through the regulatory process, but that by no means takes away the need for comprehensive legislation."
The proposal would let states keep the same level of federal funding they would have gotten if 95 percent of people eligible to get federal subsidies for health insurance had signed up.
"In addition, the state will receive the money that would have been paid for a Medicaid expansion. If states have already expanded Medicaid, the state can choose to keep the Medicaid expansion or convert that funding into subsidies to help individuals purchase private insurance," the senators said in a statement.
Related: Obamacare Repeal Would Leave 18 Million Uninsured, Report Says
"It also keeps important protections such as coverage for pre-existing conditions, allowing dependent coverage through age 26, and retaining improvements to the federal Black Lung benefits program, which is especially important in West Virginia," added co-sponsor Sen. Shelley Moore Capito, a West Virginia republican.
These are popular provisions of the Obamacare law.
One unpopular provision has been the mandate. Trump counselor Kellyanne Conway told ABC News that Trump "may stop enforcing the individual mandate." But health insurance companies say the mandate — or something approximating it — is vital to keep younger, healthier people in the mix and paying premiums.
The plan "returns authority back to the states to structure their insurance markets and serve their Medicaid populations in ways that meet the unique needs of each state," said Sen. Johnny Isakson, a Georgia Republican.
"Americans could purchase more robust coverage if they chose."
States could enroll residents in a basic health plan that would include a Roth Health Savings Account (HSA) with funds directly deposited, a high deductible health plan, and a basic pharmacy plan.
"Americans could purchase more robust coverage if they chose, and without the ACA's restrictive mandates, the options available would not only likely be more affordable, but individuals could pick among plans to find one that best suits their specific needs," the Republican senators said.
"The Patient Freedom Act would also establish new protections for those who need emergency care, by placing limits on out-of-network surcharges for emergency medical services paid for with an HSA. The proposal also requires providers to publish 'cash prices' for services paid for with an HSA or with cash."
Open enrollment for 2017 for one of the health insurance plans offered on the Obamacare exchanges ends Jan. 31. The Obama administration said 20 million Americans got coverage under the ACA. Most Americans are covered by employer-sponsored health insurance.