New federal government health insurance statistics show the rate of people going without health insurance fell below 9 percent for the first time in 2016.
There wasn't a big change from 2015 to last year, but the latest numbers from the National Center for Health Statistics show the Affordable Care Act continued to get more people covered by health insurance of some sort.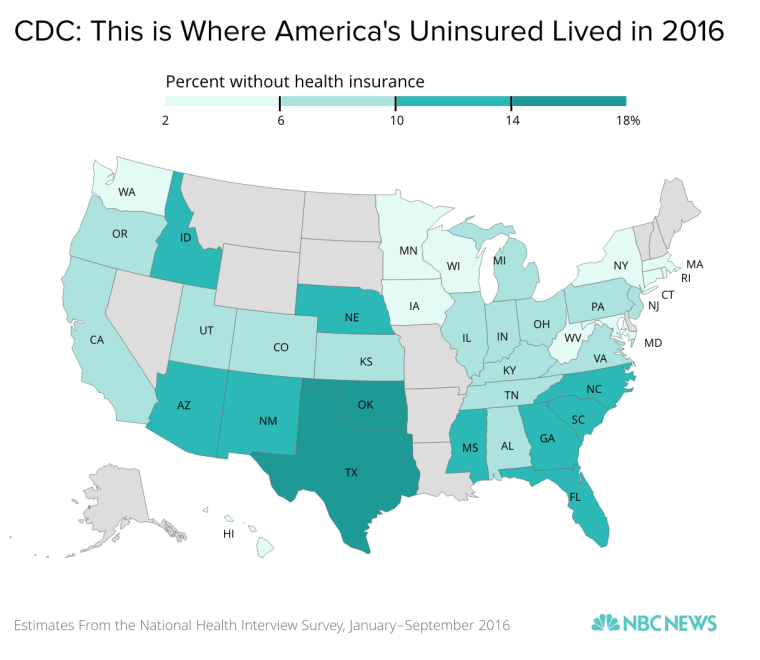 The numbers also show that by far the most Americans are covered by private insurance provided by an employer and fewer than 5 percent were covered on the Obamacare exchanges, where people who don't have employer coverage can buy private plans.
"About 20.4 million fewer persons lacked health insurance coverage in the first 9 months of 2016 compared with 2010 (48.6 million or 16 percent)," the NCHS, part of the Centers for Disease Control and Prevention, said in the report.
Related: 9.2 Million Signed up for Obamacare
"In the first 9 months of 2016, 28.2 million (8.8 percent) persons of all ages were uninsured at the time of interview," it added. The NCHS estimates that 400,000 more people got insurance between 2015 and 2016 but said the calculation wasn't statistically significant.
Rates were higher for minorities. The NCHS found that 24.7 percent of Hispanics and 15 percent of African-Americans lacked health insurance in 2016 but Obamacare has been bringing the numbers down.
Related: Hurry up and Repeal Obamacare, Conservatives Say
"Hispanic adults had the greatest percentage point decrease in the uninsured rate between 2013 (40.6 percent) and the first 9 months of 2016 (24.7 percent)," the NCHS said.
Here's where Americans got their health insurance in 2016:
69 percent of adults under 65 got health insurance through an employer
20.3 percent of adults under 65 got public coverage such as Medicaid or the VA
12.3 percent of adults under 65 had no health insurance
4.8 percent of adults, or 9.4 million, got insurance on the Affordable Care Act exchanges
5 percent of children had no health insurance
43 percent of children had public coverage such as Medicaid or CHIP, the Children's Health Insurance Program
53.5 percent of children have private health insurance, either through an employer or the Affordable Care Act exchange