A powerful Senate Republican is demanding answers from a private-equity backed hospital in southeast Iowa amid revelations that a male nurse practitioner at the facility sexually assaulted nine female patients there in 2021 and 2022.
The facility, Ottumwa Regional Health Center, is part of Lifepoint Health Inc., a hospital system headquartered in Brentwood, Tennessee, and owned by Apollo Global Management, the huge private-equity firm in New York co-founded by Leon Black.
The incidents at the Ottumwa facility came to light late last year after the overdose death in the hospital of Devin Caraccio, 27, a certified nurse practitioner who was a contract employee at the hospital, according to its spokeswoman. After he died on the job in October, the Ottumwa police accessed his cellphone, finding photo and video evidence that he had assaulted the patients, according to a police department investigator, Jeremy Tosh. 
The police department said in a statement in December that "It is suspected that all of the victims were asleep, or in a state of unconsciousness when the assaults took place." Two of the victims have not yet been identified; two were under 18, Tosh said in an interview last week.
Eight-term Sen. Chuck Grassley of Iowa sent a letter last month to the hospital, Lifepoint Health and Apollo's chief executive, Marc Rowan. In it, he asked whether financial practices had reduced money for patient care and may have facilitated the sexual assault.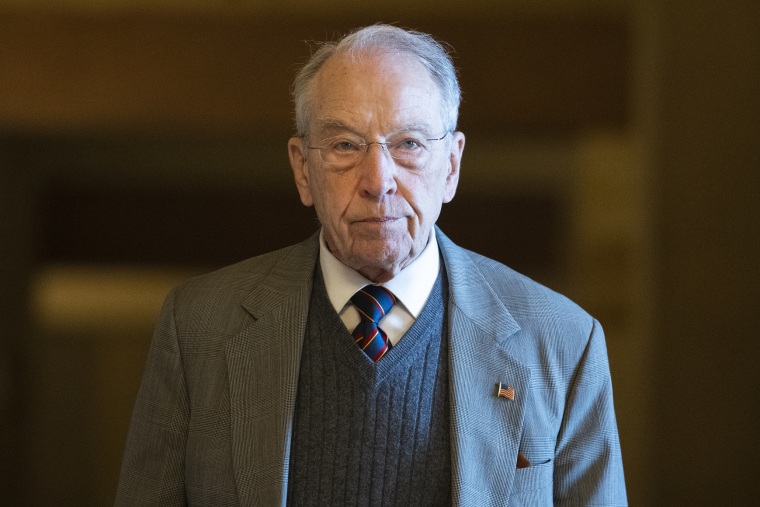 One of Grassley's questions was whether Apollo contractually shields itself from liability for activities that occur at hospitals it invests in, operates or manages. He also asked Apollo to detail its "expertise regarding rural or non-urban hospitals."
A spokeswoman for Apollo said: "Our funds are investors in Lifepoint and we are responding to the questions from Senator Grassley's office."
In addition to Ottumwa Regional, Lifepoint has more than 60 acute care hospitals in 17 states, including Arizona, Kentucky, Tennessee and Virginia. The facility in Ottumwa, a town of 25,000, is one of many rural hospitals owned by Lifepoint; it is the only hospital in the 432-square-mile county of Wapello. 
Rural hospitals have experienced considerable financial pressure in recent years, alleviated somewhat by government relief funds disbursed during the pandemic. According to research from the KFF, a nonprofit group formerly known as the Kaiser Family Foundation, median operating margins at rural hospitals before the pandemic were 1.5%, versus 5.2% for nonrural facilities.
In a statement, Cara Clouse, a spokeswoman for Ottumwa Regional Health Center, said the facility is committed to the safety and well-being of its patients.
"The heinous acts of this former contractor clearly violate our policies and values, and our hearts are with all those affected by his misconduct," she said. "Ottumwa Regional continues to cooperate with law enforcement, and we have adopted a number of reforms to further strengthen our controls and security to safeguard those we serve and prevent rogue bad actors."
A Lifepoint spokeswoman said that the company "is deeply disturbed by the terrible acts committed by a contractor at Ottumwa Regional Health Center," and that the company is implementing "new policies and reforms to help ensure patients and their families are protected."
Over the past decade, private-equity firms like Apollo have spent hundreds of billions of dollars buying up health care businesses, including nursing homes, hospital staffing companies and physician practices. To finance these purchases, private-equity owners typically burden the companies they buy with debt, then slash the companies' costs to increase earnings and appeal to potential buyers down the road.  
In the business of health care, the drive for profits can run counter to the goal of helping patients, critics say. 
Caraccio's assaults on patients raise "serious questions with respect to whether these hospitals have the right resources or if they are being loaded with overwhelming amounts of debt to the point where they are forced to shift money away from patient care," Grassley wrote in his letter. It also went to the CEO of Lifepoint Health; the chief executive of Warburg Pincus, another private-equity firm that owned Ottumwa Regional Health Center before Apollo bought it; and the CEO of Medical Properties Trust, a real estate investment company that had conducted a financial transaction involving the facility. 
Apollo bought the Ottumwa facility in 2015 from Warburg Pincus, and it became part of RegionalCare Hospital Partners. A flurry of transactions followed: The next year, Apollo merged RegionalCare with Capella, another health care company, and in 2018 Apollo merged those operations with Lifepoint Health. 
Then, in 2019, Medical Properties Trust bought the real estate under 10 Lifepoint hospitals, including Ottumwa Regional, leasing them back to the facilities. Private-equity firms often conduct such transactions, generating cash for themselves and their partners from the sale of real estate underlying the facilities, but often saddling the hospitals with increased costs in rents. 
The sale and leaseback of the real estate in Ottumwa does not appear to have added to the facility's rental costs, according to a person briefed on the transaction.
Nevertheless, such transactions are a concern to Grassley. "The constant selling and reselling of hospital assets by private equity, private capital, real estate investment trusts (REITs), and other related entities raises questions with respect to whether these financial maneuvers have negatively impacted the resources and thereby the care our nation's rural hospitals provide to their patients," he noted in his letter.
The Lifepoint spokeswoman said: "The actions of this one disturbed individual do not reflect who we are, our core values, or how we operate any hospital and in no way can be linked to Ottumwa Regional's financial standing. Lifepoint is proud of the substantial investments we have made since becoming a part of the Ottumwa community in 2018, including the more than $31 million in facility and technology updates and for physician recruitment and retention."
A spokesman for Grassley said the investigation by his office is ongoing. The recipients of his letter were asked to respond by Friday, March 31. The spokeswoman for the hospital declined to comment on the letter.