Five million people have now signed up for health insurance on the state and federal online exchanges, the Obama administration said Monday — a number that suggests a big-last minute surge to get coverage.
The new figures suggest a final push by the White House to get people to enroll is working. The deadline to get signed up for 2014 is March 31, just two weeks away. As of March 1, the Health and Human Services Department said 4.2 million people had signed up.
"Fernando Valdez and Denise Schroeder were part of a weekend wave of consumers signing up for new coverage and bringing enrollment nationwide to more than 5 million through the federal and state-based marketplaces since October 1st," Marilyn Tavenner, head of the Centers for Medicare and Medicaid Services, wrote in a blog post.
"Fernando Valdez, 25, of El Paso, Texas woke up early on Saturday, after his mother insisted that he walk to an enrollment center and enroll in Marketplace coverage. Now, he will pay $22 a month for his health insurance," Tavenner wrote. That's because he'll qualify for a hefty federal subsidy to pay his premium.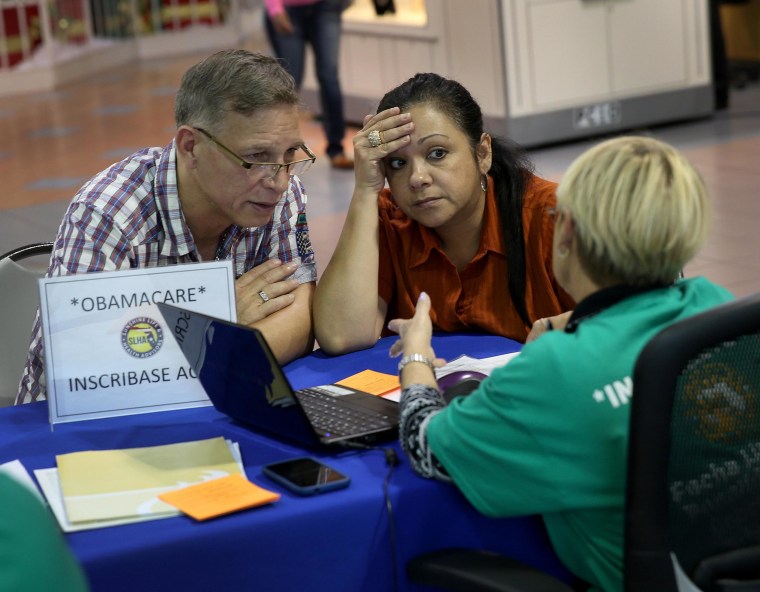 "Denise, a small business owner in West Chester, Pennsylvania who runs 'Happy Heart Clown N'Stuff' which does balloon decorating and entertainment for parties is also a cancer survivor," Tavenner adds. Schroeder was paying $880 a month in premiums, but qualified for a subsidized plan and will pay $22 a month, Tavenner said. "When she saw the new premium, she cried," Tavenner wrote.
HHS, the White House and allies are trying every approach they can to encourage people to sign up for health insurance on the new exchanges after a technical disaster kept millions from signing up for the first two months after they opened. They've invoked moms and brought in celebrities; they've subjected President Barack Obama to online comedy shows and this month they're playing off "March Madness" college basketball playoffs.
The goal is not only to sign up at least 6 million people, but to get the right mix of young and healthy enrollees versus older and sicker people, so premiums don't have to spike next year.