All of a sudden, Medicaid is trendy again.
The governor of Kansas vetoed a bill on Thursday that would have expanded Medicaid in his state. But the legislature is reserving the option of trying to override the veto and Virginia and North Carolina are moving toward expansion.
Several other states are considering it.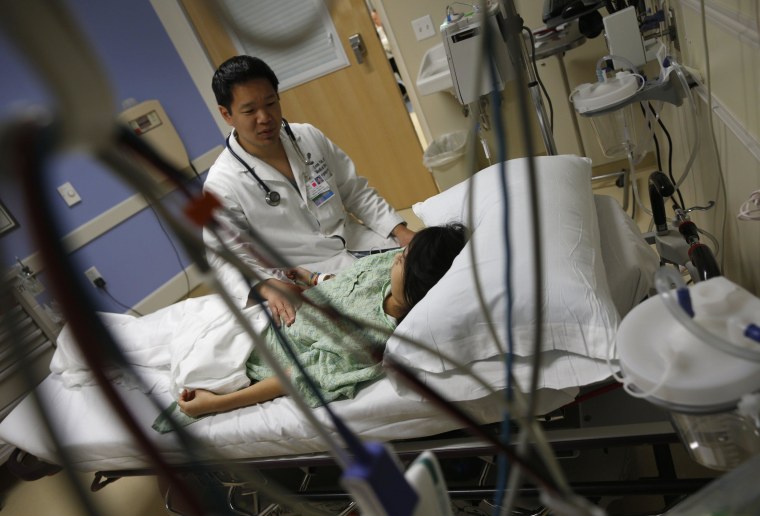 It's a fast turnaround made by states that had resolutely resisted taking part on a major plank of the 2010 Affordable Care Act — the expansion of Medicaid to cover more people.
Now that the GOP-sponsored American Health Care Act has failed to win support in Congress, governors and state legislatures are taking a hard look at whether that offer of federally funded Medicaid expansion is worth taking up.
Not everyone thinks it is.
"The cost of expanding Medicaid under ObamaCare is irresponsible and unsustainable," Kansas Gov. Sam Brownback said in a statement explaining his veto.
Related: Mental Health Advocates Worry About What Ryancare Would Do
Other governors and legislators are starting to waver, however, acutely aware that they are passing up billions of federal dollars and leaving many of their residents with no way to pay for medical care.
Medicaid is the joint state-federal health insurance plan for people with low incomes, the disabled, children and some elderly. Obamacare sought to get more people covered by health insurance in two main ways — by offering individual, private policies that people could buy with generous subsidies, and by making states provide Medicaid to more people.
"The cost of expanding Medicaid under ObamaCare is irresponsible and unsustainable."
One big carrot — the federal government would pay the entire cost of Medicaid expansion until 2016, 95 percent this year, gradually ratcheting that down to 90 percent of the cost by 2020.
But some Republican-dominated states balked and the Supreme Court ruled in 2012 that states did not have to do it. At last count, 19 states were opting out.
Related: States Lose Billions by Not Expanding Medicaid
That left millions of people in a Medicaid gap — people without employer-provided health insurance who make too much money to be eligible for Medicaid, and too little to qualify for federal subsidies to help buy private insurance on the Obamacare exchanges.
And in some states, non-parents, no matter how poor, cannot get Medicaid at all.
About 73 million people are currently enrolled in Medicaid, about 11 million of them because of the Obamacare expansion. Medicaid is usually a cost-sharing program — the federal government pays on average about 57 percent of costs and states pay the rest. But federal taxpayers are paying the full freight for those 11 million extra enrollees. Medicaid's total cost to the federal government was $545 billion in 2016.
As part of the failed American Health Care Act, GOP leaders proposed various ways to dial that back. They're worried in part by the open-ended federal obligation. The federal government pays each state for each Medicaid enrollee, with no control over how many that is.
Related: Health Reform Leaves Gaps in Medicaid
Many states have become aware that they are losing out. The Urban Institute, Lewin Group and Rand Corp. have all issued reports showing states will lose billions by not expanding Medicaid. That's money their own residents have paid in federal taxes.
Public health experts point out that Medicaid does the heavy lifting in paying for the treatment of people addicted to opioids, the working poor, and four out of 10 children. Medicaid is the single largest payer of mental health services in the country, paying 25 percent of all mental health and 20 percent of all addiction care, the National Council for Behavioral Health says.
Nearly half of the 4 million births in the U.S. each year are covered by Medicaid. It covers the cost of nursing homes and other long-term care for elderly Medicare patients.
"This is our money. We should bring it back."
In Kansas, the legislature saw expansion as a way to cover 150,000 people.
"Without Medicaid expansion, more than 150,000 working Kansans will continue to go without access to health care," Kansas Senate Minority Leader Anthony Hensley, a Democrat, said. "These Kansans earn too much to qualify for Medicaid, but too little to afford private care."
The Senate is holding off on a vote to try to override Brownback's veto.
Related: Opioid Addicts Worry About Losing Obamacare
But other states are encouraged. Virginia Gov. Terry McAuliffe, a Democrat, is trying to renew plans to expand Medicaid that have been stifled so far by his legislature.
"This is our money. We should bring it back," McAuliffe told reporters this week. "There are no excuses any more."
North Carolina has a new Democratic governor, Roy Cooper, who is similarly encouraged. He said a state law banning Medicaid expansion violates his executive authority.
Even with huge federal supports, Medicaid expansion costs states. Now red states are hoping a Republican-led Health and Human Services Department will give them breaks that can make expanding Medicaid a little easier.
Related: Some Hospitals Win, Some Lose
And HHS sent letters out earlier this month encouraging governors to apply for such waivers.
Georgia Gov. Nathan Deal said Monday his administration is exploring the possibility, including perhaps limiting minimum coverage provisions that detail what services Medicaid must provide.
Alabama governor Robert Bentley, a Republican, says he would be favorably disposed to having more power to decide what his state covers for Medicaid recipients and said in 2015 he was thinking about expansion, but he has also pushed to limit even further his state's already sparse Medicaid program.
Idaho, Nebraska and South Dakota have also toyed with the idea.