As the COVID-19 death toll at nursing homes climbs to nearly 12,000, the nursing home industry is pushing states to provide immunity from lawsuits to the owners and employees of the nation's 15,600 nursing homes.
So far at least six states have provided explicit immunity from coronavirus lawsuits for nursing homes, and six more have granted some form of immunity to health care providers, which legal experts say could likely be interpreted to include nursing homes.
Patient advocates worry that nursing homes accused of extreme neglect could avoid liability.
"I can't even believe this is a topic of discussion," said Anny Figueroa, whose 55-year-old mother was a resident at Andover Subacute & Rehab Center in New Jersey, where law enforcement discovered 17 bodies in a makeshift morgue this month. The nursing home is under investigation by the state attorney general.
Figueroa said her family was kept in the dark about her mother's coronavirus diagnosis, forcing her to demand that she be transferred to a hospital, where she is now in intensive care. Figueroa said she fears immunity will let facilities like Andover "continue to neglect and abuse these helpless individuals because now they are not liable."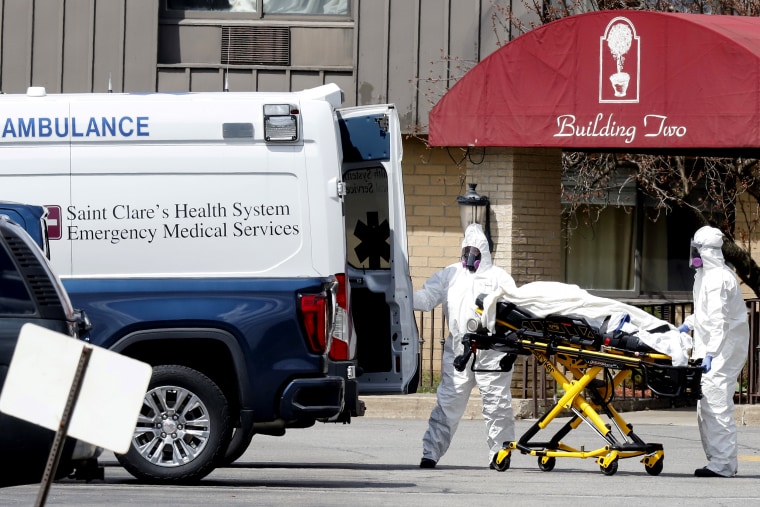 "Due to patient privacy concerns, we are unable to discuss individual patients," said Mutty Scheinbaum, owner and operator of the facility. "We work to be in regular communication with a resident's family, if accessible, when the resident becomes ill."
Scheinbaum said the facility's top priority is the health and safety of residents and staff.
"Most staff in nursing homes are doing the very best they can, under horrendous circumstances," said Toby Edelman, senior policy attorney for the Center for Medicare Advocacy, a group that advocates for nursing home residents. "But the combination of fewer rules, no family, no ombudsmen, no surveyors, no enforcement, more money and now industry efforts to get immunity from civil and criminal liability for anything related to coronavirus is a lethal combination in the hands of unscrupulous people."
Full coverage of the coronavirus outbreak
Almost 70 percent of the nation's more than 15,000 nursing homes are run by for-profit companies, and 57 percent are operated by chain companies, which the Centers for Disease Control and Prevention defines as organizations that own two or more long-term care facilities. The rest are owned by nonprofit organizations. The federal government has eased some nursing home regulations during the Trump administration, but most oversight of the industry is conducted by the states.
Industry leaders say they have been pleading with state governments for increased testing and personal protective equipment so they can protect their workers, care for residents and reduce the spread of the disease.
Both for-profit and nonprofit nursing home industry associations have been pushing for immunity on the state and federal levels, according to statements from the organizations.
Mark Parkinson, president of the American Health Care Association, which represents more than 14,000 for-profit nursing homes, said in a statement, "Long-term care workers and centers are on the frontline of this pandemic response and it is critical that states provide the necessary liability protection staff and providers need to provide care during this difficult time without fear of reprisal."
LeadingAge, which represents nonprofit providers of aging services, including 2,000-plus nursing homes, says it has been working with the American Health Care Association to pursue "legal immunity for providers across the continuum of aging services for all claims that would arise out of actions related to combatting the COVID-19 pandemic."
Industry executives say claims of extreme neglect could still be pursued in court.
"We are responding to a disaster," said Charles Downs, corporate counsel for Virginia Lutheran Homes, a LeadingAge member that has two facilities in the Shenandoah Valley. He says the industry's request for immunity would apply only to the lower bar of what is known as "general negligence" and would not rule out lawsuits for cases of "gross negligence" or extreme neglect.
States like Virginia have provisions in their laws that automatically provide what is known as "civil liability immunity" for health care workers during emergencies. But whether those protections extend to nursing homes and their owners is not always clear. Downs said that is the type of clarification his organization needs. "We are not doing this defensively because we are worried about a lawsuit," he said.
Of the states that have addressed nursing home liability as a response to the outbreak, two — Massachusetts and New York — have passed laws that explicitly immunize the facilities. Governors in Connecticut, Georgia, Michigan and New Jersey have issued executive orders that immunize facilities. (New York's governor signed an executive order that also relieved nursing homes and other health care providers of record-keeping requirements "to the extent necessary" to respond to the outbreak.)
In Illinois and Arizona, the governors signed executive orders that do not specifically list nursing homes but do immunize health care providers broadly. The Illinois order, for example, refers to "health-care facilities."
Louisiana, Wisconsin and Kentucky passed laws that do not explicitly mention nursing homes but do immunize health care providers. Indiana issued guidance saying its law granting immunity applies to "any facility that provides health care services by a [licensed] professional" in response to the COVID-19 emergency.
For those states that do not specify immunity for nursing homes and instead speak of broad protection for "health care providers," much hinges on the definition of the phrase.
While at least a dozen states have moved to provide immunity for health care facilities through executive orders or legislation, the laws vary as to whether they explicitly include nursing homes.
Heidi Li Feldman, an expert on tort law at Georgetown University Law Center, said nursing homes are commonly included under the umbrella of "health care providers." If "health care providers" are shielded by a state law or an executive order, it is most likely that nursing homes would be shielded, too.
She said that if nursing homes are protected by an immunity order, then the owners as well as their employees are protected from lawsuits.
Even in a state with an immunity order, Feldman said, a nursing home could be liable for an egregious business decision like lying to families about coronavirus cases. Such an action would be considered a business decision and probably would not be covered under a health care shield during a pandemic.
Feldman said it would be odd if states immunized health care providers without providing "counterbalancing precautions to incentivize people to be cautious — even in an emergency situation."
"It's not unprecedented for people to ask to be shielded from tort," she said, "but it is unprecedented to give that protection without making additional provisions for safety and compensation where it is legitimately needed."
State lobbying
The industry's lobbying continues around the country.
In Florida, where 20 percent of the deaths have been among residents in long-term care facilities, the for-profit nursing home industry has pressed the governor's office for immunity in an executive order that would explicitly name skilled nursing facilities like that in New York. A spokesperson for Gov. Ron DeSantis told NBC News that no decision has been made.
Nick Van Der Linden, spokesperson for LeadingAge Florida, the state's advocacy group for nonprofit senior living service providers, including nursing homes, said that the request for immunity is "routine" but that he did not know of any recent instances in which it had been applied.
Van Der Linden said the nursing homes were working with a broad coalition of health care organizations. "We are continuing to work with the language that everyone can agree on," he said, adding that he remained hopeful that the governor would decide in their favor.
The industry has sent similar letters to governors in Washington, Pennsylvania and Connecticut.
Download the NBC News app for full coverage and alerts about the coronavirus outbreak
In Connecticut, the state Hospital Association asked the governor to issue an executive order to protect health care facilities working on the state's COVID-19 response. He did, and his order included nursing homes.
But the state groups representing nursing homes and assisted living facilities had sent their own letter requesting tweaks in the language, which were not included in the governor's final executive order.
Their alterations would have provided far broader immunity for nursing home and assisted living facilities and owners, said Paul Slager, president of the Connecticut Trial Lawyers Association, who has litigated many catastrophic medical malpractice cases, some against nursing homes.
"I think that blanket immunity, like the type that is being sought by these nursing homes, is not safe," Slager said. "It doesn't give any incentive to avoid situations like we see in New Jersey, where the bodies are piling up."
Just over the border in New York, Gov. Andrew Cuomo issued an executive order in March providing broad immunity from civil liability for nurses and doctors in health care facilities. But in April, the state Legislature moved even further to explicitly define the term "health care facility" to include a "nursing home." According to an analysis by the New York-based law firm Barclay Damon, which represents nursing home owners in New York, that provides wide protection for health care facility administrators, trustees and executives, in addition to employees.
New York has also waived requirements on record-keeping, saying, "Any person acting reasonably and in good faith under this provision shall be afforded absolute immunity from liability for any failure to comply with any recordkeeping requirement."
Debbie Gough, a lawyer who has sued nursing homes in New York and New Jersey, said she finds New York's record-keeping language particularly problematic.
"It's not just lawyers and lawsuits. At some point the state has to go back in and learn from this," she said, adding that she worries that the state will not be able to track what happened in facilities.
Overall, how much immunity provisions will protect nursing home companies will be determined in court, because deaths and alleged health care failures during the pandemic will certainly be the subject of future litigation, lawyers around the country told NBC News.
"Everyone wants to see front-line health care providers protected from any kind of lawsuit," Gough said. "But I do think that knowing there is immunity out there could deter people from trying to get justice, and that would be a real shame. ... Some of these places shouldn't get a pass at this point. It's important for the public to look into them."