Delighted Republicans celebrated the news Tuesday that Obamacare premiums are going up by more than 20 percent on average next year.
Late on Tuesday, the Health and Human Services Department admitted to the widely predicted figure, while quickly saying that nearly 85 percent of people buying health insurance on the Obamacare markets wouldn't be paying that much because of federal subsidies.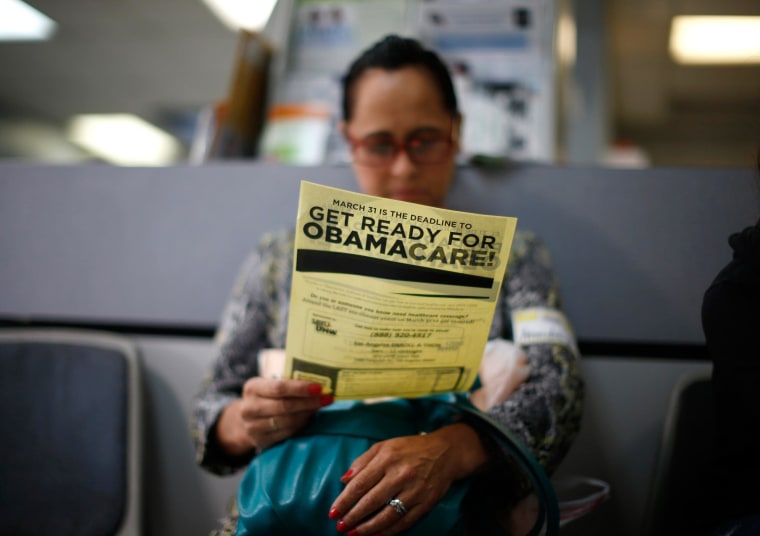 While it was bad news politically for President Barack Obama's signature healthcare law, the rise in premiums doesn't mean Obamacare is on its last legs.
Health officials and other experts pointed out that most Americans do not get their health insurance on the Obamacare exchanges. Not only that: health care costs have been going up for years — that's why health reform started in the first place.
"Warning: Reports of big premium hikes apply to a small percentage of the population, not the vast majority covered by employers, Medicare, Medicaid," tweeted Larry Levitt of the nonprofit Kaiser Family Foundation.
Related: Average Family Healthcare Costs Have Tripled Since 2001
More than 60 percent of Americans get health insurance through an employer. Another 16 percent use Medicare or Medicaid and 9 percent are covered by individual insurance plans – including Obamacare. Another 2 percent are covered by military plans such as Tricare or the Veterans' Administration.
Premiums for employer-sponsored plans have also been rising for years, although not at the sharp annual rates that the Obamacare exchanges will see in 2017.
Only 10 million Americans get insurance through the marketplaces created by the 2010 Affordable Care Act, and the prices they pay vary not only state by state but county by county.
Related: Health Care Costs All Over the Map
A report out Tuesday from health consultancy firm Avalere Health says many of those slapped with big premium increases can switch plans within the exchange program and get a better deal.
Nonetheless, the news sent Republicans, who overwhelmingly opposed the 2010 Affordable Care Act -- into a frenzy of delight. The increases give them fresh political ammunition to use against Democrats.
"ObamaScare Fright Sweeps U.S.: All Tricks, No Treats," the Republican-led House Energy and Commerce Committee said in one of several news releases about the premium increases.
"I can say that all of my employees are having a tremendous problem with Obamacare," Republican presidential nominee Donald Trump said at a rally in Florida. "What they're going through with their health care is horrible because of Obamacare, so we'll repeal it and replace it."
In fact, as large employers, Trump's companies provide health insurance for almost all of their staff. Trump later clarified that most of his employees are in fact not covered by Obamacare, either.
Caroline Pearson of Avalere says the issue of health care costs is nothing new and it did not start with the 2010 Obamacare law.
"Employers are facing the same challenges that the exchanges are in that they are wrestling with rising healthcare costs," she told NBC News.
"That is something that has been happening for many years and isn't particular to 2017 and that is certainly independent of the exchange challenges."
President Obama knew the rates were going up and seemed to anticipate that the news would make headlines. He foreshadowed the news in a speech in Florida last week in which he compared the 2010 law to a fixer-upper house.
"That is something that has been happening for many years and isn't particular to 2017 and that is certainly independent of the exchange challenges."
"And everybody thinks, wow, my insurance rates are going up, it must be Obama's fault — even though you don't get health insurance through Obamacare — you get it through your job, and even though your increases have gone up a lot slower," he said.
Most experts agree it would be almost impossible to repeal Obamacare, a complex law passed in 2009 that reforms many aspects of health care and health insurance. Studies have shown that 24 million people would lose health insurance coverage if that happened and companies would be free to return to unpopular practices such as denying coverage to sick people and kicking off customers who cost them too much.
"Instead of repealing the law, I believe the next President and the next Congress should take what we've learned over the past six years and in a serious way analyze it, figure out what it is that needs to get done, and make the Affordable Care Act better and cover even more people," Obama said.
Possibilities include tax credits for younger, healthier people.
Other experts agree. They say rates are high for many different reasons.
"The big thing is really trying to figure out how to get more consumers into the marketplace," Pearson said.
Related: Obamacare Doesn't Cost More Than Other Insurance
What any health insurance company wants to do is get more healthy people paying premiums, so they can subsidize the relatively small percentage of people with high medical costs.
Pearson and other experts say they can do this by subsidizing people with higher incomes. "A future administration needs to figure out how to restructure the premiums and coverage to make it attractive to a medium- income person," she said.
And several insurers have dropped out of the marketplaces, saying they cannot make enough money. The Obama administration has said it is trying to find ways to lure them back, but Avalere says in its report that this lack of competition is in the meantime driving up prices.
Related: Americans Care About Premiums
"In 2017, there will be an average of 2.9 plans available per county in Healthcare.gov states, down from a nationwide average of 5.3 plans per county in 2016. In states using the federal marketplace, 21 percent of enrollees will have only one participating carrier for the 2017 plan year," Avalere noted.
But, the group said, the law is not doomed.
"The current state of the market underscores the potential need for Congress and the next administration to consider incremental improvements that will make the law sustainable over time," said Dan Mendelson, president of Avalere.
Democratic presidential candidate Hillary Clinton has suggested making the popular Medicare program available to more people.
Related: Obamacare Turns 6 and the White House Declares Victory
For Americans eligible for Obamacare, enrollment begins Nov. 1 at healthcare.gov. People who want their coverage to start by Jan 1 need to sign up for a plan by Dec. 15.