The final deadline to enroll in health insurance under the Affordable Care Act is less than three weeks away, and the White House and its allies are pulling out the stops to get more people signed up after one of the most disastrous debuts ever of a government program.
The administration has rounded up every Democrat it can find -- mayors, county executives, state representatives as well as nonprofit groups whose main goal is to support Obamacare -– to spend Saturday pushing Americans to sign up for health insurance in a "Day of Action." In Atlanta, supporters will be in libraries. In Charleston, S.C, they're holding a waterfront enrollment fair. And in Houston, Spanish-language ads will urge the uninsured to show up at sign-up events staffed by Spanish speakers.
"When we first rolled this out, I was surprised that even with all of the national hoopla about the website … how the targeted population that is mostly eligible for enrollment, they were not quite as aware as I thought they would be," said Fulton County Commission Chairman John Eaves, who'll be spending his Saturday at several events staged at Atlanta-area public libraries.
At last count, 4 million people had signed up for health insurance on the new state and federal online marketplaces. The Obama administration had hoped to at least meet the Congressional Budget Office's forecast of 7 million by the end of March. The CBO has since lowered that projection to 6 million, and the White House knows that yet another political hit is coming if the numbers fall short.
What isn't clear is how many of the people who have signed up were among those lacking insurance. One study by health care consulting firm McKinsey shows that only 27 percent of those using the exchanges had been without insurance before. And another big question is whether enough younger, healthy people are signing up to make up for sick people who will cost insurance companies the most money.
"To have someone there holding your hand and help you get through it and pick the best option for your family has been valuable."
The weekend events hold out several carrots. Americans generally favor the idea of health insurance coverage. It's the expense that puts people off, and the exchanges offer some hefty federal subsidies to most people eligible to sign up.
But there's a stick coming up, too, with the March 31 deadline. People who don't get some kind of insurance may have a fine taken out on their 2014 tax returns. It can be as low as $95, but the penalty is 1 percent of income for all but the lowest wage earners. The Tax Policy Center has a calculator that shows for big earners, the penalty could be as high as $11,000.
But of course people in higher income brackets are far more likely to have health insurance.
The next open enrollment period doesn't start until Nov. 15. As with any insurance plan, people can enroll all year round under certain conditions, such as if their current non-exchange plan expires or if they lose insurance for another reason.
One of the main goals of the 2010 Affordable Care Act was to get coverage to the 45 million Americans who lack it — 15 percent of the population.
The initial push was also for people to simply go online and sign up, but the federal website crashed for the first two months, and some of the state-run websites are still not working properly. Health officials have also learned that many of the Americans who lack health insurance don't necessarily look to conduct that kind of business online. They'd rather do it in person.
That's why Tampa, Fla., Mayor Bob Buckhorn will be at one of his city's recreation centers on Saturday, talking up the health reform law and watching as trained navigators try to get people signed up on portable laptop computers.
"I think the process can be intimidating to the uninitiated, and to have someone there holding your hand and help you get through it and pick the best option for your family has been valuable," Buckhorn told NBC News.
Groups such as Doctors for America and Enroll America have been holding events all along. They've got a website where people can find in-person help. And the private insurers, who are providing the insurance plans offered on the exchanges, have their own ad blitz going.
The White House has also been sponsoring calls and events over the past few weeks with President Barack Obama, first lady Michelle Obama and Health and Human Services Secretary Kathleen Sebelius. Michelle Obama was at an event in Miami on Thursday and Sebelius will appear in Tampa on Monday.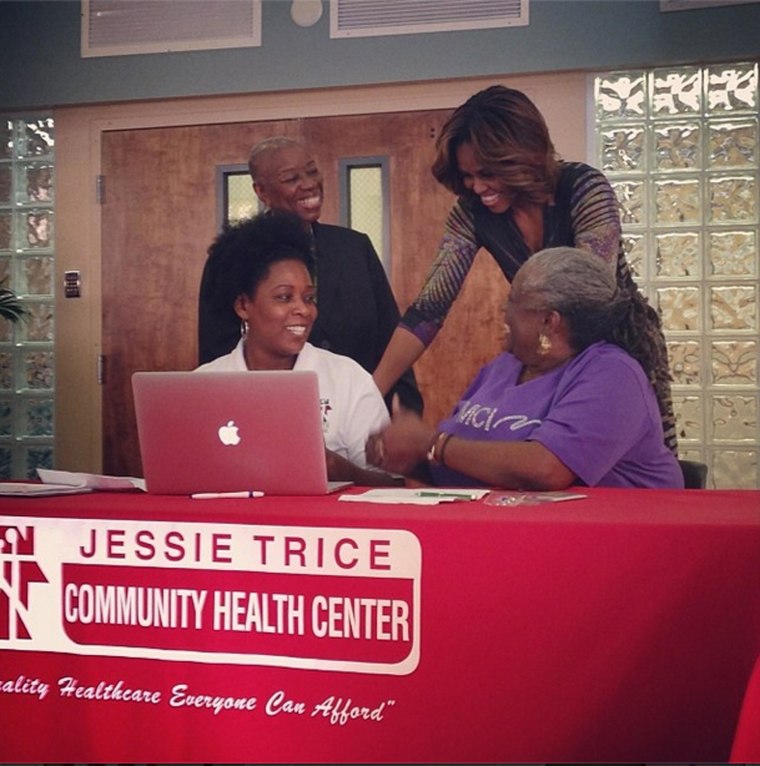 But Saturday will be a big day. White House officials say 70 separate events are scheduled, from a "Get Covered Shreveport" weekend in Louisiana that will hit the extremes, from younger adults partying at bars and clubs to Sunday churchgoers. Democratic cities in largely Republican states — including Atlanta, Tampa and Houston — are big targets, but so are cities such as Seattle and Charleston.
Fulton County Commission Chairman Eaves says it hasn't been easy. Obamacare is a highly political issue, and Georgia is a bright red state, with a Republican governor and a Republican-controlled state legislature that has resisted implementing as much of the health reform law as possible.
But the two counties that overlap with Atlanta, Fulton County and DeKalb County, lean Democratic, and Eaves feels people there are more receptive. "We see the value of Obamacare here," he said. Nonetheless, 19 percent of the area's 1 million residents lack health insurance. Uninsured people are a drain on the taxpayer, Eaves said, often seeking care at county-supported hospitals and running up bills that are higher than if they sought medical attention early.
Tampa's Buckhorn feels the same pressure. Florida's Republican Gov. Rick Scott has made it a point of pride to defy Obamacare, and he's refused the law's request to expand Medicaid to more low-income people. "Just in my city alone we estimate it's upwards of 90,000 people who do not have health care coverage," Buckhorn said. "Some of those would be eligible for Medicaid if our state accepted Medicaid expansion."
It shouldn't be a political issue, Buckhorn says. "It is, to me, a direct impact on our economic bottom line," he said. "Eighty percent of the calls to our fire and rescue service are medical calls." And most of those served, he said, have no health insurance. In fact, the city's started stocking ambulances and rescue cars with material about Healthcare.gov to give out to people.
"It is, to me, a direct impact on our economic bottom line."
While Buckhorn sees it as an economic and not a political issue, most Americans have been strongly swayed by the politics surrounding Obamacare. The latest NBC News/Wall Street Journal poll shows the health care law is still unpopular, with 45 percent of those polled opposing it and just 34 percent saying they support it.
And Republicans have promised to run against Obamacare in this big Congressional election year.
The Obama administration says it's in this for the long haul, and the predictions suggest that people will slowly but surely sign up. That's even with several delays — the latest being another reprieve that lets people keep less-than-optimal health plans until 2016.
The Congressional Budget Office projects that 26 million people will buy health insurance on the exchanges by 2022 and that 12 million people will become newly eligible for Medicaid in the states that choose to expand their offerings by 2022.