One of the owners of New Jersey's largest nursing home, where at least 15 bodies were discovered crammed into a four-person morgue on Monday, was a top executive at a collapsed chain of troubled nursing homes previously investigated by NBC News.
Federal records show that Louis Schwartz is listed as a 50 percent owner of the Andover Subacute Facility I and II in Sussex County, where the bodies were found. Public records also show that Schwartz was a vice president at Skyline Healthcare, a now-defunct nursing home chain that was plagued by allegations of neglect and mismanagement and the subject of more than a dozen lawsuits.
Schwartz did not respond to a request for comment. The Andover facility's co-owner, Chaim Scheinbaum, told NBC News in an email that he was unclear what Schwartz's role was at Skyline but that Schwartz functioned as a "silent partner" in the Andover property.
"We're not pleased with what is going on at the Andover facility," New Jersey Health Commissioner Judy Persichilli said during a news conference Thursday.
Persichilli said the Health Department had received complaints, beginning last weekend, about bodies being stored at the facility. A team of public health officials, including officials with the local health department, was dispatched to inspect Andover.
"We called up the owner of the facility and notified him of our concerns and required him to report back to us," Persichilli said.
Andover Township police reportedly received an anonymous tip, which led to the discovery of more than a dozen bodies in the facility's small morgue.
Scheinbaum said there were 15 bodies in the morgue after eight deaths Monday. He said authorities removed 13 bodies before midnight Monday.
Andover Police Chief Eric Danielson said that there were 17 bodies in the morgue when police arrived Monday but that two were removed before police arranged the removal of 13 more later in the day. He said the two remaining bodies were removed Tuesday.
NBC New York reported that local officials said the nursing home claimed that residents with the coronavirus were being housed on separate floors or wings to stop the spread.
Scheinbaum told NBC News in a statement that the facility was grappling with the pandemic.
"The owners, administrators and our heroic healthcare staff of nurses and nurse aides have been working relentlessly to contain the virus and safeguard our residents and staff," he wrote. "The health and safety of our residents and staff is our utmost priority and responsibility. Ownership and administration is working around the clock to ensure we are able to resolve the pandemic in the facility."
Full coverage of the coronavirus outbreak
Toby Edelman, senior policy attorney with the nonprofit Center for Medicare Advocacy, called the discovery of the bodies at the New Jersey nursing home "horrifying." But she said the link to Skyline made it worse.
"To learn that the owners were former executives of a nursing home chain that abandoned facilities across the country in 2017 and 2018, creating chaos for residents, staff, and states, magnifies the horror," she said. "Government must limit ownership and management of nursing homes to only those people that demonstrate commitment and capacity to provide the best care possible to residents."
At its peak, Skyline owned or ran more than 100 facilities in 11 states and oversaw the care of more than 7,000 elderly Americans. According to Scheinbaum and public documents, Louis Schwartz is the son of Joseph Schwartz, a former insurance broker and landlord who launched Skyline Healthcare more than a decade ago.
The chain ultimately fell to ruin in 2018, displacing hundreds of residents and leaving more than a dozen facilities shuttered in its wake. Former employees filed suit accusing the company's owners of pocketing their insurance premiums.
The plaintiffs in the suit have not been able to serve Joseph Schwartz. NBC News was unable to reach Schwartz for a comment.
An NBC News investigation in July found that the company was the subject of numerous complaints of extreme neglect that in some cases led to death.
Multiple state investigations found instances of stomach-churning neglect at Skyline Healthcare facilities, including failure to bathe residents and maggots in a resident's personal medical equipment. In Tennessee, a resident at one facility who had his leg amputated was found lying in his own feces, with maggots and gangrene in his leg. He later died.
The Andover facility had problems before the discovery of the bodies.
It was the subject of a January 2019 police report when Terri Thompson's mother, a resident at Andover, wandered out of a locked unit through two sets of broken automatic doors.
She was found in the parking lot at 4:30 a.m., sitting on ice-covered ground without a coat, socks or shoes. It was 4 degrees below zero, according to a police report, and she suffered from severe frostbite.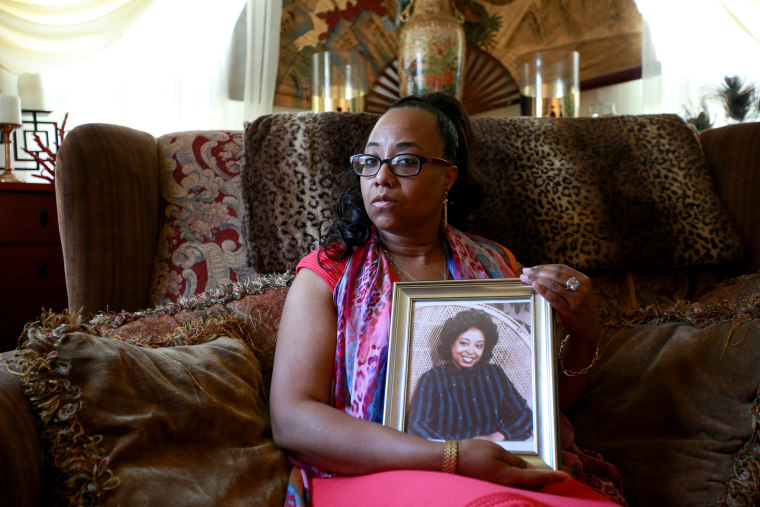 Thompson said that when she reached her mother's hospital bed that morning, she could barely hear a heartbeat. Her mother's nails, which she used to love to paint, had fallen off, as had much of the skin on her arms and legs from the frostbite.
"I couldn't keep her safe, but they said they could," Thompson previously told NBC News. "If someone did that to an animal, they would be arrested."
Nathan Orr, who worked as an EMT in the county for several years, told NBC News that he had been called to Andover frequently.
Staff members often seemed overwhelmed, he said. Residents' beds were old and sometimes broken.
"It just seemed like every time we went there, things were in disarray," he said.
"We'd get there sometimes and we couldn't find anyone that knew anything about the patient," Orr said. "The response would be: 'Oh, I don't know. That's not my patient. I don't know anything about them.'
"You're just standing there shaking your head, because, obviously, the more information you have when you get to the patient, the better care you can provide for them," he said.
"It's one of those things where, once again, the government is supposed to be regulating this," he added. "If anyone's to blame other than the owner, I would say it's got to be the state."
New Jersey recorded its first coronavirus case on March 4 and its first coronavirus death on March 10. It has been one of the nation's hardest-hit states.
Download the NBC News app for full coverage and alerts about the coronavirus outbreak
Laurie Facciarossa Brewer, New Jersey's long-term care ombudsman, told NBC News that her office had received two complaints from family members with loved ones at Andover between March 13 and the discovery of the bodies.
The family members, she said, complained that they had not been able to get in touch with Andover staff and were anxious about their loved ones' health.
"What we're seeing statewide is families complaining that they're not being communicated with appropriately by facilities," she said. "That is not unique to Andover. We're getting his families that are frantic and trying to get a read on the condition of their loved one.
"I can't say that we had any inkling that things were going particularly badly at Andover based on what was coming in to us," she added. "In fact, if we had a ton of calls about it, we would have let the regulatory authorities know. We would have said, 'Hey, something's going on here.'"
She said her agency is prevented from physically investigating facilities because of the state lockdown, calling it "terribly frustrating." While the agency had placed several calls to the Andover facility in response to the complaints, she added, staff members were able to make contact only on Thursday.