The GOP plan to repeal and replace Obamacare has fallen apart, and President Donald Trump says the Affordable Care Act will "explode" on its own, anyway.
But there is strong evidence that Obamacare is not in, in fact, in a "death spiral," and there is no denying that the law has gotten more than 20 million people covered who had no health insurance before.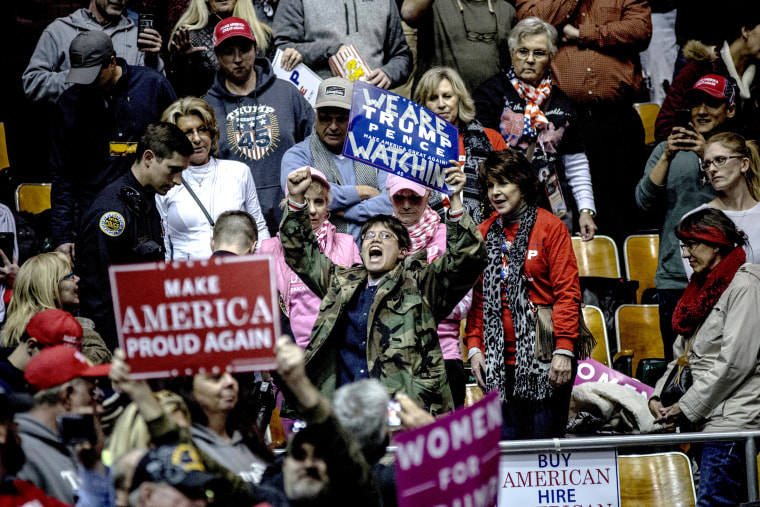 Trump has signaled that he does not plan to defend the law or its provisions. Hours after he was inaugurated, he signed his first executive order directing government departments to stop enforcing any part of Obamacare that might pose a financial burden.
The vague order leaves a lot to the discretion of department heads, and Health and Human Services Secretary Tom Price, a former member of Congress and a physician, is no fan of the ACA, either.
"The ACA marketplaces weren't collapsing, but they could be made to collapse through administrative actions," said Larry Levitt, senior vice president at the Kaiser Family Foundation, which researches health policy.
Related: Supreme Court Sends Contraception Case Back to Lower Courts
Here are some ways the administration can weaken Obamacare, making Trump's declaration a self-fulfilling prophecy:
Stop fighting
The ACA was under fire from the moment it was passed in 2009, and it has taken constant legal and regulatory maintenance to keep it alive. States, employers and individuals mounted a series of lawsuits against the law, several of which went all the way to the Supreme Court. The federal government can simply stop fighting these suits and allow courts to chip away at, for example, requirements that policies cover birth control.
Stop enforcing the mandate
It's already doing that. The federal government is no longer forcing people to say whether they have health insurance on their income tax returns, and it's possible the Trump administration will do even less. It's not clear how much effect the much-hated mandate had on enrollments because the fines were fairly low, but most analysts say there will be some effect.
Stop trying so hard to enroll people
The Trump administration already did that, too. Right at the end of the 2017 enrollment period, it briefly pulled ads urging people to hurry and sign up. Supporters of the ACA say it probably did squelch enrollment a bit.
But there's pushback against that move. The HHS inspector general's office says it's investigating that decision at the request of Democratic senators Patty Murray and Elizabeth Warren.
Encourage states to make exceptions
HHS can encourage states to ask for waivers to the law. The ACA itself provides a big door for states to make changes to how they implement the law via Section 1332, which goes into effect this year. Price already wrote governors urging them to make use of this section.
The ACA meant for states to use the section to cover even more people in innovative ways. "This type of waiver may make it easier for states to implement reinsurance programs or high-risk pools to help stabilize their individual insurance markets," said Levitt.
But governors hostile to the law could possibly also try to use it to chip away at requirements for what health insurance companies must cover.
Related: Five Obamacare Provisions Trump Could Change Right Away
Go after Medicaid
Medicaid, the joint state-federal health insurance plan for low-income people, was a major factor in the ACA's efforts to get more people covered by health insurance. The law required states to expand the program to cover more people, although the U.S. Supreme Court ruled in 2012 that the Medicaid expansion requirement went too far and said states could opt out.
The federal government paid 100 percent of the costs until last year, but is still scheduled to pay more than 90 percent.
With the now-failed American Health Care Act, House Speaker Paul Ryan and supporters aimed to reform Medicaid, gradually reducing enrollment by not allowing anyone to re-enroll if they dropped off for any reason. States may still try to do this, or to begin limiting what Medicaid will cover. Analysts have predicted that could leave a lot of people without health insurance.
Related: Obamacare Uncertainty is Scaring Off Health Insurance Companies
Stop cost sharing
Another thing the new administration could do immediately is stop paying insurance companies to help keep health insurance costs down for low-income clients.
This cost sharing is different from the federal subsidies to pay premiums. Cost-sharing reimburses health insurers for charging lower co-pays and deductibles for more than 60 percent of Obamacare customers. But a federal judge ruled these payments were illegal and the administration could just stop them.
That, in turn, could mean insurers could dump customers, Levitt said.
Leave insurers confused
Insurance companies are trying to figure out what kind of premiums to charge next year. It would help if they knew what the law's future was. HHS could just leave the future vague, which might encourage insurance companies to limit their offerings on the Obamacare exchanges, or even to drop out of the market entirely.
Insurers have already left many states. There was an average of just about six insurance companies per state in 2015, according to the Kaiser Family Foundation. This year, there are just under four. Five states — labama, Alaska, Oklahoma, South Carolina and Wyoming — only have one company.
On the other end, Wisconsin residents can choose from 15 different companies.
Related: Here's What Health Insurance Coverage Looks Like Right Now
Bonus: Make it work
Or, the Trump administration could actually try to make the law work.
"I think at this point they own the policy," argues Dan Mendelson, CEO of Avalere Health, a healthcare consulting company. "My every expectation is that they will look to stabilize it and not try to subvert it."
Mendelson points out that the administration's first health care regulation actually helped reassure insurance companies. It shortened the enrollment period and forced people to do more to prove they're eligible for exceptions to open enrollment.