Antibiotics, which turn life-threatening infections into minor nuisances, are considered the single biggest advance in modern medicine.
But imagine if the supply of antibiotics to the United States was suddenly cut off.
American national security officials are worrying about that scenario as they come to grips with this little understood fact: The vast majority of key ingredients for drugs that many Americans rely on are manufactured abroad, mostly in China.
As the U.S. defense establishment grows increasingly concerned about China's potentially hostile ambitions, the pharmaceutical supply chain is receiving new scrutiny.
"If China shut the door on exports of medicines and their key ingredients and raw material, U.S. hospitals and military hospitals and clinics would cease to function within months, if not days," said Rosemary Gibson, author of a book on the subject, "China Rx."
Or, Gibson told NBC News, China could potentially "weaponize our medicines. They can sell us medicines without any medicine in them. They can sell medicines that have lethal contaminants in it."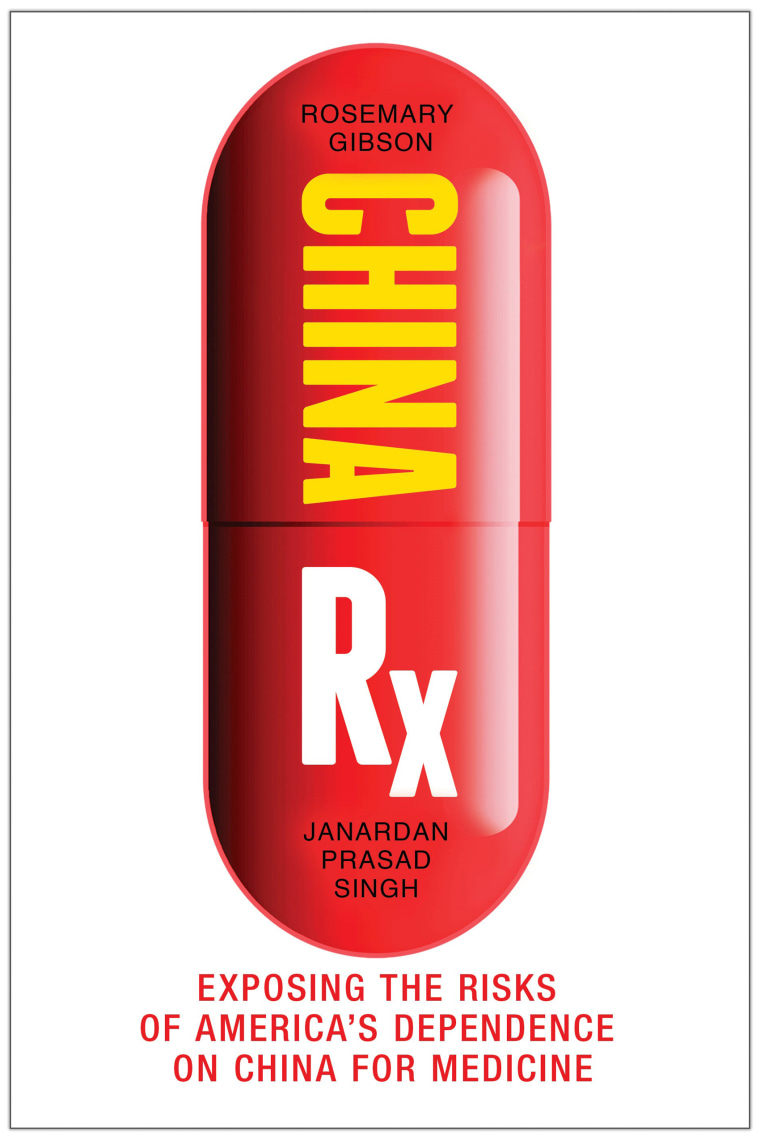 Other generic drugs whose key ingredients are manufactured in China include medicines for blood pressure medicine, Alzheimer's, Parkinson's, epilepsy and depression, Gibson says.
"We can't make penicillin anymore," said Gibson. "The last penicillin plant in the United States closed in 2004."
A Chinese manipulation of drug ingredients or supply may seem like a fairly remote possibility. A state-run Chinese paper said this week that there's little chance the government would deliberately harm Americans by cutting off the flow of antibiotics.
But as the Trump administration's trade war with China heats up, a leading Chinese economist gave voice to the worst fears of U.S. policymakers in March, in a speech to an annual national congress.
"China is the world's largest exporter of vitamins and antibiotic raw materials," he said, according to an NBC News translation. "Once the export is reduced, the medical systems of some developed countries will not work."
The Pentagon has noticed.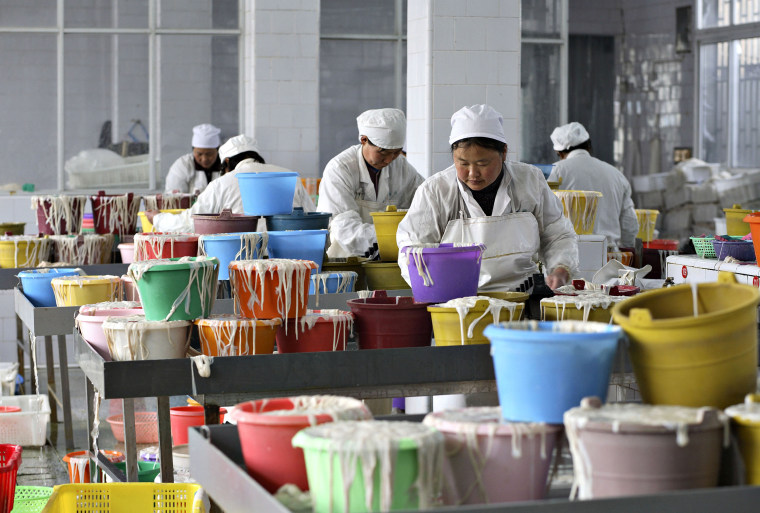 "The national security risks of increased Chinese dominance of the global API market cannot be overstated," Christopher Priest, the acting deputy assistant director for health care operations and Tricare for the Defense Health Agency, told a U.S.-China advisory panel in Washington this summer.
The Defense Health Agency provides health care and prescription drugs to the military.
Priest told the U.S.-China Economic and Security Review Commission that the White House National Security Council is trying to identify medications most at risk if the Chinese decide to use drug supply as a weapon. An NSC spokesman did not respond to a request for comment.
"Basically we've outsourced our entire industry to China," retired Brig. Gen. John Adams told NBC News. "That is a strategic vulnerability."
Adams, who during a 30-year career served as a military intelligence officer, a military attache in South Korea and deputy U.S. military representative to NATO, added that he believes China understood the implications as it was building a drug ingredients industry.
"I think they know exactly what they're doing and they're incredibly good strategists. They're doing this, they select their industries for the future and they've got a plan."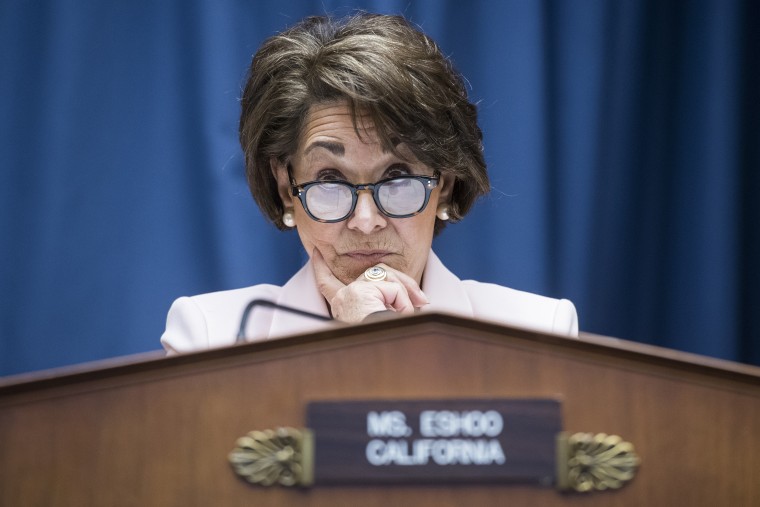 Congress is also focusing on the issue. Two leading House Democrats from California, Adam Schiff and Anna Eshoo, warned in a recent op-ed that "If relations decline further, the Chinese government could look for 'pressure points' where it can wield outsize leverage or force a change of U.S. policy. Pharmaceutical ingredients could be such a vulnerability: By cutting back their supply or manipulating prices, China could cause pharmaceutical costs to surge. Or worse, we could experience shortages."
"We should not be held hostage by any foreign country."
The lawmakers plan to hold hearings soon, they said.
"We should not be held hostage by any foreign country," Eshoo told NBC News. "We need to move away from any country having a monopoly on the ingredients that we depend upon our antibiotics — anthrax [vaccine], penicillin, high blood pressure drugs."
Even if China doesn't restrict supply, there are also questions about the safety of the manufacturing process.
Contaminated supplies of the blood thinning drug Heparin in 2008 led to the deaths of 149 Americans, the government says, prompting the Food and Drug Administration to establish a new policy of stationing inspectors in overseas plants.
But the FDA's inspection and regulatory regime is widely seen as lax. A congressional investigation in 2016 found that one Chinese company that barred inspectors received only a warning letter, for example.
Last year, the FDA issued an alert over a cancer-causing ingredient used in the blood pressure medication valsartan, made by Chinese company Zhejiang Huahai, resulting in a recall of affected drugs.
Also last year, a scandal over tainted vaccine doses sold in China led to the arrests of executives of Changsheng Biotech, which was also accused of forging data during the production of a rabies vaccine given to infants.
"The FDA is having to make terrible choices between allowing defective medicines on the market and averting drug shortages," Rosemary Gibson told NBC News.
She argues that the U.S should resume making drug ingredients at home.
"We have a lot of empty manufacturing facilities in the United States, and what it takes is refurbishing those with newer technology that can truly make medicines at up to 40 percent less cost," she said. "We just need the upfront investment. And it won't happen unless there is public support and public funding for that."