When Ginger Pine's daughter started coughing and running a fever one night last December, she tried to take her to their usual after-hours doctor's office, but there was a line out the door.
Pine and her husband kept driving until they came upon a facility called PrimeCare Emergency Center. "There was nobody in the waiting room, so we went ahead and went in."
Pine's daughter Myra, then 3, was given an antibiotic shot and a prescription for oral antibiotics and sent home. It wasn't until Ginger Pine saw the bill that she realized she hadn't taken her daughter to a new urgent care in the neighborhood, but to what's called a freestanding emergency room.
The bill? $2,697. After insurance chipped in, Pine was still left on the hook for almost $1,700.
Thinking there had been some kind of mistake, Pine called her insurance company. "When I called insurance, they said that I went to an emergency room. I said, 'No, there's no way I went to an emergency room. It was next to a nail place!'"
While often visually similar to urgent care centers — the walk-in doctor's offices cropping up across the country — freestanding emergency centers are emergency rooms located outside of hospitals, with prices similar to hospital ERs.
The National Association of Freestanding Emergency Centers says the growing concept in emergency health care was conceived as a solution to long ER waits and a lack of access to hospitals across the country.
But many patients still don't know the difference between these emergency facilities and urgent care centers.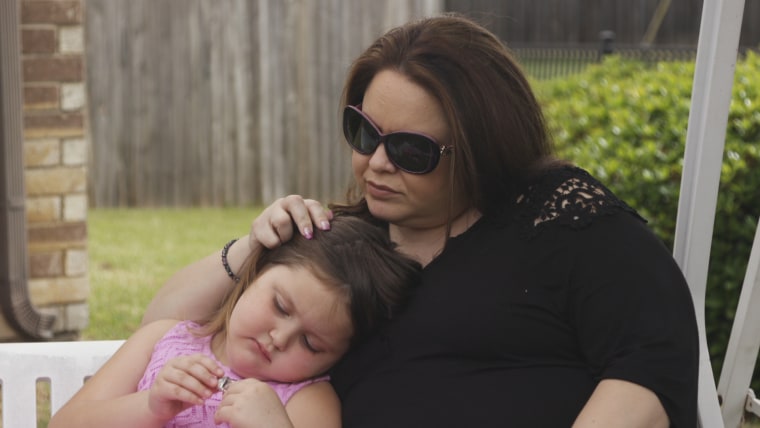 "I mean, it just, it doesn't seem like an emergency room," Pine explained. "Yes, it's labeled an emergency center. But to me and my husband — we're educated people — we don't know that that means that it's considered an emergency room."
Had Pine taken Myra to her regular doctor, she says the bill would have only been $12 out-of-pocket.
Now she is one of dozens of Americans with sticker shock who say they feel duped by the growing trend in health care.
NBC News found that at least 35 states currently have some type of freestanding emergency room. In the majority of those states, they function as off-campus ERs affiliated with an existing hospital, but in over a dozen others, freestanding emergency rooms may be owned by independent providers. Regulations and licensure policy vary state by state.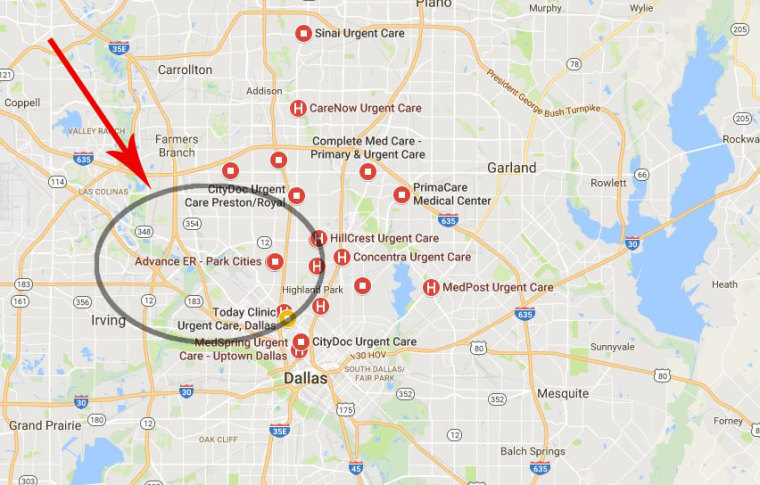 In Texas, where Ginger Pine lives, freestanding emergency rooms are required by law to include "emergency" or "ER" in their signage, which helps to reduce some confusion, but simple Google Maps searches often bring up both urgent care centers and freestanding ERs synonymously.
Not knowing the difference can have significant financial consequences.
An analysis conducted by Colorado's Center for Improving Value in Health Care (CIVHC) took claims data from the 2014 calendar year, and showed that of the top 10 diagnoses most common among Colorado patients who went to emergency rooms and urgent care centers that year, seven of the 10 diagnoses overlapped.
For each diagnosis, the median cost at emergency facilities — both freestanding ERs and hospital ERs — was dramatically greater than the cost of the same diagnosis at urgent care centers.
For bronchitis, payments were almost 10 times more expensive. A sore throat diagnosis cost close to seven times as much.

Industry representatives say the price difference is because freestanding emergency centers provide a higher level of care, with 24/7 operations, sophisticated medical equipment like CT scan machines, and emergency trained doctors.
Dr. Carrie de Moor runs her own small chain of freestanding emergency rooms in the Dallas area. She says the cost disparity is warranted.
"In case that sore throat that you had was actually something called epiglottitis, where your airway was about to close, you're paying for the fact that you have the airway equipment there where you wouldn't necessarily have that diagnostic ability in your doctor's office," de Moor said.
"It's more expensive to order a filet mignon than a hamburger," she said, "It's two completely different types of care."
Dr. de Moor says patients at her facilities are told about the price difference and are even referred to an urgent care center if they don't have an emergency, but a class action lawsuit filed in Texas this year says a different company is failing at doing just that.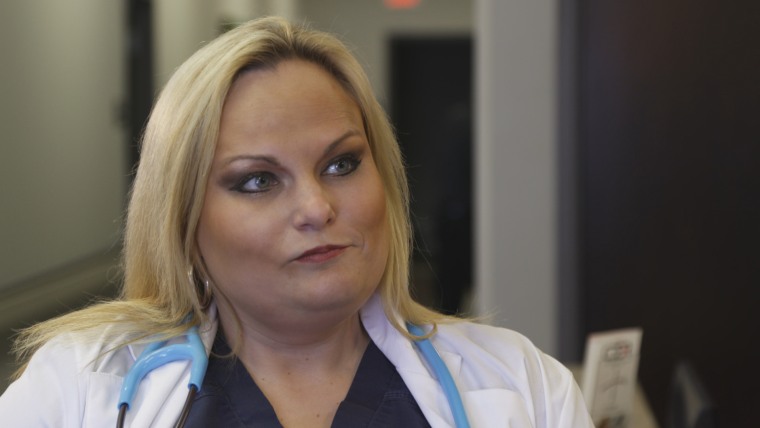 The suit targets Adeptus Health, the largest provider of freestanding ERs in the country, claiming that Adeptus "actively conceals its billing practices" and operates a business model meant to "trick patients into believing that its centers are appropriate for non-emergent care for the purpose of extracting extravagant fees."
Adeptus, which runs or partners with 99 freestanding ERs across three states, declined to comment on the lawsuit, but defended its marketing and signage practices in a statement to NBC News. "We actively work to educate patients on when to properly seek emergency medical care with highly visible emergency department signs, informational materials, outreach to the community and patient guidance on arrival."
Adeptus filed for bankruptcy earlier this month. The company declined to comment on its filing.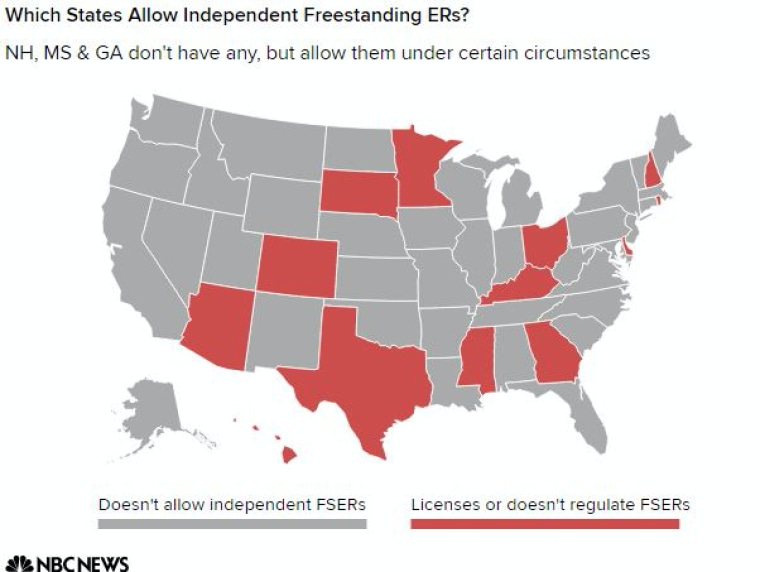 Industry representatives say that doctors, nurses, and administrators in these freestanding ERs are encouraged to explain the difference between their services and those of an urgent care center, but NBC News has interviewed a number of patients who say this distinction was never made clear to them.
Patients who said they decided to go ahead with treatment knowing they weren't at an urgent care center often didn't realize the cost would be so much higher.
Julie and Jared Drinkwater took their then-six-year-old son Jory to a freestanding ER operated by Adeptus in Texas when he started complaining of excruciating stomach pain in December 2015. After an X-ray and a dose of morphine for the pain, the doctors determined it was just a severe case of constipation.
The total bill ended up being nearly $7,700. After insurance payments, the Drinkwaters were left with an out-of-pocket cost of more than $1,000.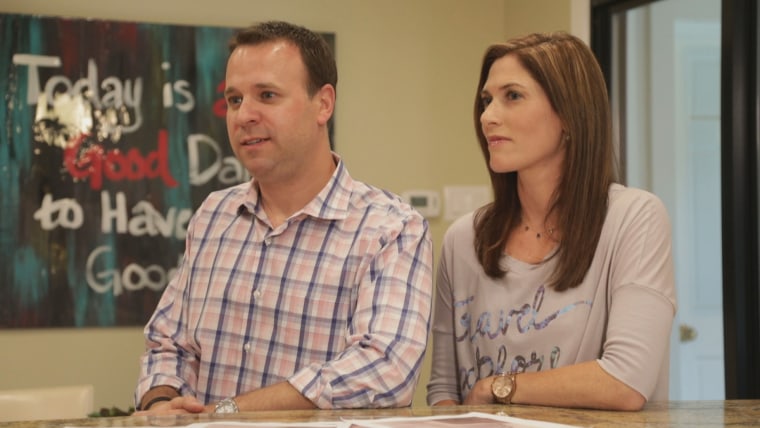 "I don't know if it would've changed my course of action, not knowing what was wrong with my kid, but looking back on it, I definitely would've liked to have better understood the policies," Jared Drinkwater lamented.
"I think that while there's a need for the service and the convenience is helpful, if my insurance hadn't picked that up and I was somebody else that had a $7,700 bill for constipation," he explained, "people would have to sell their cars to pay for some of that stuff."
De Moor is aware of the troubles Adeptus has faced, but she's adamant that the free market will eventually run its course as patients begin to vote with their feet.
"I think it's for any business, there can be bad actors," de Moor explained. "Social media makes it very easy to determine who the good guys and the bad guys are these days."
Her advice? "Ask your doctor, 'Do I have an emergency, in your opinion? Could I be treated somewhere else?'" De Moor says her patients do it all the time.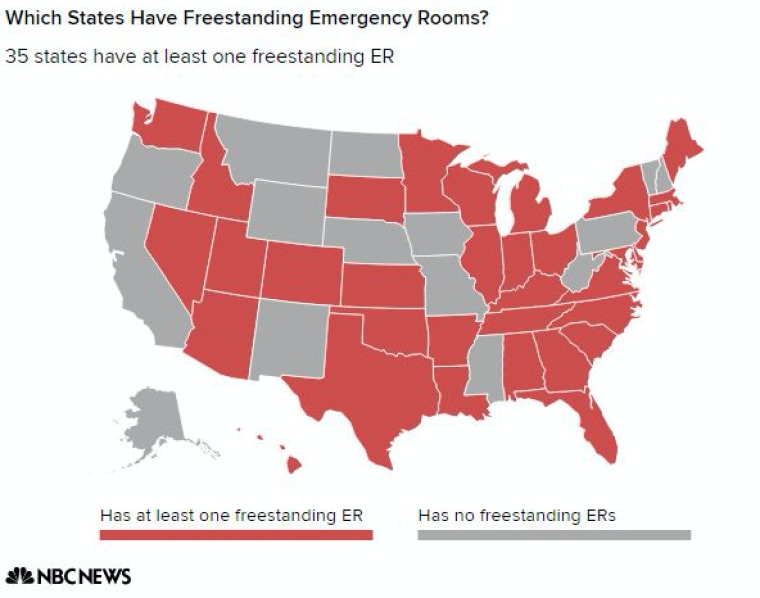 For Ginger Pine, a quick decision last December initially cost her and her husband close to $1,700. After calling and writing the medical billing service, Pine found out earlier this month that her bill would be reduced. She now owes just under $1,000.
"If we had decided just to wait at our after-hours facility, even if it had been two hours, it would've only been $12. We kinda wish that we had — no, we definitely wish that we had stayed and just waited through it."