It attracts lots of criticism about its stars and subject matter, but the popular MTV reality show "16 and Pregnant" has had a "sizable impact" on the declining teen birth rate, according to a study released by the National Bureau of Economic Research on Monday.
"This is sex education for the 21st century. This is a show that very clearly exemplifies what life is going to be like in the aftermath of having a baby at such a young age," said Phillip Levine, co-author of the study and a professor of economics at Wellesley College.
"It's very hard to convey that message in any other way. You could talk about it in a classroom environment and maybe it could have some impact, but this is much more compelling."
The researchers were intrigued by the dramatic decline in the U.S. teen birth rate over the past 20 years — a decline that started, of course, before "Teen Mom" — the "16 and Pregnant" spin-off that spawned its own franchise — debuted. In 2012, fewer than 30 out of 1,000 teen U.S. girls gave birth, compared to almost 62 in 1991. The decline was particularly rapid after 2008, coinciding with the Great Recession. The authors argue that the weak labor market combined with the 2009 debut of "16 and Pregnant" contributed to the drop in teenage childbearing.
Examining Nielsen ratings, as well as web searches and tweets, the researchers found the show had a large following, and led teens to search and tweet about birth control and abortion. Those searches spiked when the show was on and in places where it was more popular.

The study estimates "16 and Pregnant" led to a 5.7 percent reduction in teen births in the 18 months following its introduction. Some have criticized the show for glamorizing the issue of teen pregnancy, but Levine noted it demonstrates the dramatic impact having a baby can have on girls' lives.
"You see very stressful relationships, difficulties with boyfriends, lack of sleep, difficulties completing their education – that clarifies for people exactly what life is going to be like afterwards," Levine said.
"In that sense, I think it has a perfectly plausible mechanism for affecting women's life choices."
"Personally, I chose to do ('Teen Mom 3') because you only get so many chances in life to help others," Katie Yeager told NBC News about her participation in the MTV series. "I know more random stats about teen pregnancy than anyone should. I personally feel that it has helped and obviously the fact the teen pregnancy rate has dropped in the past few years is no coincidence."
Yeager has a daughter named Molli with her ex-fiance, Joey Maes. "Teen Mom 3" aired for only one season in 2013.
Television shows can influence teen sexual behavior, said Dr. Gail Saltz, a New York psychiatrist and TODAY show contributor. Girls who may think having a baby will result in marriage with the father and an adorable infant to care for might see a much sober reality while watching programs like "16 and Pregnant," she noted.
"A show that shows the ramifications of teen pregnancy, and that is not about some idyllic fantasy of being a mom and having a family – it would not surprise me that that would impact decision making," Saltz said.
"It has to do with how it's presented, what's presented and how counter it is to a fantasy that might be driving a certain behavior."
In a statement, MTV president Stephen Friedman said the network created this series as a cautionary tale on the hard realities of teen pregnancy and was "incredibly heartened" by the study. The researchers had no connections with MTV, Levine said.
Randy Houska, dad to "Teen Mom 2" star Chelsea Houska, said he believes the "Teen Mom" franchise does get the tough message across.
"It really portrays the girls in their real-life situations," he said. "What it shows — very well, I might add — is that teen moms seldom have the maturity to do everything involved in being a mother, and the fathers are seldom a big help. ... It has been my experience that most of the people who claim that ('Teen Mom') promotes teen pregnancy have never watched the show in any regular manner and base their claims on hearsay and a few video clips. I have had the pleasure of going with Chelsea in public and talking to people, primarily young teen girls and mothers with teen girls who tell her how much they learn from her story and that it really makes them think about all of it."
Houska himself has appeared on "Teen Mom 2" on several occasions, often to help his daughter and granddaughter when baby Aubree's father and Chelsea's ex, Adam Lind, was unwilling to do so.
Of the show's focus on the difficulties of being a young, unmarried parent, "Teen Mom 3" star Alexandria Sekella told NBC News,  "That's all (MTV) filmed us talking about. Even if I was having the happiest day, we would be talking about (bad) stuff."
In an earlier interview, an MTV spokesperson told NBC News, "Teen birth rates in the U.S. are at historic lows and many experts have cited the 'Teen Mom' franchise as contributing to that decline. The show continues to capture the ups and downs these mothers face. And, as young parents, they still struggle with issues young people around the country deal with, including relationships, growing up, finding themselves, and sometimes making mistakes. These issues are amplified by the fact that they have a child."
Meanwhile, the National Campaign to Prevent Teen and Unplanned Pregnancy praised efforts to shine light on the issue.
"MTV and other media outlets have undoubtedly increased attention to the risks and reality of teen pregnancy and parenthood and, as this research shows, have likely played a role in the nation's remarkable progress," said Sarah Brown, CEO of the campaign.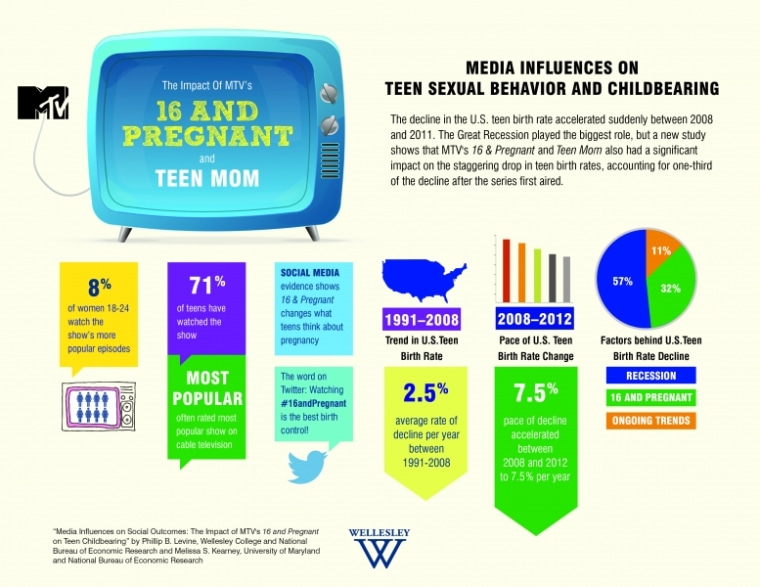 Additional reporting by Ashley Majeski and Anna Chan.