The Food and Drug Administration on Wednesday approved an over-the-counter version of the opioid overdose reversal drug naloxone, a move that's expected to increase access to the lifesaving medication.
Up until now, naloxone — sold by drugmaker Emergent BioSolutions under the brand name Narcan — has been available in the United States only as a prescription drug, though many states have created workarounds that allow people to get it directly from pharmacists. It can also often be found at community centers, local health departments and needle exchange programs.  
Making the drug available over the counter could save more lives, said Dr. Scott Hadland, a pediatrician and an addiction specialist at MassGeneral Hospital for Children in Boston.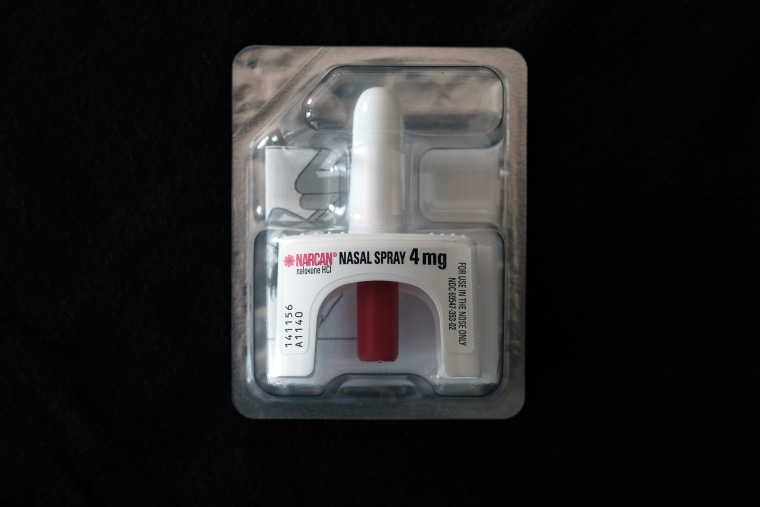 "Narcan can save a life in minutes, which is critical," he said. 
The over-the-counter Narcan, which will be sold as a single dose given as a nasal spray, most likely won't be available until the late summer, according to the company. FDA officials have said that once approved, it could be sold in places such as convenience stores, grocery stores and even vending machines.
"Today's approval of OTC naloxone nasal spray will help improve access to naloxone, increase the number of locations where it's available and help reduce opioid overdose deaths throughout the country," FDA Commissioner Dr. Robert Califf said in a statement.
Wednesday's approval came a little over a month after an advisory committee to the FDA unanimously recommended that the agency allow Emergent's drug to be sold over the counter. 
Drug overdoses — the leading cause of accidental deaths in the U.S. — killed more than 107,000 people in 2021, according to the Centers for Disease Control and Prevention. More than 80,000 of those deaths involved opioids.
Hadland said he's seen an uptick in teenagers and young adults overdosing.
Most overdose deaths among young people occur at home, he said, usually when there is someone nearby who can respond. 
"Yet most young people who overdose never receive Narcan and are pulseless by the time EMS arrives," he said. "Making it available over the counter will provide a new avenue of access, especially for young people and families who haven't been the targets of our widespread efforts to distribute Narcan across the country,"
The over-the-counter version of naloxone will be packaged in a larger box with images and detailed instructions to help people administer the drug more easily, according to the company. 
Dr. Michael Barnett, an assistant professor of health policy and management at the Harvard T.H. Chan School of Public Health, said that while making naloxone available over the counter is a "huge step," he worries about how much it will cost.
"My hope is that the cost is affordable," he said. 
Emergent declined to share details on how much the over-the-counter medication will cost, but the average price of a two-dose box of prescription-only Narcan is around $130, according to GoodRx, which tracks drug prices.
Follow NBC HEALTH on Twitter & Facebook.