The Food and Drug Administration has approved a drug to treat a rare and fatal genetic disease in children, a life-saving therapy that will cost $2.1 million. The newly approved drug, called Zolgensma, is used to treat children with spinal muscular atrophy, or SMA.
While some doctors argue that this "miracle drug" is too costly, parents of children with SMA may see the new therapy as a "godsend."
Nicole Almeida, for example, was five months pregnant when doctors told her that the baby she was carrying most likely wouldn't make it past his first birthday.
"Diagnosis day was and still is one of the worst days of our lives," Almeida remembers. "It's like I had the wind knocked out of me."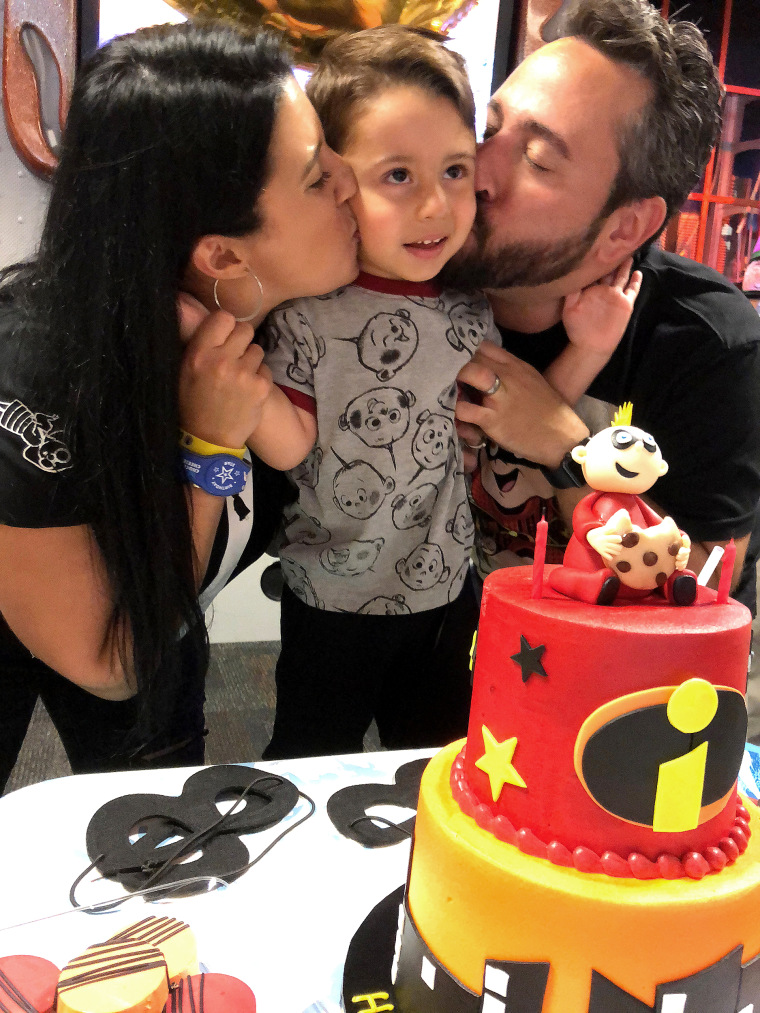 In babies with SMA, nerve cells in the brain stem and spinal cord that control the muscles needed for speaking, walking, breathing and swallowing are destroyed. As the disease progresses, muscles weaken and atrophy, according to the National Institute of Neurological Disorders and Stroke.
Eventually, patients lose the ability to walk, eat or even breathe. That all happens quickly in babies born with the most severe form of the disease—like the Almeidas' baby, Matteo.
SMA affects approximately 1 in 11,000 babies, and about 1 in every 50 Americans is a genetic carrier, according to SMA Cure, an organization dedicated to finding a cure for the fatal disease.
Almeida wasn't willing to give up on her son, so she started researching SMA, looking for possible treatments. Through SMA Cure, she learned that there were two ongoing clinical trials that were testing possible therapies for the disease.
She remembers watching a video for one the trials that showed the impact of a single dose of gene therapy in pigs. Initially the pigs were shown dragging their feet, but after therapy, "it show[ed] the pig walking perfectly," Almeida said. "We knew right away that this was it. This was what we wanted for Matt."
The treatment turned out to be nothing short of miraculous, Almeida said. Matt got the experimental therapy when he was 27 days old and now, nearly four years later, the little boy is healthy and strong with no signs of SMA.
Huge price tag
At $2.1 million, the price tag is most expensive ever for a single dose of a drug.
Vas Narasimhan, the CEO of Novartis, the maker of Zolgensma, said the price of the new drug is justified, and points to other areas of medicine that come with big price tags.
"Critics are not actually thinking about how our healthcare systems work," Vas Narasimhan said. "For transplants, we spend $3 million to $5 million [per patient] with far less efficacy than we see with a medicine like this. We're trying to price this at 50 percent of what is the current cost of care over ten years for these children."
Narasimhan pointed to the fact that the drug has worked for every patient who has received it. "In our early studies we've had 15 children who've been followed out to approximately four years and all the children are alive and doing well," he said.
"The thing about SMA you have to remember is, children are developing mentally normally," Narasimhan said. "So these are very bright children. They've lost the ability to move. So any regaining of function allows these children to start to experience life again. And I think that's what we're all here to do."
The question, said Dr. Peter Bach, is "how much money from society should go for this treatment to ensure we have these and treatments for other, more common diseases."
There's no incentive for drug companies developing treatments for rare diseases to charge less for these therapies, because they often have no competition, said Bach, an epidemiologist and the director of the Center for Health Policy and Outcomes at Memorial Sloan Kettering Cancer Center in New York City. "The company is going to charge as much as it possibly can and it's going to reverse engineer a rationale for that price."
Bach believes that people will have no choice but to foot some of the drug's bill, but ultimately insurance companies and the government will have to help finance the drug's enormous cost.
"I'm sure the company's going to try and push through laws to require insurers to pay for these drugs. The advocacy community that are often funded by the drug companies are going to push legislators to require insurers to pay for these drugs," he added.
Narasimhan said that he expected insurance companies would cover the cost of the treatment.
Because Matteo got the Zolgensma as part of a clinical trial, the medicine was free. His parents say that if they needed to seek the treatment now, they would find a way, no matter the cost.
"There's no price on human life, right?" Almeida said. "How much would you pay to save your kid?"
FOLLOW NBC HEALTH ON TWITTER & FACEBOOK