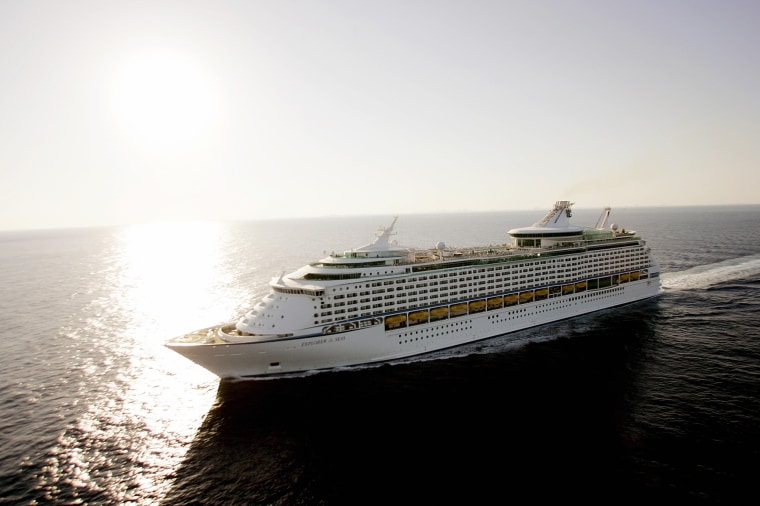 U.S. health officials are expected to board a Royal Caribbean cruise ship in the Virgin Islands on Sunday to investigate a possible outbreak of highly contagious norovirus that has sickened more than 300 passengers and crew members.  
The Explorer of the Seas ship stopped part way through a 10-day cruise from Cape Liberty, N.J., to the Caribbean island of St. Maarten after reports of vomiting and diarrhea, according to the cruise line and the Centers for Disease Control and Prevention.
Some 281 of the 3,050 passengers and 22 of the 1,165 crew members showed symptoms of the fast-spreading infection, according to the CDC's Vessel Sanitation Program, which monitors cruise ships.
"During its sailing, Explorer of the Seas has experienced an elevated number of persons with a gastrointestinal illness," cruise line officials said in a statement. "Those affected by the short-lived illness have responded well to over-the-counter medication being administered on board the ship.
There's no known cause of the outbreak and cruise officials stopped the ship in San Juan, Puerto Rico, for an "extensive and thorough sanitizing" regimen known to "kill norovirus," officials said.
A CDC Vessel Sanitation Program officer and an epidemiologist planned to board the ship in St. Thomas, U.S. Virgin Islands on Sunday to conduct an investigation and evaluate the outbreak and the response.
"We sincerely apologize for this disruption to our guests' cruise vacation," Royal Caribbean officials said.
Norovirus is a fast-moving gut bug typically spread by infected people or contaminated food or water. Norovirus is the most common cause of acute gastroenteritis in the U.S., resulting in about 21 million illnesses, between 56,000 and 71,000 hospitalizations and as many as 800 deaths, the CDC says.
The virus lingers on surfaces and spreads very easily. Thorough handwashing with hot water and soap and meticulous environmental cleaning can help stop the spread.
It's not yet clear whether the outbreak on Explorer of the Seas has been linked to a nasty new type of norovirus known as the GII 4 Sydney strain. That was the bug blamed for an outbreak last year on the Queen Mary 2. During a voyage from Dec. 22, 2012 to Jan. 3, 2013, 204 passengers and 16 crew members developed norovirus, the CDC reported.