Heavy smokers who are at least 55 should have an annual CT scan to check for lung cancer, a government panel says. The recommendation, which could apply to about nine million Americans, would mean Medicare and many health insurance companies must start providing the test for free to patients.

The screening test, which costs $250-$300, may prevent as many as 20 percent of future deaths from lung cancer, the U.S. Preventive Services Task Force (USPSTF) says in its recommendations, explained in a separate report published in the Annals of Internal Medicine. Other experts note that in real-world practice, the actual numbers may be much lower.
"It ranks it alongside mammography, colonoscopy, some other established cancer screening tests," says Dr. Kenneth Lin, an associate professor of family medicine at Georgetown University. "This screening test can sometimes find lung cancers at a treatable stage and … we can cure people that we otherwise might not have been able to cure."
Dr. Christopher Lathan, a lung cancer expert at Dana-Farber Cancer Institute and Harvard Medical School in Boston, says he is "ecstatic". "This is a tremendous opportunity to really change the tide in lung cancer treatment," Lathan told NBC News.
Lin is a little more cautious. "I think this is an advance but at the same time I don't think that everybody should necessarily run out and get this test because of all the problems that the test can cause in the long run," he says.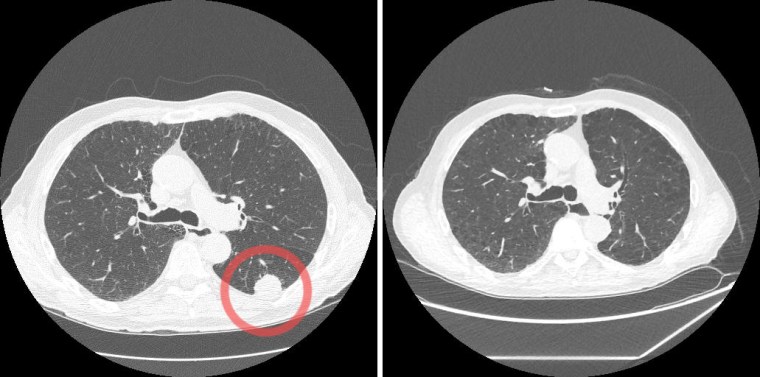 The USPSTF estimates that about nine million Americans who smoked the equivalent of a pack a day for 30 years fall into the eligible group, which includes current smokers aged 55 to 80 or former heavy smokers who quit less than 15 years ago. Patients who smoked even more heavily – three packs a day for 10 years – would be included. This is just about what's been recommended by other groups, including the American College of Chest Physicians, the American Society of Clinical Oncology, and the American Thoracic Society.
"They are right in the heart of what the science shows," says Dr. Peter Bach of the Memorial Sloan-Kettering Cancer Center in New York. The American Lung Association has some guidance here.
The idea of screening people who seem healthy for lung cancer has been highly controversial since it was first proposed more than a decade ago. Smoking is the single biggest cause of cancers of all types and it causes most cases of lung cancer, the biggest cancer killer.
Lung cancer is so deadly because it doesn't start causing symptoms until it's already spread. It kills nearly 160,000 people a year, according to the American Cancer Society. So the idea of screening people and catching the cancer early is appealing.
Dr. Claudia Henschke of the Mount Sinai Medical Center in New York, who led a study that started the push for screening, says she is delighted. "It is going to make a big difference to how many people die of lung cancer," she told NBC News.
"Back in 1999 when we published our results, we were very confident that it was going to make a big difference," she added. "Now, finally, it will be made available to those people who are at highest risk. I am thrilled."
It's a draft recommendation – open for comment – and it's graded "B" by the USPSTF. That means Medicare, the federal health insurance plan for the elderly, would pay for the screening for eligible patients. And the 2010 Affordable Care Act, known commonly as Obamacare, requires health insurers taking part in the new insurance marketplaces to provide, free of charge, all screening services rated A or B by the USPSTF.

"It's a great first step," Henschke says.
Using CT (computed tomography) screens for cancer isn't cheap and it isn't harmless. Spiral CT used to look for lung cancer is a low-dose form of X-ray, delivering about the same radiation as a mammogram. And CT scans aren't exactly clear, says Lin. A fuzzy blur on a CT scan might be a tumor, might be emphysema, an infection or even nothing, so people must get a second scan if there's something suspicious looking there.
"Even the additional imaging isn't enough to really assure us that a nodule you might see on your lung is not a cancer," Lin says. "And then the only recourse is to do a lung biopsy, which means taking a needle and inserting it into your chest, into your lungs and getting a sample for pathology." It not only hurts – it can collapse the lung.
The National Lung Screening Trial – the study that forms the main basis for the new recommendations -- showed that for every five to six lives saved by screening, one person died because of procedures done after screening, including surgery and biopsies that collapsed the lung.
And experts are worried that having the test available may give people just the excuse they want to keep smoking. About 20 percent of U.S. adults smoke cigarettes.
Bach says he also worries that screening will be done at centers and by experts who are not equipped to do the right follow-up.
"No one thinks that the quality of the benefit will be as large in the real community as in in the National Lung Cancer Screening Trial," he told NBC News. "The surgeons (in the trial were) super-experienced. They had an unbelievably low mortality rate."
The statistics show that 96 percent of people who get an initial "positive" on the first scan will turn out not to have lung cancer. And 320 smokers will have to be screened to save one life. "That is a benefit of 0.3 percent," Bach said. "But the people who do benefit , benefit hugely."
The costs could be enormous. A study by a team at the Fred Hutchinson Cancer Research Center in Seattle last year found that lung cancer screening could add $1.3 to $2 billion in yearly national health care spending. They calculated that the price of preventing one lung cancer death was $240,000. It's not clear how insurers would respond. Insurance companies already charge smokers extra and Obamacare limits how much more they may do so.
Henschke says once the screening tests are common, they could reduce lung cancer deaths by 80 percent. Bach thinks this is a wild overestimate. "My estimate is that this could probably prevent between 4,000 and 8,000 deaths from lung cancer a year," he says. The Fred Hutchison team calculated it would be 8,100 lives a year if 75 percent of those eligible got screened.
"That is a huge number," Bach adds. Even just 4,000 deaths prevented equals the number of women who die from cervical cancer each year, he points out.
Leslie Kingon, 88, says he's one of those whose life was saved by screening. The retired high school English teacher started smoking "in the foxholes" during World War Two and had been getting regular screening exams in Henschke's office for years.
"It was this or living on tenterhooks for the rest of my life just waiting around and I didn't want to do that," Kingon told NBC News. His lung cancer was diagnosed in 2007 and surgeons got the tumor out in time.
"I think it was discovered in the first stage, luckily. And that's what saved me," Kingon said.
"I tell my friends who are still smoking ... 'look if you really are serious about stopping smoking, get lung cancer'", he said.
Stacey Naggiar and Victor Limjoco contributed to this story.

FollowNBCNews Healthand Maggie Fox on Facebook and on Twitter