Outside, protesters were marching through the streets, demanding that everyone who needs them get drugs to treat and prevent infection with the AIDS virus and declaring, "Yes, we can control AIDS."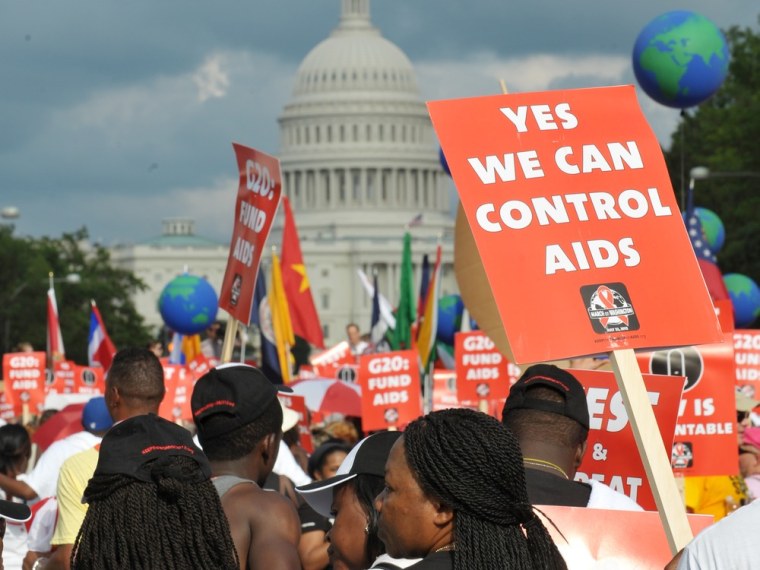 Inside, scientists were doing the same thing.
The 19th International AIDS Conference, which opened in Washington on Sunday, is demonstrating like no other forum that, when it comes to AIDS, science and advocacy have the same goals. In the 1980s, it was flamboyant but articulate demonstrators, mostly gay men, who persuaded policymakers to fund research into AIDS. Now, that very research has turned the scientists into advocates.
The thousand or so demonstrators who took to the streets of Washington D.C. on Sunday were a little louder and a little more colorful than the scientists, physicians and policymakers inside the convention center. But their messages were virtually identical inside and outside: People must stop judging patients infected with HIV, governments need to make drugs and testing more widely available, and people who might be infected need help and encouragement to get tested and treated.
In one of the first presentations made on Sunday, even before the conference officially opened, Dr. Melanie Thompson of the International Antiviral Society-USA presented recommendations that everyone get treated for the human immunodeficiency virus that causes AIDS as soon as they know they are infected.
It's a controversial recommendation. Many doctors fear that people won't take the drugs properly and their bodies will breed drug-resistant HIV mutants. They also worry about the toxic side-effects of the powerful drugs. But Thompson said the 15 panel members from six countries looked at the evidence and found it showed treating is better.
Then she went a step further. "We need activism, activism on the part of individuals and organizations," said Thompson, a physician who treats AIDS patients in Atlanta.
Part of the goal of activism is to remove the embarrassment of  being diagnosed with HIV,  she said.
"Stigma keeps people from being diagnosed. It keeps them from being in care," Thompson said.
Stop judgments about gay men, sex workers, drug users
In the United States and elsewhere, this means stopping judgments about gay and bisexual men, sex workers and drug users, experts stress.
"Men who have sex with men deserve to be treated with respect, and health-care providers need to interact with them in ways that promote disclosure of actionable health information," Dr. Ken Mayer of Beth Israel Deaconess Medical Center and Harvard Medical School in Boston and colleagues write in a special issue of the Lancet medical journal released to coincide with the conference.
Treating HIV is expensive. The cocktails of drugs that keep HIV patients healthy can cost $12,000 and more a year in the United States. But Thompson points out that some private insurance companies -- which should avoid spending money on unnecessary treatments -- have opted to pay for immediate treatment for anyone diagnosed with HIV.
Government-sponsored insurance plans should do the same, she suggested.
"It is important for us to realize that the idea of not having enough money may be that we don't prioritize the money that we do have," she said. "I reject the idea that we don't have enough money. I think it is a matter of political will."
Dr. Anthony Fauci, the director of the National Institute of Allergy and Infectious Diseases, has made scientific activism work. He's been leading AIDS research since the epidemic was identified in the 1980s, working with both Republican and Democratic administrations and convincing even the toughest budget bears in Congress to pay for AIDS research and treatment. He thinks the activist approach works when there's hard evidence to back it up.
One good example, he said, is PEPFAR, the President's Emergency Plan for AIDS Relief, which provides treatment to 4 million people globally. "I cannot imagine not reauthorizing an overwhelming success," Fauci told a news conference.
But Fauci said it was determined advocacy that got it going. "To think that you can come down to Congress or to the administration on a one-shot basis and say, 'This is important, please fund it' …I don't think there has ever been a time when I got what I asked for the first time around," he said. "It is usually the 50th time around."
Fauci praised the first AIDS activists of the 1980s, even if they were sometimes loud and theatrical. "But they were amazingly well-informed. They knew exactly what they were talking about. You can't dismiss them as being some kind of group that is disruptive," he said.
The same can happen now, Fauci said, as scientists and doctors push for universal testing and treatment as a way to benefit not only people with HIV, but society as a whole. Delegates to the conference will be highlighting the growing body of studies that show if HIV patients take drug cocktails as directed, they  suppress the virus enough not only to keep it from destroying their own immune systems, but to keep it from infecting others.
But to encourage people to get treated, they first have to be tested and know they are infected. And to ensure that everyone gets tested, Fauci and other medical experts at the meeting will stress, societies need to work harder to reduce the stigma of a diagnosis, work to get hospitals and clinics to test everyone, and then get public and private health insurers to pay for treatment.
Related links: