Alzheimer's disease may be killing more than 500,000 people in the U.S. each year, making it possibly the third leading killer behind heart disease and cancer, according to a study that takes a new look at the way the deaths are estimated.
Right now, the mind-wasting disease ranks sixth among the nation's leading causes of mortality, with more than 83,000 deaths each year. Heart disease is first, with nearly 598,000 deaths, followed by cancer at nearly 575,000.
But researchers at Rush University Medical Center in Chicago said those figures are based on notoriously inaccurate death certificate reports — and that a review of actual deaths suggests the figure may be five to six times higher, possibly boosting Alzheimer's into third place.
If that's true, it means that the disease deserves research funding for prevention and treatment on par with such massive scope, perhaps $2 billion a year, four times what's now being spent, experts said.
"Determining the true effects of dementia in this country is important for raising public awareness and identifying research priorities," said Bryan D. James, an assistant professor with the Rush Alzheimer's Disease Center, who led the study published Wednesday in the journal Neurology.
Alzheimer's disease and other dementias are routinely under-reported on U.S. death certificates, James said. People filling out the certificates typically focus on the immediate cause of death — say, pneumonia, when the patient wouldn't have developed pneumonia without first having Alzheimer's disease.
Take Carol Steinberg's father, Michael Steinberg, a bookkeeper who died in 1997 in Deerfield Beach, Fla., at age 84 after a dozen years of living with Alzheimer's disease. His causes of death included cardiac arrest, sepsis and pressure ulcers, or bedsores, but not the disease that actually killed him, she said.
"I always remember it bothered my mother," said Steinberg, who is now president of the Alzheimer's Foundation of America in New York. "It's sort of a smack in the face not to see that actual cause of death on the death certificate. It's not the full story of what the family has gone through. It's not the full story of what the person has gone through."
To calculate the actual effect of Alzheimer's deaths, James and his colleagues studied more than 2,500 people aged 65 and older who are part of two large cohorts of elderly people who agreed to be tested for dementia and to donate their brains after death.
Over an average of eight years, 1,090 patients died. Some 559 people who didn't have dementia at the start of the study developed the disease, with a median time from diagnosis to death of nearly 4 years. The average age of the participants was 78.
"It's sort of a smack in the face not to see that actual cause of death on the death certificate. It's not the full story of what the family has gone through. It's not the full story of what the person has gone through."
When the researchers calculated the risk of excess deaths in people who developed dementia versus those who didn't, they found it was more than four times higher in people aged 75 to 84 with Alzheimer's disease, and nearly three times higher in people aged 85 and older.
That translates into about 503,400 deaths from Alzheimer's disease in the U.S. population older than 75 in 2010, James said.
That's far higher than the CDC's estimate, which experts have long believed undercounted Alzheimer's deaths, said Keith Fargo, director of scientific programs and outreach for the Alzheimer's Association.
"We actually think this is a good number. We think it's an eye-opener," he said. "We hope it reinforces the image of Alzheimer's as a fatal brain disease instead of a memory problem."
But Robert Anderson, the man behind the CDC's figures, isn't so sure. He acknowledges that death certificates likely under-report Alzheimer's deaths, but he's skeptical that the gap is as large as the new study suggests.
"It's a stretch to extrapolate to the entire U.S. population from a study based on 2,500 people," said Anderson, the chief of the CDC's mortality statistics branch. "I find it very difficult to believe based on a study like this that there are 500,000 deaths."
He said CDC figures that include underlying causes of deaths showed perhaps 110,000 mentions of Alzheimer's disease on the nation's death certificates.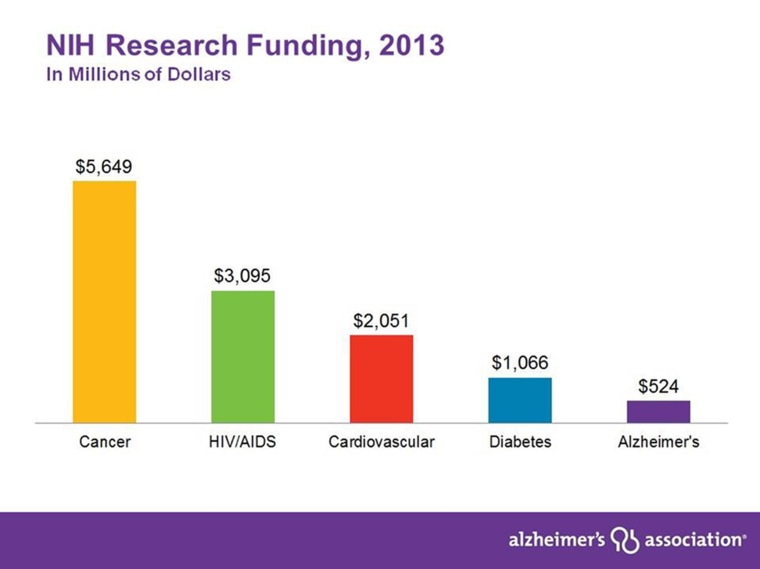 The new study is important, but it shouldn't be regarded as the last word on Alzheimer's deaths, Anderson said, adding that more research is needed.
Still, if it's even possible that half a million people are dying each year from Alzheimer's, then funding needs to catch up, experts said. The National Institutes for Health 2014 research budget lists $5.6 billion for cancer, which affects about 13 million people in the U.S., and about $562 million for Alzheimer's disease, which affects about 5 million people.
"By my math, funding is 10 times higher for cancer than Alzheimer's disease and, per capita, about four times as high," said James.
But the point isn't a competition of diseases, James emphasized. Alzheimer's recently drew a influx of $100 million through the far-reaching National Alzheimer's Plan. Still, Fargo said scientists tell him that they'd need $2 billion a year for 10 years to really tackle the research that will make a difference in prevention and treatment of Alzheimer's disease.
"In the past 10 to 15 years, we've been able to make major strides in terms of the death rates from cancer, heart disease, HIV and AIDS," he said, adding that such gains were a result of research attention and funding. "Now it's time to make a similar investment in Alzheimer's."