More than a quarter of kindergarteners in Camas County, Idaho, lack at least some vaccinations because their parents have opted for nonmedical exemptions, researchers said Tuesday.
Idaho has eight of the top 10 counties in the country with nonmedical vaccine exemptions, the reports finds. The other two are in Wisconsin and Utah.
These counties are among the pockets of vaccine resistance that Dr. Peter Hotez and colleagues found when looking at rates of vaccine refusals around the country. They found an increase in nonmedical vaccine exemptions in 12 out of 18 states that allow them.
"What we are seeing is pockets of intense anti-vaccine activity," said Hotez, a pediatrician and dean of the National School of Tropical Medicine at the Baylor College of Medicine.
"A social movement of public health vaccine opposition has been growing in the United States in recent years; subsequently, measles outbreaks have also increased," Hotez and colleagues wrote in the Public Library of Science journal PLoS Medicine.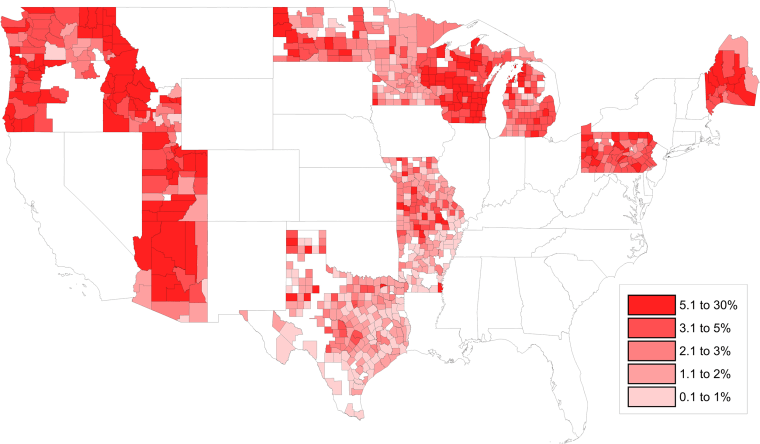 "Since 2009, the number of 'philosophical-belief' vaccine nonmedical exemptions has risen in 12 of the 18 states that currently allow this policy: Arkansas, Arizona, Idaho, Maine, Minnesota, North Dakota, Ohio, Oklahoma, Oregon, Pennsylvania, Texas, and Utah."
They found pockets in some big cities, too, including Seattle, Spokane, Houston and Kansas City.
"The paper is kind of a wake-up call to really take a serious look at closing the nonmedical exemptions in the 18 states that allow them," Hotez told NBC News.
"There's a very straightforward way to fight it and that is what they did in California. The California legislature had the courage to halt nonmedical vaccine exemptions," he said.
California stopped allowing nonmedical exemptions in 2015, after a nationwide outbreak of measles was traced to Disneyland.
Most Americans vaccinate their children on time. It's normal and accepted to vaccinate — and the U.S. system of requiring vaccines for children to attend public schools and day care centers helps reinforce the behavior.
Less than 1 percent of toddlers nationwide have never been vaccinated, the Centers for Disease Control and Prevention says.
However, a small but very vocal anti-vaccine movement has made use of social media and in-person rallies to spread doubt about the safety and efficacy of vaccines. They encourage state lawmakers to allow parents to opt out of vaccinating their kids not only for legitimate medical reasons, but for religious or "philosophical" reasons.
Hotez and a few other doctors, many of them pediatricians, have been taking on this vaccine-skeptic movement. They're trying to encourage public health leaders to be more open in criticizing them.
"I think in the beginning … it was felt that the anti-vaccine group was a cult kind of movement," he said.
"They didn't want to give it oxygen and create an issue that wasn't an issue," he added.
"Then what happened was the anti-vaccine groups were very strong, well-organized and became well-funded. As a result, now you have got this situation where we have schools where you have 20, 30, 40 percent of kids not vaccinated."
That creates pockets where infectious diseases can take hold and spread to the wider community. It's happened in Minneapolis, it happened in California, and it's worrying when it happens in cities where there are major international airports, Hotez and colleagues said.
In January, a report from Blue Cross and Blue Shield found that vaccination rates were up, but so were refusals. It indicated that public health officials were reaching kids who missed vaccines because of a lack of access or resources even as more well-to-do parents deliberately withheld immunizations.