RICHMOND, British Columbia — In October 2018, little Lucas Parker shared a salad from a pizza place with his father during a family vacation to California.
Fifteen months later, the once-rambunctious 3-year-old is blind, can barely move and needs constant care.
"After everything he's been through and everything's that happened in life, there's one thing I don't do," said his father, Nathan Parker. "I don't leave Lucas. I sleep right beside him. I sleep right next to his head."
Every year 9 million people in the U.S. get sick and 1,300 die from foodborne diseases, according to the Centers for Disease Control and Prevention. Leafy greens, specifically the romaine that made Lucas Parker sick, are under increasing scrutiny for harboring one of the culprits — E. coli bacteria.
An NBC News investigation in collaboration with the Boston Globe's Spotlight Fellows program, however, raises questions about the FDA's ability to respond quickly and effectively to outbreaks of E. coli.
Click here to read the Boston Globe's story.
According to CDC figures, from 1998 to 2017, more E. coli illnesses were linked to row-grown vegetables — 48 percent — than to any other food. The row-grown vegetables at fault were usually leafy greens, and often romaine.
Since 2017, there have been seven E. coli outbreaks, sickening 474 people and killing six, according to the FDA.
But the Globe/NBC News collaboration found the FDA often struggles to trace the source of contamination back to a single farm with certainty, and by the time it finds a definitive link the tainted product is often off the market.
When Lucas Parker got sick on Oct. 18, 2018, his was one of more than 60 reported cases of E. coli-related illnesses, but it wasn't until a month later, on Nov. 20, 2018, that the government linked those illnesses to romaine and warned the public.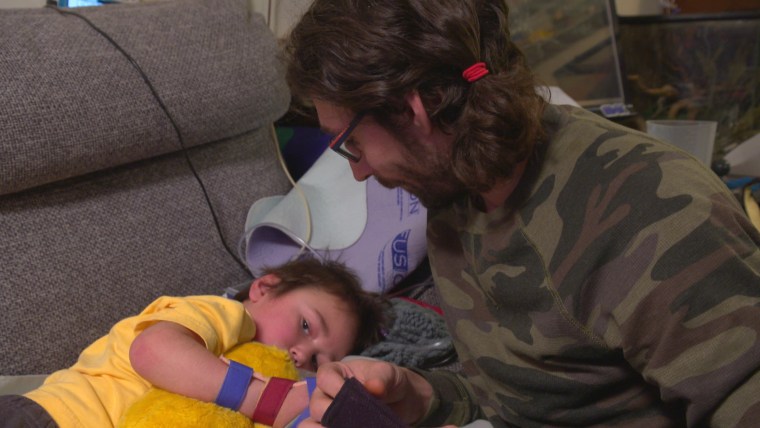 Another four weeks went by before the FDA announced that it had found the specific E. coli strain at fault in reservoir sediment at the Adam Brothers farm in Santa Maria, California. The farm then contacted its customers and issued a voluntary recall on Dec. 13, at the request of the FDA.
According to the farm, none of its recalled produce tested positive for E. coli. The FDA said that the specific strain of E. coli was not detected in more than 150 samples collected from other sources during its investigation, but has not conclusively connected any E. coli illness to the Adam Brothers farm. In its report on the outbreak, which the CDC declared over in the U.S. on Jan. 9, 2019, the FDA said, "The traceback indicates that the contaminated lettuce may have been grown on multiple farms."
Christine Haughney of the Spotlight Fellows program, who has spent six months investigating the FDA response to E. coli outbreaks linked to tainted lettuce, said part of the FDA's problem with finding the source of illnesses is an outdated process.
"A lot of what we see in the lettuce and leafy greens industry is that everything is still paper based," she said. "So FDA investigators will walk in, and will just be handed thousands of pieces of paper, and [be told], 'Figure it out.'"
The official in charge of food safety at the FDA, Frank Yiannas, agreed that the agency is hampered by an antiquated system for tracing.
Yiannas, the deputy commissioner for food policy and response, said the FDA is working with growers and producers to try to transfer those records to a digital platform so it can trace a contaminated food item back to its source in seconds instead of days.
Said Yiannas: "We could always do more with more. But having stated that, FDA spares no resources when it comes to preventing contamination of leafy greens and investigating those outbreaks. And it's certainly not a lack of will."
When pressed by NBC News for when the public will see these changes with technology or traceability, Yiannas declined to provide a specific timeframe other than "as soon as possible."
Critics have suggested that the FDA shies away from mandatory regulation and relies too heavily on growers to police themselves. Yiannas objected to that characterization, noting that the U.S. public safely eats 100 million servings of leafy greens each day.
"We're doing more inspections on farms than ever before," said Yiannas. "We test products that will eventually end up in commerce to see if we can find these pathogens. We're doing training of farmers. We're making sure that we do our part and hold producers accountable."
Yiannas urged the public to report any food poisoning symptoms to the FDA immediately so the agency can take action.
In a statement, a trade group representing the leafy greens industry, the California Leafy Greens Marketing Agreement, said it "is committed to doing everything possible to make romaine and all our products 100 percent safe."
"The leafy greens community knows what's going on in our fields better than anyone," the group said. "We want to work with the FDA to prevent future outbreaks that are devastating to both consumers and farmers."
The family of Lucas Parker is considering suing the Adam Brothers farm, which declined to comment to NBC News. They have set up a GoFundMe.
"Am I devastated? Yes," said Nathan Parker. "Am I destroyed? Yes. Nobody ever expects to take care of their son like this. You don't plan for this."