LONDON — The pharmaceutical giant AstraZeneca said Monday that its Covid-19 vaccine could be up to 90 percent effective in preventing the disease — a third breakthrough in the fight against a pandemic that has killed nearly 1.4 million people worldwide.
"This vaccine's efficacy and safety confirm that it will be highly effective against Covid-19 and will have an immediate impact on this public health emergency," CEO Pascal Soriot said in a statement.
Analysis of data from a Phase 3 trial of the vaccine developed by Oxford University in the United Kingdom showed that it was 90 percent effective when half a dose was administered followed by a full dose. In another dosing regimen, when two full doses were administered, the vaccine was 62 percent effective, researchers said, resulting in combined average efficacy of 70 percent.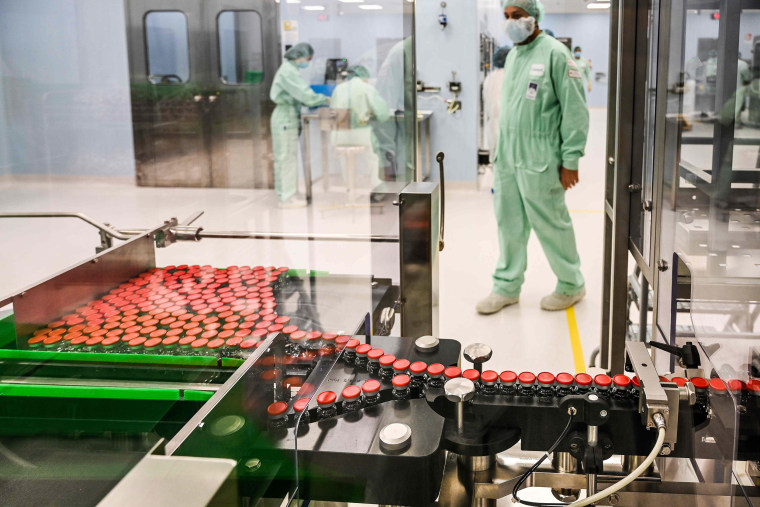 There were no hospitalizations or severe cases in anyone who received the vaccine, researchers said. More analysis was needed to determine how long the protection rendered by the vaccine could last, they added.
The creators of the vaccine, which uses a weakened version of a common cold virus, said it could be administered in existing health care settings, such as medical clinics and local pharmacies, and stored at refrigerator temperatures of 2 to 8 degrees Celsius (36 to 46 degrees Fahrenheit) for at least six months, making its distribution easier.
In contrast, Pfizer's vaccine has to be stored at minus 94 degrees Fahrenheit — far colder than standard cooling systems at health care facilities. Moderna's vaccine can remain stable at standard refrigerator temperatures for 30 days.
The fact that a vaccine can be stored in ordinary refrigerators is "of enormous importance for low-income countries" to ensure the vaccine can be efficiently delivered around the globe, said Stephen Evans, professor of pharmacoepidemiology at London School of Hygiene and Tropical Medicine.
Download the NBC News app for breaking news and politics
The 90 percent efficacy resulting from using half a dose initially may better mimic what happens during a real infection, Sarah Gilbert, a professor at the University of Oxford, one of the lead researchers, said in a press conference following the announcement.
"It could be that giving a small amount of the vaccine to start with and then following it with a bigger amount is a better way of kicking the immune response into action," she said.
Another finding that's exciting the researchers is the vaccine's possible impact on how the virus is transmitted. Although the analysis is preliminary, Gilbert said, it looks like the vaccine can reduce asymptomatic infections, which would help reduce virus transmission.
Earlier this month, Pfizer and Moderna reported preliminary results from late-stage trials, showing that their vaccine candidates, which unlike AstraZeneca's vaccine use messenger RNA, or mRNA, to trigger an immune response, were almost 95 percent effective.
Nicola Stonehouse, a professor of molecular virology at the University of Leeds, said she was cautiously optimistic about progress made in vaccine development to fight Covid-19, but added that the scientific community needed to see data for all of the candidates before any could be licensed.
"News that vaccines can protect against infection, and that this seems to be the case for the vaccines produced in a number of ways, is very promising in terms of potentially supplying vaccines on a global scale," she added.
Researchers said 131 Covid-19 cases were detected in clinical trials that involved 23,000 volunteers from diverse racial and geographical groups in clinical trials in the U.K., Brazil and South Africa. Further trials are also being conducted in the United States, Kenya, Russia, Japan and India.
The company said it will manufacture 200 million doses by the end of 2020, with 700 million doses expected to be ready globally by the end of the first quarter of 2021.
The vaccine efficacy data will now be submitted to regulators across the world, the company said, including in the U.K., Europe and Brazil, for review and approval. AstraZeneca will also seek an emergency use authorization from the World Health Organization for an accelerated pathway to vaccine availability in low-income countries.
AstraZeneca's announcement comes as Covid-19 cases continue to rise in the U.S., and Europe grapples with a resurgence of the virus that has returned many countries to lockdowns.
Reuters contributed to this report.