Hospitals are supposed to be safe havens during times of war, but attacks against hospitals and health care facilities in conflict zones are becoming more common worldwide, human rights experts say. 
During the first week of the war between Israel and Hamas, there were 94 attacks on health care facilities in Israel and Gaza, which killed 29 health care workers and injured 24, according to the Safeguarding Health in Conflict Coalition, or SHCC, a human rights advocacy group.  
"The number of attacks or incidents of violence on health care facilities in this conflict are very significant," said Leonard Rubenstein, a human rights attorney and professor at the Johns Hopkins Bloomberg School of Public Health. "We don't know all the circumstances of the attacks and why they were attacked, but the patterns are disturbing."
Follow live coverage from NBC News here.
The coalition's numbers don't reflect Tuesday's explosion at al-Ahli Hospital in Gaza City. The cause of that blast is still unclear, but human rights experts say that even if the cause was a misfired rocket by the Palestinian Islamic Jihad organization — designated a terrorist group by the U.S. — rather than an Israeli airstrike, it would still be a violation of humanitarian law. U.S. officials have said a misfired rocket is the most likely cause, while Palestinian officials and Hamas blame Israel.
"If this was a misfire, then you shouldn't be firing rockets whose flight path goes over a hospital," said Sam Zarifi, executive director of Physicians for Human Rights.
Experts fear these incidents in Israel and Gaza are part of a concerning trend that's been increasing over the last 10 years. 
"Between Syria, Ukraine and Gaza, there is a sense that we have seen an unprecedented number of attacks on health care facilities, health care providers and ambulances," Zarifi said.
Across the world, there were nearly 2,000 incidents of violence against health care facilities last year, a 45% increase from the year before, according to a SHCC report. Most of them were in Ukraine and Myanmar, a country that has been shrouded in violence for years.
"This is very serious," Rubenstein said. "The consequences to the population are devastating."
Attacking a health care facility like a hospital is a violation of international humanitarian law, a set of rules designed to limit the effects of war, according to the International Committee of the Red Cross. The goal of the rules is to protect people who are not or no longer involved in conflict. Much of the law is contained in the Geneva Conventions, which most countries and states have agreed to abide by.
Rubenstein, who has studied this issue for the last 25 years, said that for a long time, militaries followed these laws and made sure health care was protected. But as political climates have changed in some places, so have military tactics.
"There seems to be less attention to obligations to protect health care," he said.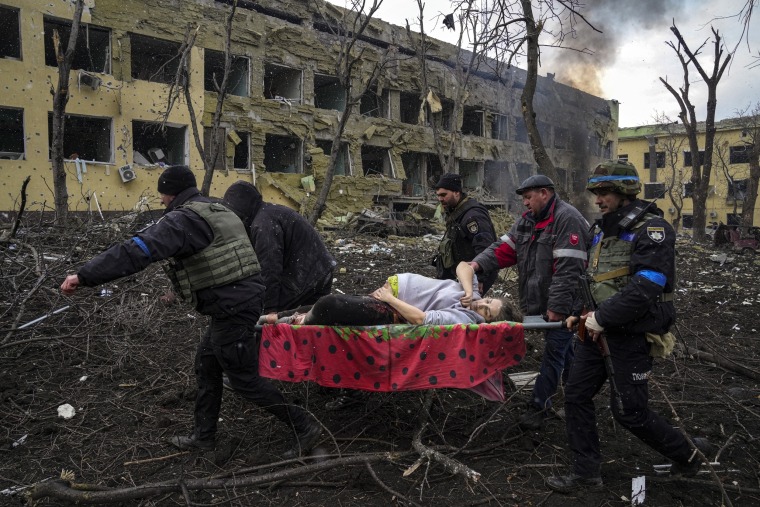 That includes where airstrikes happen and bombs land, said Tim Bishop, project coordinator with Insecurity Insight, a humanitarian group, and one of the authors of the coalition report. He said some areas, such as Ukrainian cities and Gaza, are densely populated, so an explosive that's meant for a different target can end up being too close to a health care facility.
But that's still a violation of humanitarian law, said Rubenstein. Militaries are obligated to take precautions to protect hospitals and health care facilities.
"In Gaza, so many people are crowded into a populated area, you can't easily distinguish between civilians and military targets," Bishop said. "This is why use of these weapons in these areas is concerning." 
Despite the mounting documented attacks, few, if any, have been prosecuted.
 "The problem is that there has been almost absolute impunity for these attacks," Zarifi said. "Looking at Ukraine, looking at Syria, going back into Yemen, all of the conflicts we've documented, no one has been prosecuted, although it is a clear war crime."
Zarifi said the government of the offending military has the primary responsibility for prosecuting these cases. 
"The first port of call is the governments," he said. "The bad guys will rarely do that. So, the second port of call is, where possible, its international bodies. For instance, in Ukraine, the International Criminal Court has jurisdiction." 
Zarifi said that court is now looking into attacks in the Ukraine because there have been so many. The coalition documented 1,000 attacks on health care there last year.
That same court also has jurisdiction in Gaza.
"Having the possibility for accountability at least helps prevent future atrocities," Zarifi said. "And by accountability, I don't just mean responding to atrocities with atrocities."
Follow NBC HEALTH on Twitter & Facebook.