Drugs developed to treat autoimmune diseases such as rheumatoid arthritis and a rare form of leukemia can also help people with a different rare condition grow their hair back, researchers reported on Sunday.
Just four to five months of treatment with one of the drugs restored the hair of three patients with alopecia areata, a condition that can cause complete hair loss, the researchers at Columbia University in New York report.
"We've only begun testing the drug in patients, but if the drug continues to be successful and safe, it will have a dramatic positive impact on the lives of people with this disease," Dr. Raphael Clynes, who helped lead the study when he was at Columbia, said in a statement.
The drugs are expensive and have side-effects, so their use may be controversial. And the effects are only seen in alopecia, not in the far more common forms of baldness.
But the findings offer hope for patients with alopecia areata, itself an autoimmune disease in which the body mistakenly attacks the hair follicles. Patients lose the hair on their heads as well as eyebrows, eyelashes and other hair.
"It will have a dramatic positive impact on the lives of people with this disease."
The Columbia team had already discovered that alopecia was caused by the same genetic factors that cause other diseases, such as myelofibrosis -- an unusual type of chronic leukemia. It affects the bone marrow.
The Food and Drug Administration has approved a drug to treat myelofibrosis. It's called ruxolitinib, or Jakafi. The team tested Jakafi, taken as a pill, in several patients. In three of them, hair grew almost completely back within five months, and the autimmune response was stopped, the researchers report in the journal Nature Medicine.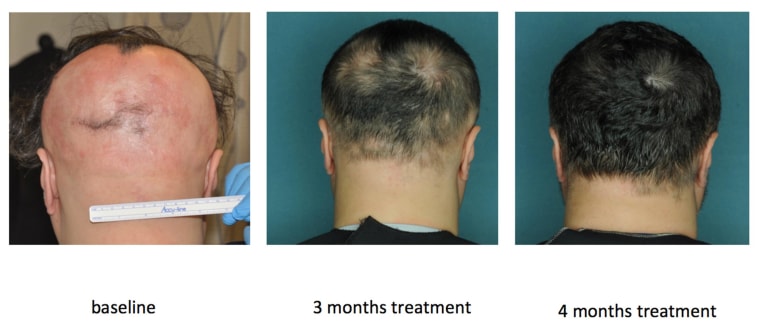 "We still need to do more testing to establish that ruxolitinib should be used in alopecia areata, but this is exciting news for patients and their physicians," Clynes said.
Angela Christiano, a professor in the Departments of Dermatology and of Genetics and Development at Columbia who helped direct the research, is herself an alopecia patient. "Patients with alopecia areata are suffering profoundly, and these findings mark a significant step forward for them. The team is fully committed to advancing new therapies for patients with a vast unmet need," she said.
Tests in mice suggest a different drug, called tofacitinib, can also help in alopecia. Tofacitinib is approved to treat rheumatoid arthritis, and is being tested to see if it works for psoriasis and inflammatory bowel disease.
Jakafi isn't cheap – a one-month supply costs more than $9,000. Tofacitinib, sold under the brand name Xeljanz, is cheaper but costs about $2,000 a month. Jakafi can cause anemia while Xeljanz can affect the immune system and make patients vulnerable to infection.