The world is in the midst of an ongoing and accelerating outbreak of a deadly new coronavirus.
But this is not the first time the world has faced a new viral threat that originated in China. In 2003, more than 8,000 people were infected with the virus that caused SARS, or severe acute respiratory syndrome, and nearly 800 died.
As director of the Centers for Disease Control and Prevention during that time, Dr. Julie Gerberding led the U.S. public health response to SARS. She is now chief patient officer for Merck & Co.
Full coverage of the coronavirus outbreak
NBC News spoke to Gerberding about the ongoing coronavirus outbreak.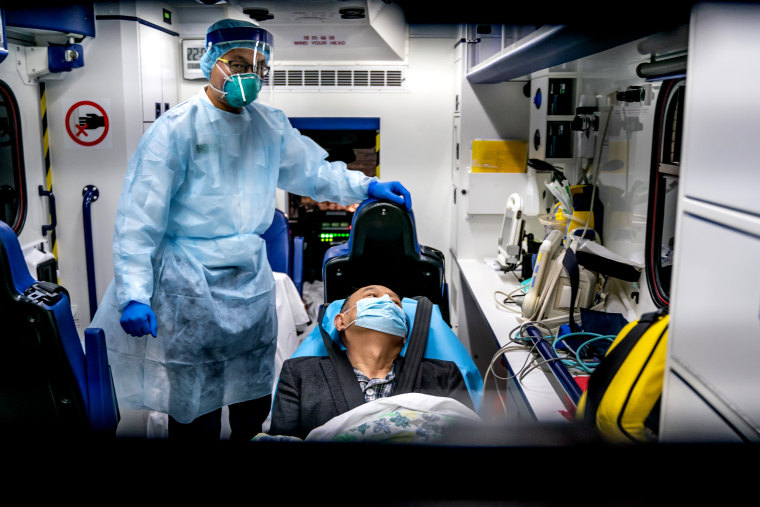 What are you paying most attention to as this outbreak unfolds?
As an epidemiologist, I'm especially interested in the transmission. What is the incubation period? What is the period when people can pass the infection onto someone else? How readily is it transmitted?
We have a lot of numbers floating around out there in terms of incubation. We just really need to nail down what we call the transmission parameters, so that we can model and predict: What's the likely propagation of this outbreak? What threat does it really represent to the rest of the world?
Why is this virus so concerning? Is it because it's new and unpredictable?
That's part of it. Any time we have a new outbreak with a new pathogen, it does create an element of fear. But I think we're seeing also that it does seem to be spreading very fast. We went from a few hundred cases, now we're over 3,000 cases and climbing. [Editor's note: By the time of publication, cases have exceeded 4,500.] We had one hot spot, now we have several cities across China where there are some clusters of cases.
We've seen transmission in families. We've seen health care workers get infected, so it's beginning to look like the transmission pattern is pretty intense. In medical terms, it seems to have some characteristics that look more like influenza than SARS.
How might this play out differently if it behaves more like flu than SARS?
I don't really want to speculate because influenza is so variable from one season to the next. But some of the characteristics of the early phase in this look more like a very rapidly spreading influenza situation. The good news is that the mortality isn't as high as we saw with SARS, and that's reassuring.
The bad news is that the mortality is high enough, and if you have large numbers of people infected with the kinds of crude estimates of mortality that we have right now, that's going to affect a lot of people. And that's what really concerns me the most.
How would you describe the rate of spread?
Honestly, we don't know, and part of the reason that it's continuing at this point in time is because testing is just becoming available. So, while we're seeing a big bolus [large number] of diagnosed cases, we don't yet know when they were actually infected.
What we're waiting for from the World Health Organization is the "epi curve," which is the graph that shows, by date, the number of new cases and the date of onset of their symptoms. It may be that we've been seeing 200 cases a day over 10 days, or it may be that we saw 3 cases, and then we saw 15 and then we saw 100 and then we saw 500 and now a thousand.
We just don't understand yet whether the case count is due to accelerating spread, or is that just kind of an artificial understanding because of the way the tests are being deployed and the diagnoses are coming in.
A public health response impacts national security and global markets. Who in the U.S. government besides CDC weighs in on this response?
The CDC, from a public health perspective, has the lead role. You've seen Dr. Anthony Fauci [director of the National Institute of Allergy and Infectious Diseases] and the National Institutes of Health taking the leadership in discussing the development of vaccines and other countermeasures, medicines, etc.
You have the State Department, which is responsible for making travel advisories and decisions about what should happen to the U.S. citizens who are in a zone of disease transmission, and what should U.S. citizens consider before they travel to such a place.
Beyond that, there are a host of other components of our federal government that get involved.
I remember when we were rehearsing deeply for an influenza pandemic — when Secretary Mike Leavitt was running the Department of Health and Human Services — and we went to every Cabinet secretary in the entire U.S. government with a book about the 1918 flu pandemic and talked to each of the leadership teams: What would the Commerce Department need to do? What would Homeland Security need to do? What would the Justice Department need to do? It turns out there is something for every Cabinet. It really takes a whole of government to maximally respond to a major threat.
That all would have to be done in coordination with the World Health Organization and our other allies and partners.
Is the private sector involved?
When I was at CDC, we had a special desk [in the CDC's Emergency Operations Center] for Walmart because we knew that Walmart had special insights into situations around the world because they kept such close track of their supply chain.
Also in cases of a severe outbreak or medical crisis, Walmart would need to be supplying materials to people, so they had an equal need to be involved in understanding the broad situation. There were a lot of liaison desks with various stakeholders.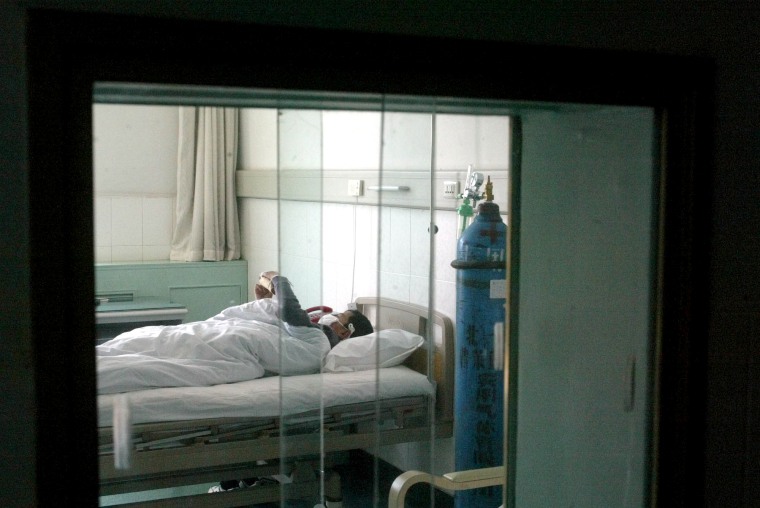 What is China doing differently during this outbreak, compared to how SARS was handled?
The first thing that's different is the early reporting of the recognized outbreak. If you go back to SARS, the first cases actually occurred in the late fall of 2002, but we didn't really recognize there was a new outbreak propagating until March of 2003 when the WHO declared an emergency.
CDC set up its emergency operations center, and that's because there was a mysterious illness that was being transmitted in one of the provinces in China. Until it spilled over into Hong Kong, the world was at a loss to understand what was actually going on there.
Now, there is transparency, speed of recognition and reporting. And the most amazing thing to me is the science. The Chinese released the genome of the coronavirus virus as soon as they had it. They were able to get it very fast because we have next generation sequencing and all of the state-of-the-art tools that didn't exist back in 2003.
That's important because it speeds up the process of finding a vaccine and testing antiviral drugs.
Have there been significant changes to the U.S. public health response since SARS?
My external view is that there continues to be great progress. That doesn't mean flawless execution at every turn, but we saw [CDC] perform miracles during Zika. We did a great deal to support the West African Ebola outbreak to try to support the investigation and protection of people at borders.
I see a strong and steep slope of preparedness over time. I think there's always a tendency to relax in between situations, and that's where complacency can become our worst enemy.
Our government needs to have a constant resource available to the CDC so they don't have to go to Congress every time there's a new outbreak and try to get funding to support their operations, that they have a ready reserve that they can tap into when they need it.
How should health officials communicate with the public?
In any frightening new situation, trust is the most important thing. And when you don't have all of the facts and you're not sure about what's going on, maintaining your credibility and your trust are of paramount importance. If you're going to try to influence what people do or how they decide to manage themselves in a situation like this, you have a lot better chance of helping them decide to do the right thing if they trust you.
So that means first and foremost, telling them the truth. Tell them what you know is going on, tell them what you wish you knew but don't. Then it's important to tell them what you're doing to get answers and, above all, that you promise that when you have new information, you will share it in a timely manner.
If you can keep that cadence going in an outbreak, people will trust you because you do what you say, and they will come to rely upon you as a credible source of updated information.
Follow NBC HEALTH on Twitter & Facebook.