President Donald Trump signed a nearly $500 billion interim coronavirus bill into law Friday that includes more money for the small-business loan program, hospitals and testing.
The bill includes more than $320 billion for the Paycheck Protection Program, or PPP, created by the CARES Act, which was passed late last month and provides forgivable loans to small businesses that keep their employees on the payroll.
Meanwhile, experts ripped Trump's idea of injecting disinfectant as a possible treatment for coronavirus infections. But during the ceremony, Trump walked back his comments from Thursday, saying he was being "sarcastic."
The new legislation comes as the death toll in the U.S. topped 50,000 on Friday, according to NBC News' tally. The global recorded death toll has passed 190,000, according to Johns Hopkins University data.
Here's what to know about the coronavirus, plus a timeline of the most critical moments:
Download the NBC News app for latest updates on the coronavirus outbreak.
This live coverage has ended. Continue reading April 25 for coronavirus news.
Lysol manufacturer warns against internal use after Trump comments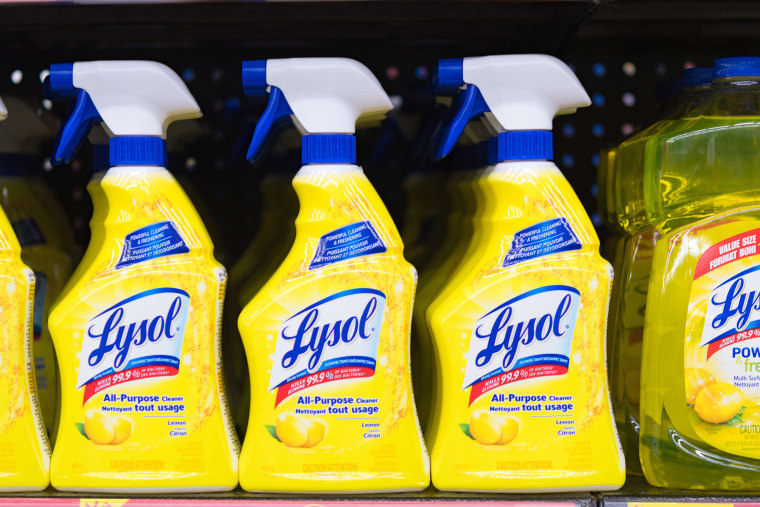 The manufacturer for Lysol, a disinfectant spray and cleaning product, issued a statement warning against any internal use after President Donald Trump suggested that people could get an "injection" of "the disinfectant that knocks (coronavirus) out in a minute."
"As a global leader in health and hygiene products, we must be clear that under no circumstance should our disinfectant products be administered into the human body (through injection, ingestion or any other route)," said a spokesperson for Reckitt Benckiser, the United Kingdom-based owner of Lysol, in a statement to NBC News.
"As with all products, our disinfectant and hygiene products should only be used as intended and in line with usage guidelines. Please read the label and safety information," the statement continued, adding that the company believes it has a "responsibility in providing consumers with access to accurate, up-to-date information as advised by leading public health experts."
The Week in Pictures: Lockdown protests and a window wedding
See how countries around the world have handled the coronavirus crisis and more in this week's The Week in Pictures slide show.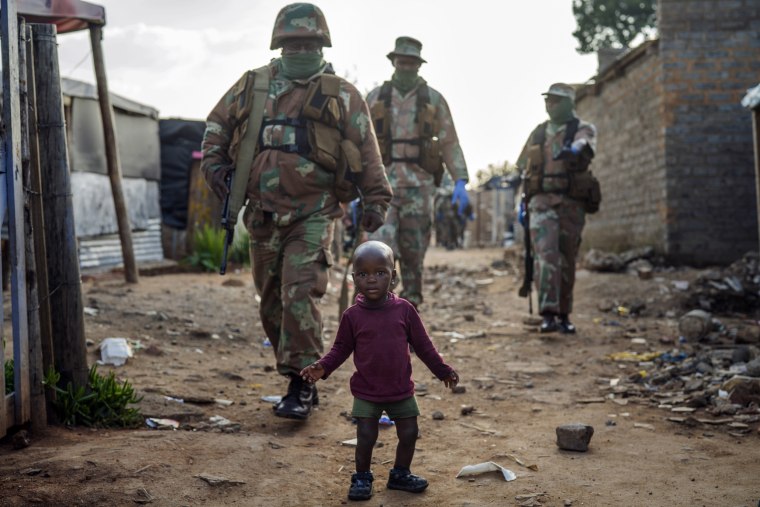 Moscow to test all medical personnel for immunity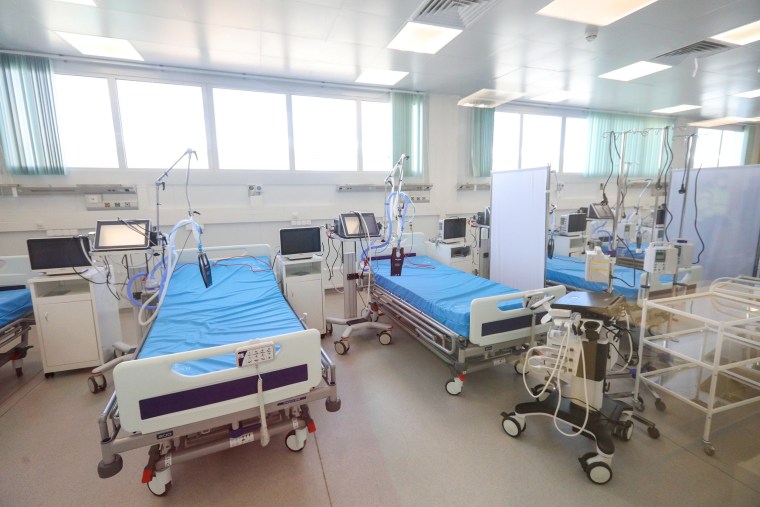 Around 40 percent of Moscow's healthcare system is now dedicated to combating the coronavirus after the city rapidly refit hospitals to serve as COVID-19 wards, Deputy Mayor Anastasia Rakova said on sate television Friday.
"Doctors, nurses […] everyone is truly working to the limit," Rakova said on Channel One. She told the Interfax news agency later on Friday that all healthcare personnel working in these hospitals and clinics will receive new rapid immunity tests. The tests were launched last week by a major state lab in Siberia.
While medical professionals are receiving priority for new immunity tests, the deputy mayor also said that all patients in Moscow hospitals will be tested for active coronavirus, and that Moscow labs are now processing more than 18,000 tests per day.  
Traffic jams in France after McDonald's reopens some drive-thru locations
Big Mac fans caused traffic jams in France this week after McDonald's reopened dozens of its drive-thru locations in the country. 
Amused locals posted incredulous videos on social media of the long lines of traffic to access their local branches. "All that for some McDonald's," wrote one. 
Josua Haron, 24, went looking for his usual choice of 20 chicken McNuggets after a McDonald's-branded car announced over loudspeaker the reopening his local drive-thru in Moissy-Crayamel, south of Paris. He went home empty-handed, though, after learning how long it would take to get to the front of the line. "Three hours wait, not for me!" he laughed. 
Muslims begin unusual Ramadan amid coronavirus pandemic
A glimmering crescent moon in Thursday's twilight sky, signaled to many of the world's nearly 2 billion Muslims that the holy month of Ramadan had begun. For one month, Muslims from Boston to Baghdad will forgo food, water and sexual relations from dawn to dusk.
The first fasting day of Ramadan will begin for many Muslims on Friday, and some on Saturday due to differences in moon sightings, and is an annual anchor in the Islamic calendar — a time when worshipers increase their prayers and acts of charity. They commune joyfully with family and friends at sunset, when they break the fast at tables laden with spicy dishes and sweet mint tea.
Not this year.
U.S. base in East Africa declares public health emergency
The head of U.S. forces in the Horn of Africa declared a public health emergency for the U.S. personnel under his authority in the Djibouti Base Cluster. 
"Combating COVID-19 is my top priority," Maj. Gen. Michael Turello said in a statement on Thursday, adding the emergency would last for 30 days. 
The declaration applies to all U.S. service members, Defense Department civilians and contractors under his authority at Camp Lemonnier, Djibouti, the primary base of operations for the U.S. Africa Command in the Horn of Africa. The camp houses approximately 4,000 U.S. and allied forces military personnel and civilians, as well as about 1,000 local workers. 
The small East Africa country has reported nearly 1,000 virus cases, according to Johns Hopkins University data.
Japan shames 'pachinko' gambling parlors that refuse to shutdown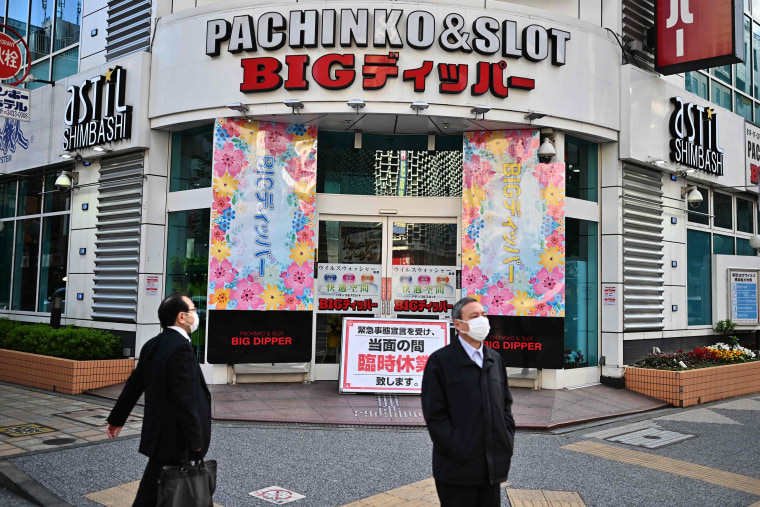 As stores have closed across Japan during a state of emergency, gambling halls known as pachinko parlors remain open, causing concern that they could undermine the government's fight against the virus.
The halls, where players sit back-to-back at long rows of machines amid the jangle of bouncing steel balls and garish flashing lights, are a fixture on many Japanese streets and are popular with young people, the underemployed and hardcore gamblers, according to Reuters. Japan imposed the state of emergency last week though restrictions are non-compulsory.
On Friday, the governor of Osaka prefecture publicly revealed the names of six pachinko parlors that have not followed requests to shut down in an attempt to stop people from visiting the shops. The governor of the capital city Tokyo also expressed concern on Friday, saying "41 pachinko parlors are still open despite our request to close their business temporarily," in a press conference. 
Doctors report uptick in surprising coronavirus complication: dangerous blood clots
Three weeks ago, critical care pulmonologist Hugh Cassiere encountered something he hadn't seen in 24 years of practicing medicine.
A 45-year-old man arrived at the hospital where Cassiere works, North Shore University Hospital on Long Island, New York, with fever and severe fatigue — well-known symptoms of the coronavirus — and went on to test positive for it.
But then the man developed a complication not usually associated with respiratory viruses: a blood clot in his leg that was so dangerous that doctors were forced to remove the leg below his knee. The development was totally unexpected, Cassiere said, and he isn't the only doctor who has noticed unusual clotting in patients with COVID-19.
No new cases for 20 consecutive days in China's Hubei province
The current number of confirmed cases in the Hubei province in China — the original epicenter of the coronavirus — fell below 50 for the first time on Friday. There have been no new confirmed or suspected cases for 20 consecutive days in the province, according to China's National Health Commission.
Also on Friday, China reported no new COVID-19 deaths for the ninth straight day, and just six new cases of the virus.
China, where the total number of active coronavirus cases is now below 1,000, has started to tentatively loosen restrictions on residents.
Photo: Viewing of Korean War veteran who died of the coronavirus disease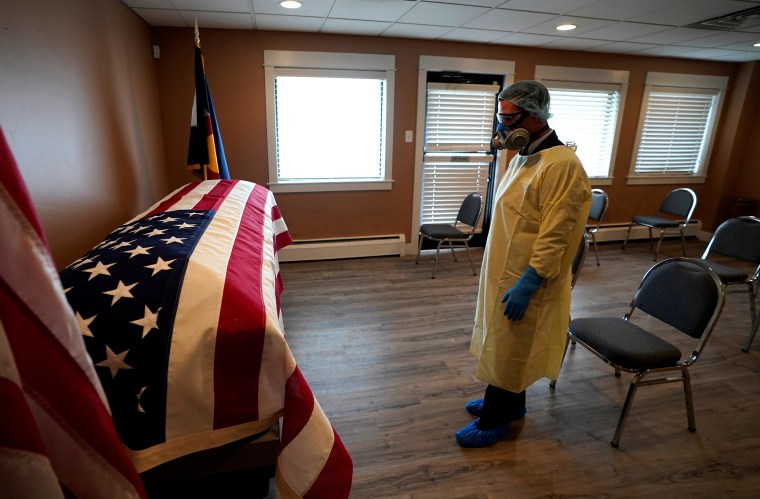 NFL Draft to return to Las Vegas in 2022
The National Football League will hold he 2022 draft in Las Vegas, after this year's public events scheduled for that city were scrubbed due to the coronavirus epidemic.
NFL Commissioner Roger Goodell, who made announcements in Thursday's draft from his basement, said in a statement that he believes the 2022 draft in Vegas will be "an even bigger and better event than we could have ever imagined this year."
The site of the 2021 draft has already been chosen, Cleveland.