As the number of U.S. deaths nears 97,000 and the coronavirus lockdowns continue, the long Memorial Day weekend won't look anything like years past, but in some parts of the country the pandemic has stabilized enough for some to think about beginning the economic recovery.
The nation's most populous county is getting ready to reopen by the next big summer holiday: July 4.
Los Angeles County officials set the deadline this week to reopen restaurants, malls and retail stores by Independence Day as stay-at-home orders continue to take a toll on nearly every industry, from retail to TV and film production.
Meanwhile, ongoing stay-at-home orders also prompted President Donald Trump on Friday to deem houses of worship essential. He threatened to override governors who have ordered churches, synagogues and mosques not to reopen in the coming days.
Here's what to know about the coronavirus, plus a timeline of the most critical moments:
Download the NBC News app for latest updates on the coronavirus outbreak.
This live coverage has now ended. Continue reading May 24 coronavirus news.
Spain announces reopening to tourists as thousands in far-right party protest lockdown
Amid anti-lockdown protests by a far-right party, Spanish Prime Minister Pedro Sánchez said the country will reopen to international tourists in July.
"We will guarantee tourists will not take any risks and will not bring us any risks," the prime minister said at a news conference Saturday.
Foreign visitors contribute around an eighth of Spain's economic output and government curbs taken to contain one of Europe's severest coronavirus outbreaks have shuttered everything from hotels, bars and restaurants to beaches and leisure parks just as the tourism season gets under way. 
Several thousand followers of Spain's far-right Vox party gathered on Saturday in Madrid and other cities to protest the government's handling of the coronavirus outbreak. 
Vox called for protesters to come in their cars and motorbikes to skirt the current prohibition on social gatherings in effect under the nation's two-month long state of emergency.
"Let your desire be heard for the resignation of the government," Vox leader Santiago Abascal said from an open-top bus leading the cars inching down a Madrid boulevard. Vox called the protest the "Caravan for Spain and Liberty."
Most cars were decked with Spanish flags, and there were also small groups of people who participated on foot, with some not respecting the two-meter social distancing rules. Over 28,000 Spaniards have been confirmed to have died from COVID-19. The lockdown successfully reduced the daily contagion rate of over 20 percent at the height of the crisis to under 1 percent for the past week.
Quarantine TV: Drama on forbidden love casts spotlight on life in North Korea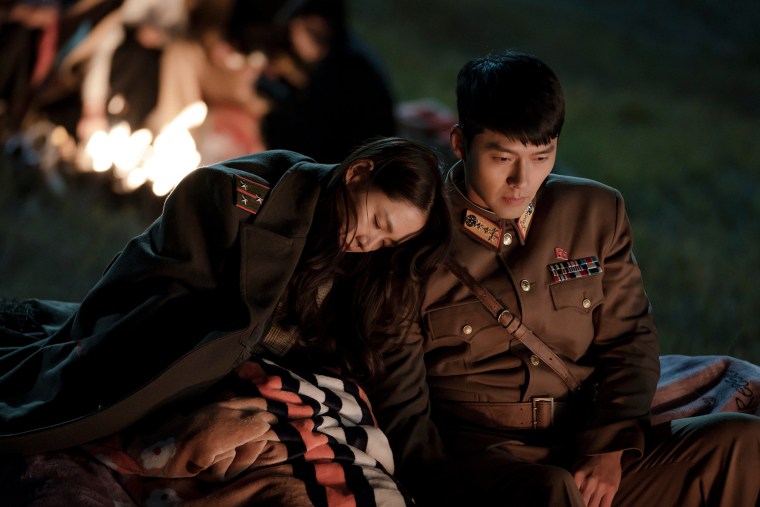 The series features all the ingredients a viewer could wish for. A beautiful heiress. A swooning soldier. Danger. Forbidden love. All set in one of the most repressive places on earth — North Korea.
The series — "Crash Landing on You," on Netflix — has drawn a global audience of millions, many no doubt searching for entertainment as they while away their time in coronavirus-related lockdowns.
The premise is this: The gorgeous heiress has accidentally paraglided into North Korea, where she is aided by none other than the swooning soldier — with whom, of course, she eventually falls in love.
Photo: A night at the movies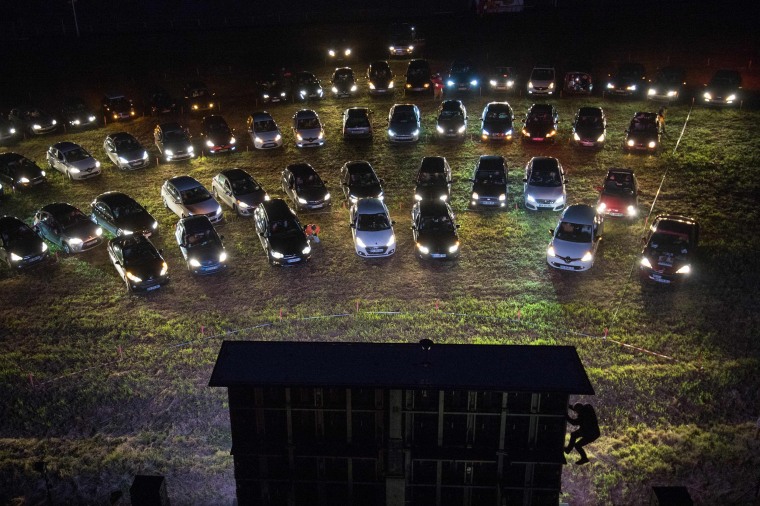 Japanese nightclubs get COVID instructions
The Japanese association representing workers at nightclubs and hostess bars is instructing people to wear masks and to disinfect doorknobs and tables every 30 minutes. 
The guidelines, issued by the Nihon Mizushobai Kyokai on Saturday, said karaoke microphones must be cleaned after each use, and workers should wash their hands and gargle every 30 minutes. A customer and worker can sit together, but one empty seat must be kept in between another customer. Visitors from abroad, who didn't undergo a 14-day quarantine, will be refused at the door. 
Staff should not touch their hair or face, and must report health problems to authorities, according to the checklist. More than a million women are estimated to work at cabarets in Japan, and their income has plunged amid the outbreak as major companies instructed employees to work from home. 
The government's stay-home request has been lifted in much of Japan but remains in Tokyo. Japan has more than 16,000 confirmed COVID-19 cases and 777 deaths, according to Johns Hopkins University.
Virus concerns show increased need, demand for home care, experts say
For people recovering from COVID-19, home care can be both essential and elaborate, involving a health care professional who provides additional oxygen, monitors vital signs, administers medication and helps with daily tasks such as eating, bathing and getting in and out of bed.
Home care professionals and nurses said the coronavirus pandemic shows how crucial the industry is. It provides life-saving services to people who are vulnerable while keeping them safe in their own homes.
"It's been quite a dramatic challenge for all of us and certainly the public health challenge of our lifetime," said Dr. Steven Landers, president and CEO of the Visiting Nurse Association Health Group, which serves New Jersey and Ohio.
South Korea reports 23 new cases, as authorities shut down nightclubs
South Korea reported 23 new cases of the coronavirus on Saturday, mostly from the densely-populated Seoul metropolitan area where authorities have shut down thousands of nightclubs, bars and karaoke rooms in an attempt to stem transmissions.
Figures on Saturday brought national totals to 11,165 cases and 266 deaths according to the Korea Centers for Disease Control and Prevention. Thirteen of the new cases came from Gyeonggi province surrounding capital Seoul, which on Saturday issued an administrative order to ban gatherings at an additional 2,629 bars and karaoke rooms, bringing its number of shut-down entertainment venues to more than 8,000.
After the government used aggressive tracing and testing to stabilize its outbreak, more than 200 of the recent infections have been linked to club-goers in Seoul, who went out in early May as the country began easing on distancing.
Meanwhile, most high schools in South Korea remain open under strict COVID-19 disinfectant measures observed by school administrations.
Taliban leverages virus crisis to burnish its image as violence in Afghanistan surges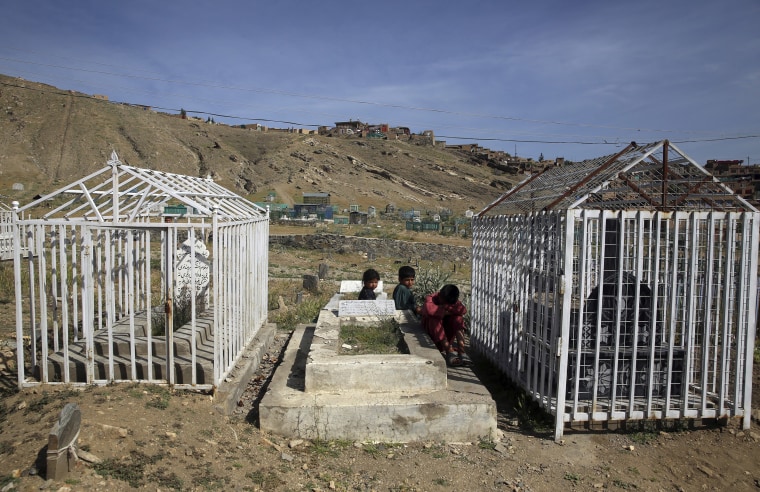 Decades of war, political chaos, desperate poverty, and now coronavirus.
A perfect storm has gathered over one of the world's most benighted nations, Afghanistan, where ordinary citizens are facing a fresh form of misery.
Taliban militants have announced they will keep fighting since they say there have been no confirmed cases of COVID-19 in areas under the group's control, a senior militant in the province of Ghazni has told NBC News.
Despite an uptick in violence, Taliban sources in Ghazni and four other provinces, Helmand, Paktika, Khost and Nangarhar, have told NBC News that there is now what they characterized as an unwritten understanding in place with the Afghan government and international groups like the World Health Organization to work together during the pandemic, particularly when it comes to testing.
Brazil surpasses Russia in confirmed virus cases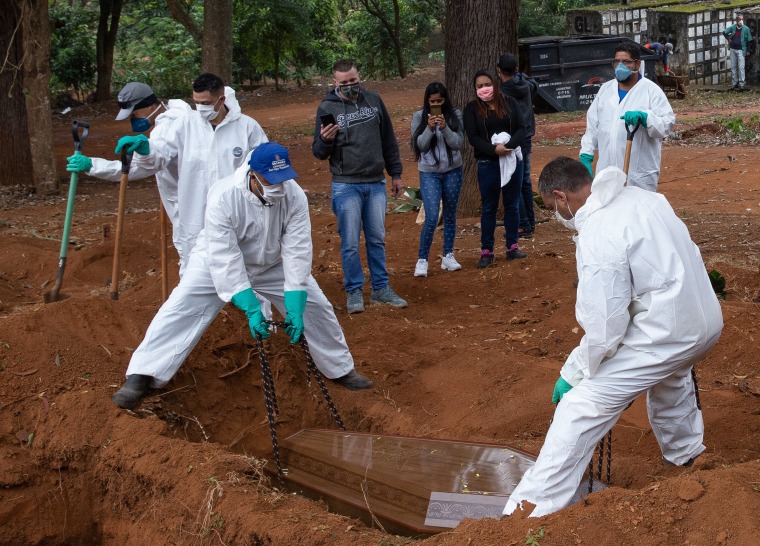 Brazil surpassed Russia in total number of confirmed coronavirus cases on Friday, with 330,890 cases according to Johns Hopkins University data.
The South American country now as the second-highest number of cases globally behind only the United States — which has reported 1.6 million cases as of Saturday.
The worst-hit nation in Latin America also reported 1,001 deaths over the previous 24 hours, bringing its total death toll to more than 21,000. The news came as states and cities across Brazil debate whether to loosen restrictive measures introduced to limit the spread of the virus, or implement stricter lockdowns.
This comes after Brazilian President Jair Bolsonaro unveiled rules on Wednesday expanding the prescription of chloroquine — the predecessor of an anti-malaria drug promoted by President Donald Trump — for coronavirus patients despite a lack of clinical proof that it is effective.
UN warns cybercrime rising during pandemic
The United Nations disarmament chief said that while the pandemic is increasing technological innovation and online collaboration, "cybercrime is also on the rise, with a 600 percent increase in malicious emails during the current crisis." 
Izumi Nakamitsu said "there have also been worrying reports of attacks against health care organizations and medical research facilities worldwide," in a virtual briefing with the U.N. Security Council on Friday. 
Calling the threat of misusing information and communications technology "urgent," she said that recent digital dependency has increased the vulnerability to cyberattacks, and "it is estimated that one such attack takes place every 39 seconds."
According to the International Telecommunication Union, nearly 90 countries are still only at the early stages of making commitments to cybersecurity, Nakamitsu said. "It is concerning that we are not as yet collectively equipped to deal with the cyber threats at hand," she said. 
China reports no new cases for first time since start of the pandemic
China reported no new confirmed infections or deaths in the past 24 hours, marking the first time the country has registered zero new infections of the virus since they began reporting data in January.
China's National Health Commission said 79 patients still were being treated as of Saturday and a total of 741,696 close contacts are being traced across the country. To date the country has reported a total of 4,634 deaths and 82,971 cases in total. 
The government still remains vigilant working to avoid a second wave, as all 11 million residents of Wuhan — where the outbreak was first detected — will be tested for the virus, officials said last week.
Queensland halts work on 2032 Olympics bid to deal with virus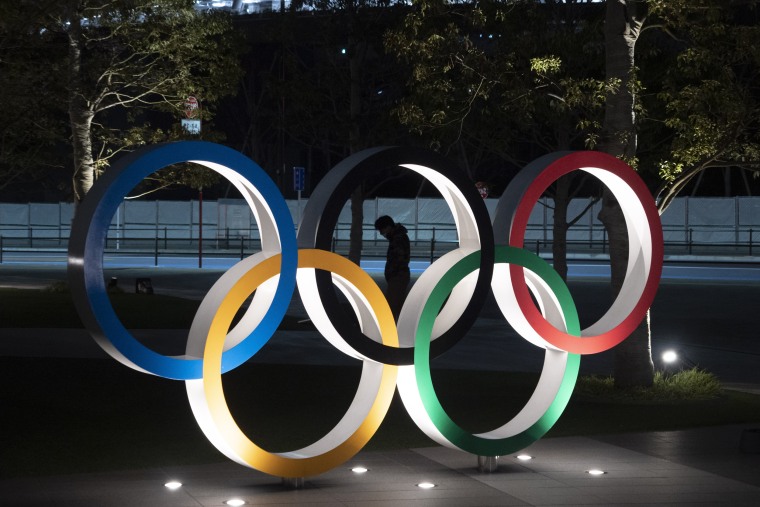 The Australian state of Queensland has postponed work on its bid for the Olympic 2032 Games while they focus on the coronavirus outbreak.
Queensland Premier Annastascia Palaszczuk wrote that it would be "put on hold until further notice," in The Australian newspaper. 
Senior international Olympic official John Coates said in a statement on Saturday that everyone understood there were pressing issues of public health and community wellbeing for governments to address.
Alaska State Fair canceled for first time since World War II
The Alaska State Fair was cancelled for the first time since World War II on Friday amid concerns surrounding coronavirus spread, organizers said in a statement Friday. Alaska has 404 confirmed virus cases as of Saturday, according to an NBC News tally. 
"We need to make decisions now based on what we know today, not how we hope things will be in August," said the Alaska State Fair Board of Directors and CEO Jerome Hertel in the statement, citing uncertainty surrounding the pandemic. The fair was originally scheduled from Aug. 27 - Sept. 7.
While the staff is now instead working to offer some socially distant activities like drive-in movies and food trucks, the statement said, "We plan to come back next year with a 2021 Alaska State Fair that is even bigger and better than ever."
U.S. grants OK for 15 airlines to suspend service to 75 airports
WASHINGTON - The U.S. Transportation Department said late Friday it had granted tentative approval to 15 airlines to temporarily halt service to 75 U.S. airports because of the coronavirus pandemic.
Airlines must maintain minimum service levels in order to receive government assistance, but many have petitioned to stop service to airports with low passenger demand.
Both United Airlines and Delta Air Lines won tentative approval to halt flights to 11 airports, while JetBlue Airways Corp, Alaska Airlines and Frontier Airlines were approved to stop flights to five airports each. The department said all airports would continue to be served by at least one air carrier.
The Transportation Department said objections to the order can be filed until May 28.
U.S. air carriers are collectively burning through more than $10 billion in cash a month as travel demand remains a fraction of prior levels, even though it has rebounded slightly in recent weeks. They have parked more than half of their planes and cut thousands of flights.
Nevada eyes June 4 are reopening date for casinos
LAS VEGAS — Nevada Gov. Steve Sisolak has set a tentative June 4 date for reopening the state's shuttered casinos, including the famous glitzy casinos of Las Vegas.
The Democratic governor says Nevada has continued to see decreasing cases of the coronavirus and COVID-19 hospitalizations after some businesses reopened and some restrictions began to be lifted nearly two weeks ago. Sisolak's office says he plans to hold a press conference Tuesday to offer more details about the next phase of reopening, assuming the decreasing cases of the virus and hospitalizations continue through the Memorial Day weekend.
Nevada's gambling regulators plan to meet Tuesday and will consider reopening plans submitted from casinos, which need to be approved at least seven days before reopening.
N.Y. allows groups of 10 or fewer to congregate
After months of strict stay-at-home orders and just in time for the Memorial Day weekend, New York Gov. Andrew Cuomo signed an executive order Friday allowing groups of 10 people or fewer to congregate.
Social distancing, cleaning and disinfection protocols must be followed as required by the state's Department of Health, according to the order.
Earlier in the day, New York joined the rest of the tristate area in opening its beaches with restrictions. Masks are required, visitors should maintain a 6-foot distance from others and concession stands will remain closed.