Blood thinners may help keep COVID-19 patients on ventilators alive longer, a study published Wednesday suggests.
In recent weeks, physicians have noticed that the sickest coronavirus patients are more prone to forming blood clots — an unexpected symptom for a respiratory virus.
Full coverage of the coronavirus outbreak
Clotting means "patients are at increased risk for deep vein thrombosis, strokes, heart attacks" and pulmonary embolisms, said Dr. Hugh Cassiere, a pulmonologist and the medical director of Respiratory Care Services at North Shore University Hospital on Long Island, New York.
Cassiere, like many ICU physicians, has responded by treating patients with blood thinners.
Now, early data indicates that using these drugs may be beneficial.
In a study published Wednesday in the Journal of the American College of Cardiology, researchers at Mount Sinai Health System analyzed the health records of 2,773 COVID-19 patients.
A total of 395 were placed on ventilators. Among those who weren't given a type of blood thinner called an anticoagulant, 62.7 percent died, compared with 29.1 percent of those who were given the medications.
"Using anticoagulants should be considered when patients get admitted to the ER and have tested positive for COVID-19 to possibly improve outcomes," Dr. Valentin Fuster, the study's author and director of Mount Sinai Heart, wrote in a press release. However, Fuster added doctors should also carefully consider whether patients may have an increased risk for bleeding.
"This is an observational study and should be interpreted with caution," Fuster told NBC News. That means the research cannot prove the anticoagulants indeed led to fewer deaths or had any real therapeutic impact. More research, including randomized trials, will be needed to answer those questions.
Cassiere agreed. "This study doesn't help us figure that out, but it is helpful because we've been anticoagulating these patients anyway based on no data."
Anecdotally, the drugs are working.
Warnell Vega, 33, arrived at the Mount Sinai Morningside's emergency room in New York City last month with a blood clot in his lungs.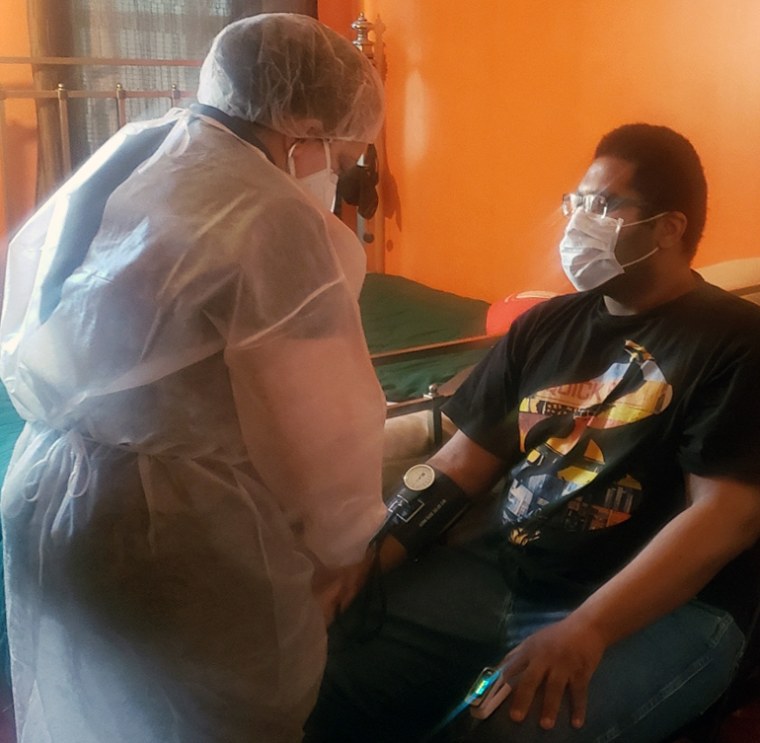 "He was really in dire straits," said Vega's physician, Dr. John Puskas, the hospital's chair of cardiovascular surgery. "The clot almost completely blocked blood flow to his right and his left lungs."
Vega tested positive for COVID-19 and was admitted to the intensive care unit, where he was put on several medications in an attempt to treat the virus. He was also given anticoagulants to help break up the clot.
Download the NBC News app for full coverage of the coronavirus outbreak
Vega was able to go home, but still needs to take two types of blood-thinning drugs: a low-dose aspirin and the drug Eliquis, a type of anticoagulant.
"I have to take that for the next three months," Vega said.
More data on the effects of blood thinners on COVID-19 patients may be coming soon. Fuster's team plans to double the number of patients they're observing in a similar study, ahead of clinical trials aimed at figuring out which blood thinners and at what doses may be most beneficial.
The group also plans to study the effect of blood thinners for patients who are not sick enough to be hospitalized.