The death of a 9-year-old Kansas girl from a brain-eating amoeba infection is a jolting reminder of a rare danger of swimming in fresh water heated by the summer sun — a risk that experts say could get worse in summers to come.
The bug loves toasty, untreated fresh water and can thrive in lakes, rivers, and hot springs, as well hot water heaters, according to the Centers for Disease Control and Prevention. It has also been found in untreated swimming pools and it occasionally finds its way into tap water that isn't sufficiently chlorinated.
Sign up for top Health news direct to your inbox.
Experts start to worry about Naegleria fowleri in the summer when water temperatures start spiking into the 70s and 80s — and that's why, theoretically speaking, the problem might be worsened by climate change, said Dr. Clayton Wiley, director of the division of neuropathology at the University of Pittsburgh Medical Center. Warming weather might push water temperatures high enough in northern latitudes to create a friendly environment for the amoebae, thus expanding the area where they can be found.
Infections with Naegleria fowleri are rare, but they are almost always deadly. Some 132 people are known to have been infected in the more than 50 years from 1962 to 2014, but only three survived, the CDC reports.
One of those is Kali Hardig, a 13-year-old from Benton, Arkansas, who was infected last summer.
After swimming at a local water park, Kali began to develop symptoms that concerned her mother, Traci. The little girl's head hurt so badly she didn't want to get out of bed in the morning and soon her temperature started to spike.
"I took her temperature and it was 103.6," Traci Hardig said over the phone from a beach in Florida where family is vacationing this summer. "I couldn't get it to go down and it kept going up. She wouldn't drink anything and then she started projectile vomiting. Her eyes rolled back in her head and I said, 'Oh my God, there is something really wrong with this baby.'"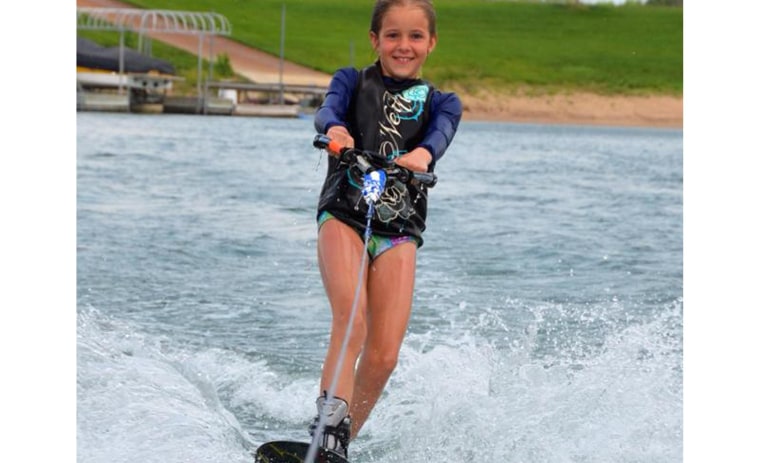 At Arkansas Children's Hospital in Little Rock, doctors first thought it might be meningitis — but then a lab technician saw the amoebae on a slide that had been made from a sample of the girl's spinal fluid.
Kali's doctors called the CDC and got a new drug to add to the cocktail they were already giving her. During the 22 days Kali was unconscious, doctors had to drill a hole in her skull to accommodate the swelling in her brain. When she finally woke up, "she couldn't talk or hold her tongue in her mouth," her mom said. "It was like she had a stroke."
Kali made an unusual recovery, but Hally Yust wasn't so lucky. The 9-year-old Kansas girl died last week after swimming in several lakes near her family's home.
The only good news about the nasty bug is that it isn't easy to get infected with it. To do its damage, N. fowleri needs to shoot up through the nasal passages into the brain. That can happen when someone is diving or water skiing or even flushing the sinuses out with infected tap water using a neti pot.
"Her eyes rolled back in her head and I said, 'Oh my God, there is something really wrong with this baby.'"
While most of the brain is protected by the skull, the nose offers a direct line to it, Wiley explained. That's why drinking water contaminated by the amoebae won't hurt you.
But once it's in your nose, "it literally climbs through a natural conduit to the brain," Wiley said. "Once it's in the brain it aggressively destroys tissue. The popular term is 'eats.' But it's just surviving on the biological matter in your brain at that point. It's a bad bug."
The amoebae are especially prone to build up in smaller bodies of water that get very warm, said Dr. Yvonne Bryson, a professor at the University of California, Los Angeles, and chief of pediatric infectious diseases at the Mattel Children's Hospital UCLA.
"In California where I am, the cases we see are mostly kids jumping into irrigation ditches," Bryson said. "They dive in when it's really hot in the summer. It's the same in the South. The amoebae wiggle and float their way up the nose. They can squeeze through very small areas."
Bryson and others believe that activities such as diving and jumping into water contaminated with amoebae increase the risk of becoming infected because water is pushed high up into the nose.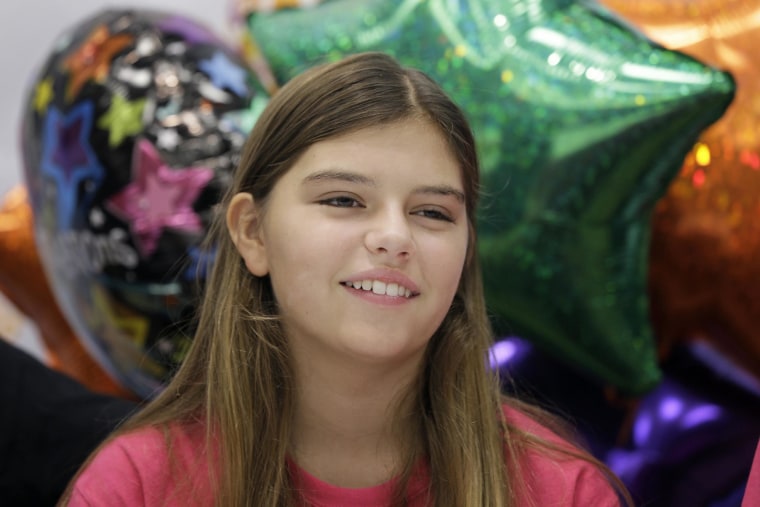 Last summer, the deadly amoeba was found for the first time in a U.S. drinking water supply system in the New Orleans area.
St. Bernard Parish officials flushed out the system, and testing in January and May found no trace of the bug, said Louisiana Department of Health and Hospitals spokesman Ken Pastorick. He said the department was still working with the state's water systems to ensure proper chlorination levels and was at 98 percent compliance.
Even though the bugs are fairly common in warmer regions, infection is rare, which is why it can be too late before doctors figure out what the problem is. "People don't recognize it," Bryson said.
In Arkansas, Kali completed her recovery with a combination of physical therapy, occupational therapy and speech therapy, and began to regain what she'd lost. "Now she looks normal again," Traci Hardig said. "She can talk and ride a bike, whatever."
Kali was left with some scar tissue in her brain where the amoebae did their damage. But her brain has managed to rewire many of the connections she lost. Back at school, she's doing well, her mom said, but needs remedial work on certain subjects that seem to have been hit the hardest, like math.
These days Kali won't swim in any kind of fresh water, treated or otherwise. That's one of the main reasons the family opted to vacation near the ocean this summer.
"Even her pool at home is salt water," Traci Hardig said. "She's determined that's all she wants to swim in."