Women who have BRCA mutations do just as well after treatment for breast cancer as other patients, British researchers reported Thursday.
It's good news for people with BRCA1 and BRCA2 mutations that raise their risk of cancer. If they get cancer and have standard treatment, they live as long as breast cancer patients without the mutation.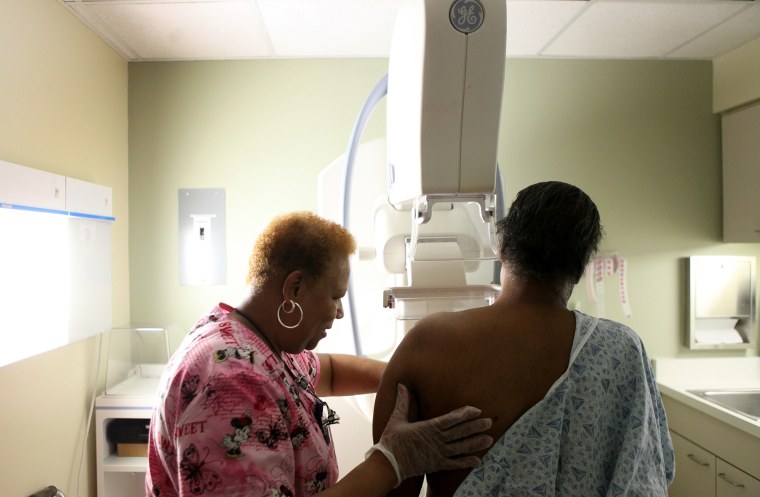 And they usually don't need extra surgery, the researchers reported in the journal Lancet Oncology.
"Women diagnosed with early breast cancer who carry a BRCA mutation are often offered double mastectomies soon after their diagnosis or chemotherapy treatment," said Diana Eccles of the University of Southampton.
"However, our findings suggest that this surgery does not have to be immediately undertaken along with the other treatment."
Related: Even people with breast cancer genes can lower their risk of cancer
Decisions about timing of additional surgery to reduce future cancer risks should take into account patient prognosis after their first cancer, and their personal preferences."
The researchers studied 2,733 women under 40 who had been recently diagnosed with breast cancer. Most had chemotherapy, half has what's called breast-conserving surgery instead of a complete mastectomy, the other half had a full mastectomy and a very few did not have any surgery.
About 12 percent of the women had a mutation in either BRCA1 or BRCA2 that raised cancer risk. A person's cancer risk can vary a lot depending on which mutation they have.
Most of the women lived 10 years; 73 percent of the women with BRCA mutations lived 10 years and 70 percent of women without the mutations did.
Even women with difficult-to-treat triple negative breast cancer survived as well whether or not they had the mutation.
Related: All breast cancer mutations are not equal
This means that breast cancer patients can wait and see how they feel about things and how their health is before they decide whether to have more surgery — for instance, to remove the healthy breast to lower any risk that breast cancer might return in that one.
"In view of this, younger women with breast cancer can take time to discuss whether radical breast surgery is the right choice for them as part of a longer-term risk reducing strategy," said Fiona MacNeill, a breast surgeon at The Royal Marsden National Health System Foundation Trust in Britain, which was not involved in the study.
Most women with the mutations will likely want to consider more surgery, however, the researchers noted.
About 1 in 400 people have BRCA mutations.
Related: Breast cancer may return even 20 years later
BRCA1 and BRCA2 are DNA repair genes. They're supposed to find and fix mistakes elsewhere in the DNA code. When they carry mistakes themselves, the repair isn't made, or it's made improperly. And that can lead to cancer.
An estimated 55 to 65 percent of women with a cancer-causing BRCA1 mutation will develop breast cancer by age 70, the National Cancer Institute says. About 45 percent of women with faulty BRCA2 genes will.
BRCA mutations are among dozens of other genetic mutations that raise the risk of breast or ovarian cancer. About 12 percent of all women will develop breast cancer during their lives.
"Together, BRCA1 and BRCA2 mutations account for about 20 to 25 percent of hereditary breast cancers and about 5 to 10 percent of all breast cancers," the National Cancer Institute says.
Breast cancer is the second-biggest cancer killer of American women, after lung cancer. The American Cancer Society says every year, it's diagnosed in 200,000 women and a few men, and kills around 40,000.