Doctors agree that too many U.S. women who are diagnosed with breast cancer opt to have both breasts removed.
Now a new study shows where they live has a strong effect on that decision. Young women in five states — Nebraska, Missouri, Colorado, Iowa, and South Dakota — were much more likely than other women to have preventive mastectomies.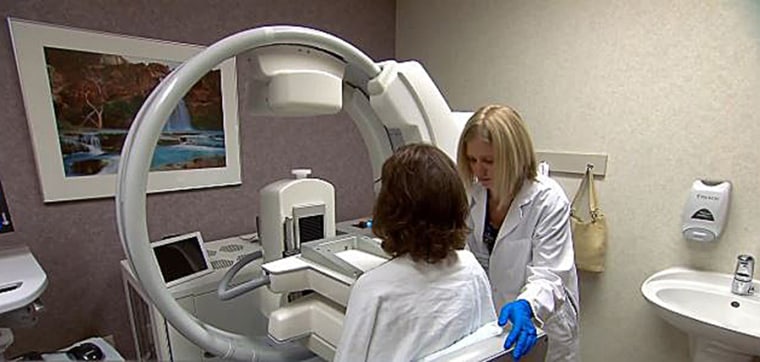 It's not clear why, but doctors agreed that women need more information before they opt for surgery that can have severe side-effects and that will not help them live any longer.
The team at the American Cancer Society, Emory University and Dana-Farber Cancer Institute looked at the records of 1.2 million women with cancer in one breast between 2004 and 2012.
Related: Most Women Who Get Double Mastectomy Don't Need It
Just as other researchers have found, they saw a big increase in the number and proportion of women opting to have the other breast removed, even though there was no sign of cancer in the second breast.
"We found that the proportion of contralateral prophylactic mastectomies among patients 20 years or older with early-stage unilateral breast cancer treated with surgery significantly increased from 2004 to 2012 in almost all states," they wrote in their report, published in the Journal of the American Medical Association's JAMA Surgery.
In 2004, just 3.6 percent of breast cancer patients 45 and older got the other breast removed. By 2012, it was more than 10 percent.
Related: Men Get Double Mastectomies, Too
And among young women, rates rose from 10.5 percent in 2004 to a full one-third — 33.3 percent — by 2012.
"The reasons for this increasing pattern are unclear but are thought to include the fear of developing a second breast cancer and the desire for breast symmetry following reconstructive surgery," the team, led by Emory's Rebecca Nash, wrote.
Nash's team broke it down state by state and found big variations.
Related: Double Mastectomy Doesn't Boost Breast Cancer Survival
Only about 15 percent of women with early stage breast cancer in Hawaii and the District of Columbia opted to have the healthy breast removed. But in South Dakota, Iowa, Colorado, Missouri, and Nebraska, more than 42 percent of patients opted for the preventive surgery.
This team just looked at the numbers and did not delve into whether the mastectomies might have been medically justified. Women who have certain genetic mutations putting them at extremely high risk of breast and ovarian cancer may opt for double mastectomies even before a cancer diagnosis, and certain mammogram findings may also point to a higher breast cancer risk.
But many studies have shown that women are not any less likely to die of breast cancer if they get an unaffected breast removed. And many times, it's safer and just as effective to have partial surgery even in the affected breast.
"Patients with breast cancer and breast cancer surgeons are also voters, and it is therefore reasonable to question whether these political patterns can be generalized to oncology practice patterns."
Women have other options, from a once-a-day pill to careful monitoring. Women can take tamoxifen or one of several newer drugs called aromatase inhibitors and reduce their risk by as much as 50 percent.
Dr. Lisa Newman of the Breast Oncology Program at Detroit's Henry Ford Health System, thinks demographics may be at work.
"The Midwest is often referred to as America's heartland, and is home of the so-called bellwether states whose voting patterns have consistently predicted the outcome for national elections," Newman, who was not involved in the study, wrote in a commentary.
"Patients with breast cancer and breast cancer surgeons are also voters, and it is therefore reasonable to question whether these political patterns can be generalized to oncology practice patterns."
Related: Unfounded Fears May Prompt Young Women to Get Mastectomy
"Choices regarding breast cancer surgery — much like casting a ballot — can be intensely personal decisions, based on one's lifetime experiences and exposures, as well as values and resources. Patients and voters alike deserve accurate information regarding realistic expectations from their options," Newman wrote.
She thinks it could be an indication of things to come. "I think that women in the Midwest may well be representative of women in the rest of the country," Newman told NBC News. "It may be that the notably rising rates in the Midwest may be a sign that we are going to see increasing rates in the rest of the country."
Newman also notes the five states have very low African-American populations and also low poverty rates, however.
At any rate, doctors need to make sure patients know what they are doing.
"We must respect patient choice and avoid being paternalistic," she said, "but we must also protect our patients from making impulsive surgical decisions when they are freshly encumbered by the panic accompanying a new diagnosis of breast cancer."