A new study suggests that camels may be the source of the mysterious new MERS virus infecting people in the Middle East. Three-quarters of camels tested in Saudi Arabia show evidence of infection with the virus.
Camels have long been prime suspects in the outbreak of MERS, a respiratory virus that's killed at least 79 people and infected 182 in several Middle Eastern countries.
But because so many animals have it, the study also suggests strongly that MERS has been around for a while, and authorities are only recently noticing it because of sensitive new tests.
"There are some areas where we found it in 100 percent of camels. So this is not an uncommon infection," said Dr. Ian Lipkin of Columbia University, who led the study published in the journal mBio.
"Prior to the advent of specific diagnostic tests for this particular infection, we would not have noticed it."
If that's true, the virus would be less worrying than if it had recently emerged, or recently mutated into a form that can make people sick.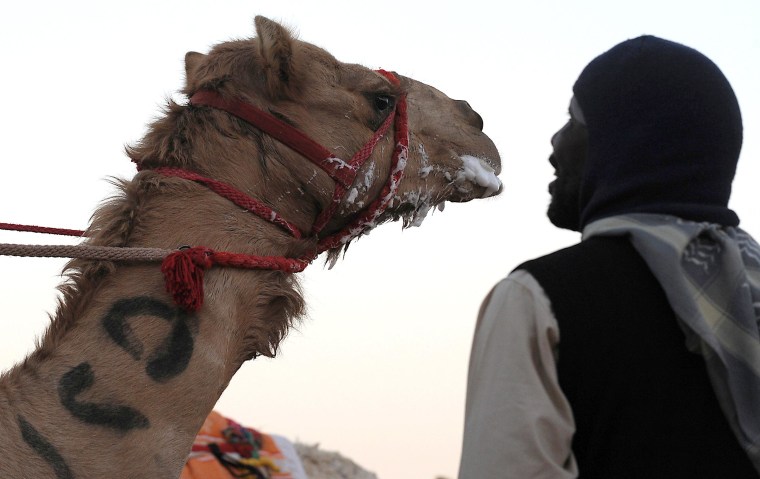 Middle East Respiratory virus or MERS first showed up in 2012, when it killed an elderly Saudi man. It worries health experts because it's related to severe acute respiratory syndrome, or SARS, which swept around the world in 2003, infecting around 8,000 people and killing close to 800 before it was stopped. Both conditions are caused by coronaviruses, members of a family of viruses that usually cause common cold symptoms and that infect a wide range of mammals.
Both also have been carried around the world by travelers, who have gone on to infect others. The United Nations says it could cause a pandemic.
SARS came from an animal called a civet and scientists have also found evidence that MERS might infect bats.
But Lipkin says it may infect several different species, and may only occasionally infect people. "My speculation is that this thing was circulating in camels for a long time," Lipkin says.
MERS has spread to Britain, France, Jordan and elsewhere, but all the patients had traveled to the Middle East. It does not seem especially infectious and only rarely spreads from person to person.
The virus can survive on surfaces, and might spread when people touch something contaminated. SARS appears to have spread that way, and many other viruses do, too.
Lipkin says he hopes the Saudi authorities follow up with blood tests in healthy people and in other animals to see how widespread the virus actually is.