A potential cause of Buffalo Bills safety Damar Hamlin's jarring collapse and cardiac arrest — witnessed in real time by millions of viewers of "Monday Night Football" — was immediately recognized by heart experts who also happened to be watching the game.
"I knew exactly what was going on," said Dr. Nahush Mokadam, the division director of cardiac surgery at Ohio State University Wexner Medical Center. "The way he first stood up and then collapsed ... it's not what a concussion would look like."
On Thursday morning, the Buffalo Bills tweeted that Hamlin's brain function appears to be in good condition, following days of uncertainty and worry after the player's cardiac arrest during Monday night's game against the Cincinnati Bengals.
"Damar has shown remarkable improvement over the past 24 hours," the Bills said on Twitter. "While still critically ill, he has demonstrated that he appears to be neurologically intact."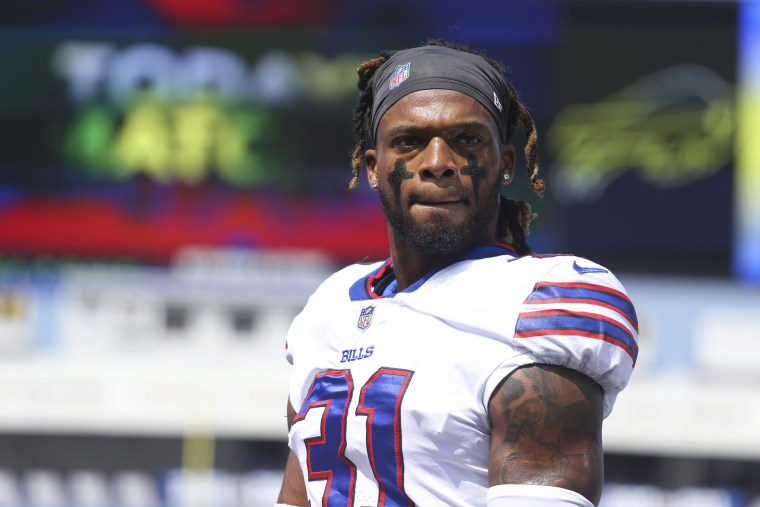 It was during the first quarter of Monday night's game when Hamlin, 24, tackled a Bengals receiver whose shoulder appeared to collide with Hamlin's chest. Hamlin stood up after the tackle but collapsed seconds later.
None of the physicians interviewed for this story is involved in Hamlin's treatment, although a statement from the Bills said only that Hamlin suffered a cardiac arrest, when the heart stops beating properly.
While there are several potential causes for Hamlin's cardiac arrest, cardiologists suggested that a rare phenomenon called "commotio cordis" was to blame.
In such cases, "there is nothing wrong with the heart," said Dr. Hari Tandri, the director of the cardiac arrhythmia program at Vanderbilt University Medical Center in Nashville, Tennessee. A healthy heart, when hit with blunt force at a specific time, Tandri said, can launch into an abnormal and potentially deadly rhythm.
A spokesperson for the American Heart Association, Dr. Comilla Sasson, an emergency medicine physician in Denver, said: "It's not about how hard of a hit it was. It's actually about the timing of when the blow happens."
Normally, the heart pumps oxygen-rich blood throughout the body about every second. There is a rhythm to the process, keeping the blood flowing at a healthy pace. But every time the heart beats, there is a tiny moment — less than a fifth of a second — that makes it vulnerable to the force of a projectile, such as a hockey puck or a baseball, that can lead to a chaotic and potentially deadly heart rhythm.
It is in this exact moment, experts say, that a blow to the chest in the exact right place can launch an otherwise healthy person into cardiac arrest. The heart's electrical system malfunctions, and the heartbeat rhythm goes haywire.
Seconds after such an injury are critical to the patient's survival, Sasson said.
"For every one minute that you don't have CPR performed, your chances of survival go down by about 10%," she said. In Hamlin's case, medical personnel on the sidelines rushed in to perform CPR until he was stable enough to be taken by ambulance for further treatment.
What is commotio cordis?
It's thought that commotio cordis occurs about 15 to 20 times a year in the U.S., mostly in adolescents participating in sports like baseball, hockey or lacrosse, said Dr. Mark Link, a cardiologist at the University of Texas Southwestern Medical Center.
It's even rarer for people over age 20, because ribs harden with age and are better able to protect against blunt trauma, said Link, an expert in commotio cordis who is a clinical cardiac electrophysiologist specializing in heart rhythm problems.
NFL players undergo myriad health screenings, which may include scans of the heart, to identify potential health problems long before they hit the field.
"Every athlete has a comprehensive physical every year," said Dr. James Voos, an orthopedic sports medicine specialist and head team physician for the Cleveland Browns since 2014. Some, but not all, undergo cardiac screenings, such as EKGs and echocardiograms to look for problems with the heart's structure or electrical system.
What's more, Voos said, "every team has a cardiology consultant that partners with the team."
Such screenings suggest that an underlying cardiac condition would be unlikely to go unnoticed, Mokadam said.
Still, there could be other reasons a person goes into cardiac arrest. Sometimes, a blood vessel within the heart muscle swells and bursts.
Mokadam said that is unlikely to have happened in Hamlin's case.
"If it was an aneurysm that burst, he would have needed emergency open heart surgery," he said. "CPR and an AED aren't going to take care of the problem." (AED refers to a form of defibrillation treatment.)
Dr. Korin Hudson, a physician specializing in sports and emergency medicine at MedStar Health in Washington, D.C. said "there are a number of cardiac conditions that don't always show up on those those pre-participation exams." Hudson recently worked with the Baltimore Ravens to streamline the team's sideline emergency protocols.
Medical personnel were on hand and jumped to action when Hamlin collapsed Monday, potentially saving his life.
Medstar Health's Hudson said that the National Football League mandates at least 27 medical personnel to be on site for each team on game days. The group includes athletic trainers, doctors who specialize in head trauma, and those who treat players with broken bones, damaged tendons or torn ligaments.
Though cardiac arrests on the football field are rare, Hudson said doctors are ready and able to do more than sit on the sidelines.
"Most medical professionals will see a catastrophic injury maybe once or twice in their career," Hudson said. "That doesn't mean we don't need to be absolutely prepared to handle them at a moment's notice."
Jon Torine, who previously worked as a strength and conditioning coach for both the Buffalo Bills and the Indianapolis Colts, said player safety was a top priority. "There's not a safer place to be than on an NFL team," said Torine.
In a statement released Tuesday, Hamlin's family thanked first responders and health care professionals at the University of Cincinnati Medical Center, where he is being treated.
"On behalf of our family, we want to express our sincere gratitude for the love and support shown to Damar during this challenging time," the family wrote.
What's next?
The 24 hours after such an injury are critical, doctors say. Physicians are most likely doing a number of tests to make sure there are no underlying heart problems that could have led to Hamlin's collapse or injuries he sustained after Monday night's collision. They could include an ultrasound of the heart, a cardiac MRI and CT scans of the brain.
Doctors caring for Hamlin are likely watching for signs that he can breathe on his own and is slowly able to respond to simple commands.
Follow NBC HEALTH on Twitter & Facebook.