A DNA-based vaccine grown in caterpillar cells instead of made using chicken eggs appears to have better protected adults against infection, researchers reported Wednesday.
The vaccine, called FluBlok, is one of a half-dozen flu vaccines available on the U.S. market but it's unique because it uses more modern technology than most flu vaccines, which are made using very old-fashioned approaches.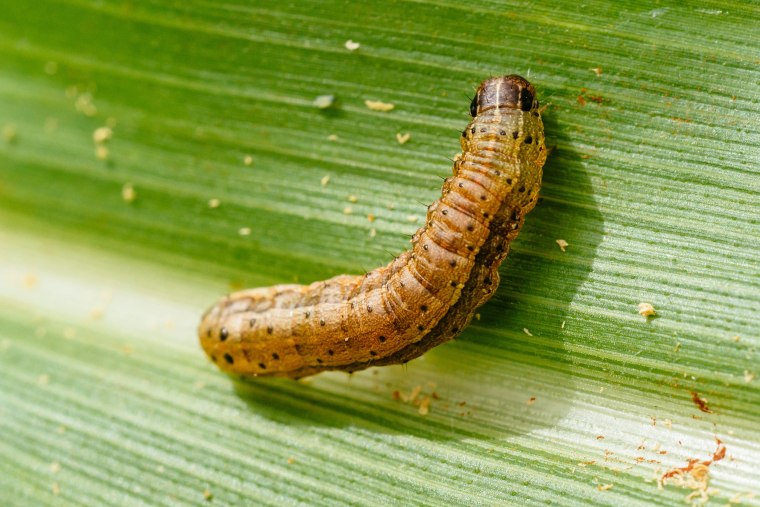 A study in about 9,000 people showed FluBlok was about 30 percent more effective than a standard flu vaccine in preventing influenza infection, researchers said.
That's a rare piece of good news in the field of flu vaccines. Influenza vaccines are notoriously ineffective.
"It's clear that we need better vaccines -- no doubt about it. And this may be a step in the right direction," said Dr. John Treanor of the University of Rochester Medical center, a flu vaccine expert who was not involved in the study.
And flu is a major killer. The CDC estimates that between 140,000 and 700,000 people get sick enough from flu every year to need hospital care, and infection kills anywhere from 12,000 to 56,000 people a year, depending on how bad the flu season is.
This past flu season, for example, the vaccine was only about 42 percent effective in preventing illness severe enough to send a patient to the doctor's office, CDC officials said Wednesday.
It barely protected people 65 and older, CDC experts told a meeting of the Advisory Committee on Immunization Practices, although it reduced illness among children by 60 percent.
In the 2014-2015 flu season, the vaccine reduced the risk of serious flu by just 23 percent.
The goal for most vaccines is 90 percent or better protection against illness.
Related: Another Year the Flu Vaccine Barely Worked
Plus, influenza vaccines are slow and clunky to grow. The usual approach for making flu vaccines involves isolating and culturing flu virus in the lab, and then injecting it into chicken eggs to grow. The resulting mess is then purified, weakened or killed so it cannot make people sick, and made into a vaccine.
The virus mutates constantly, and often it changes after flu vaccines are already being given. Because it takes months to make new flu vaccines, it's too late once a flu season starts to re-formulate the vaccines.
Researchers have been working for years on ways to speed up the process and a company called Protein Sciences has been using pieces of influenza DNA grown in vats of caterpillar cells. Their vaccine has been on the market for years, and one advantage is that it's much quicker to make.
What hasn't been clear until now is whether it's more effective.
Related: Flu Shot Fail: Why Vaccines Don't Always Work
This study, published in the New England Journal of Medicine, suggests it might be. None of the vaccines matched the circulating flu viruses very well that year and many people caught flu even if they were vaccinated.
But in a head-to-head comparison of FluBlok versus GlaxoSmithKline's egg-grown vaccine, 2.2 percent of volunteers who got FluBlok had confirmed influenza infection compared to 3.2 percent of those who had been given Glaxo's vaccine.
"They were vaccinated in October of 2014 and followed through 2014-2015 season, and when they had symptoms of influenza, they were brought back to clinic," said Dr. Lisa Dunkle, chief medical officer at Protein Sciences, whose team conducted the study.
"The probability of influenza-like illness was 30 percent lower with (FluBlok)," Dunkle's team reported.
Why would it work better? It might be because the vaccine is made using insect cells, the researchers said. Chickens and their eggs are highly susceptible to flu — that is why they are used to make vaccine. But because the virus thrives in eggs, it mutates while it grows.
FluBlok is made using genetic engineering. Just one piece of human flu virus is grafted onto an insect virus and it's grown in the cells of the fall army worm, known scientifically as Spodoptera frugiperd. The result may be a less mutated version of antigen -- the part of the virus that makes a vaccine work.
FluBlok may also give a bigger dose of antigen than other vaccines, Treanor said.
But it's not actually clear why it worked better or whether FluBlok would work better from one season to another, the researchers said.
Related: Most Kids Who Died of Flu Weren't Vaccinated
Its main advantage is that it is quick and clean to make. "The recombinant vaccine is produced in bioreactors — big vats of cells producing protein. We can produce vaccine in roughly three to six weeks after strains are selected, as opposed to six months with conventional vaccine," Dunkle told NBC News.
And once the virus is grown, just a few pieces of its DNA, taken from a gene called hemagglutinin, are used to make the vaccine. There were some concerns that using such a small piece of the flu virus would make the vaccine less effective, but that didn't happen in this study.
Even though flu vaccines are not perfect, the CDC says everyone except the youngest babies should get one every year.
There are many vaccines on the market, including trivalent vaccines that protect against the three most common circulating strains of influenza, and quadrivalent vaccines that protect against four strains.
There are big-dose vaccines for the elderly, under-the-skin vaccines for those who don't like long needles and a nasal spray mostly for kids that is currently not available because of doubts about how well it works.
"There is no preference for one vaccine over another among the recommended, approved injectable influenza vaccines," the CDC says.
"There are many vaccine options to choose from, but the most important thing is for all people 6 months and older to get a flu vaccine every year."
"Clearly when they don't work well, they still do something good," said Treanor.