A sudden surge in cases of H7N9 bird flu in China is a "cause for concern," the Centers for Disease Control and Prevention said Friday.
It's infected 460 people just since October, the CDC said in a report. "It's by far the largest epidemic wave since 2013," said CDC flu expert Dr. Tim Uyeki.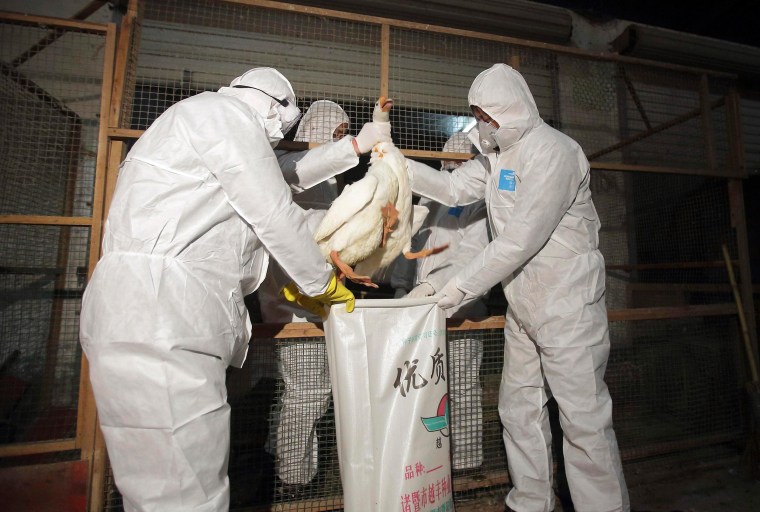 The CDC has been working on a vaccine against H7N9 just in case it's ever needed and is starting work on a second one now because it's started to mutate.
"It's a cause for concern, that's for sure," Uyeki told NBC News. "The surge in numbers of human H7N9 cases in China is definitely a concern."
The CDC issued a travel notice in January, cautioning travelers to China to stay away from live bird markets. Uyeki said travelers do not need to avoid China but they should be aware that poultry can spread the virus.
Related: WHO Says Watch Out for Bird Flu
Since 2013, H7N9 bird flu has infected 1,258 people, the CDC said. So 460 cases in just five months account for a third of all the cases over four years.
Earlier this week the World Health Organization held a meeting on H7N9 and then issued public reassurances, saying the virus did not appear to have changed in a way that would make it more likely to spread to people or to make it more dangerous to people.
"The surge in numbers of human H7N9 cases in China is definitely a concern."
Instead, the changes make the virus more dangerous to birds — which could be a good thing.
"These changes make the virus highly pathogenic in birds, meaning that it can cause some severe disease in birds," Dr. Wenqing Zhang, head of WHO's global influenza program, told reporters.
"Previously, H7N9 had only been observed to be 'low pathogenic' in birds, meaning the virus did not cause visible outbreaks of disease in birds," Zhang said.
If an avian influenza virus kills birds, it's bad for poultry farmers but it can give a warning that the virus is spreading. The problem with H7N9 has been that it does not make poultry sick, so it can spread among flocks without people knowing it.
Uyeki is worried that H7N9 has become more widespread in China, spreading silently and infecting more people because it's infecting more birds.
"You could have more cases of human infection even if the risk of poultry-to-human transmission has not changed," he said.
China has been publishing genetic sequences of the H7N9 virus in public databases, but it has not been sharing actual samples of the virus, so it's not possible for U.S. labs to test the virus themselves to see whether it's changed and if so, whether it's more dangerous.
But it's already dangerous. H7N9 is considered a moderate to high pandemic threat, although the CDC and WHO do not think an H7N9 pandemic is about to happen, or even that it is certain to happen.
Related: CDC Issues H7N9 Travel Warning
H7N9 is one of several strains of bird flu that officials are watching because they have the potential to cause a human pandemic.
So far, H7N9 doesn't seem to infect people easily and people who are infected do not seem to spread it to others much. But influenza viruses change quickly and unpredictably, and if one starts passing easily from one person to another it could spread.
"H7N9 viruses have the highest risk score and are characterized as posing moder­ate–high potential pandemic risk."
"From what we understand, there have been no real changes in the epidemiology or mortality of hospitalized H7N9 cases," Uyeki said.
H7N9 can be deadly when people do get it. It kills more than 40 percent of people who get sick enough to go to the hospital.
Related: H7N9 has cost billions
"Early symptoms are similar to those of seasonal flu and may include fever, cough, sore throat, muscle aches and fatigue, loss of appetite, and runny or stuffy nose," CDC said.
It often progresses to pneumonia. And hospitals or clinics treating people infected with H7N9 need to take precautions to make sure patients do not infect anyone else.
"Clinicians should consider the possibility of avian influenza A (H7N9) virus infection in people presenting with respiratory illness within 10 days of travel to China, particularly if the patient reports exposure to birds or poultry markets," the CDC says.
The CDC and WHO are watching the spread of several bird flu viruses that are known to infect people, including H5N1 and H7N2.
Related: Vet Catches Bird Flu From Cats
"Although the current risk to the public's health from A(H7N9) viruses is low, among the 12 novel influenza A viruses evaluated ... A(H7N9) viruses have the highest risk score and are characterized as posing moder­ate–high potential pandemic risk," the CDC team said in the report released Friday.