Government health officials are cracking down on safety at the nation's highest-level biosecurity labs after a disturbing series of lapses, including an anthrax scare, discovery of lost vials containing live smallpox — and a new report of the accidental shipment of highly pathogenic bird flu.
Dr. Tom Frieden, director of the Centers for Disease Control and Prevention, on Friday announced an immediate moratorium on all shipments of biological materials from CDC biosecurity level 3 and level 4 labs until problems are addressed.
Sign up for top health news direct to your inbox.
Taken together, the breaches raise "serious and troubling questions" about the nation's culture of laboratory safety, he said. Two labs have been shut; it's not clear how many others affected.
"Fundamentally, what they revealed was totally unacceptable behavior," Frieden said. "These events should never have happened."
Frieden also said he would appoint a single director of laboratory safety, Dr. Michael Bell, and discipline any lab workers who knowingly violated procedures or who failed to report breaches. Bell has been associate director for infection control in the CDC's division of health care quality.
The moves follow lapses in laboratory protocol revealed the past month, including exposure of more than 80 CDC scientists to live anthrax, discovery of lost vials containing what's been determined to be live smallpox at a Food and Drug Administration laboratory — and a discovery, just this week, that a CDC laboratory accidentally contaminated low-risk bird flu samples with highly pathogenic samples of H5N1 bird flu, and sent it out to a government lab.
"Fundamentally, what they revealed was totally unacceptable behavior. These events should never have happened."
Complicating matters, workers didn't notify senior CDC officials promptly about the bird flu incident, which occurred in March and was confirmed in May.
"It happened six weeks ago and I learned about it 48 hours ago," said Frieden.
In all cases, it appears that risk of exposure to the potentially deadly pathogens was low and no one has fallen ill, Frieden said.
Frieden detailed the mistakes in a 25-page report and an hour-long press conference with reporters in which he expressed frustration and dismay.
"I'm disappointed by what happened and, frankly, I'm angry about it," he said.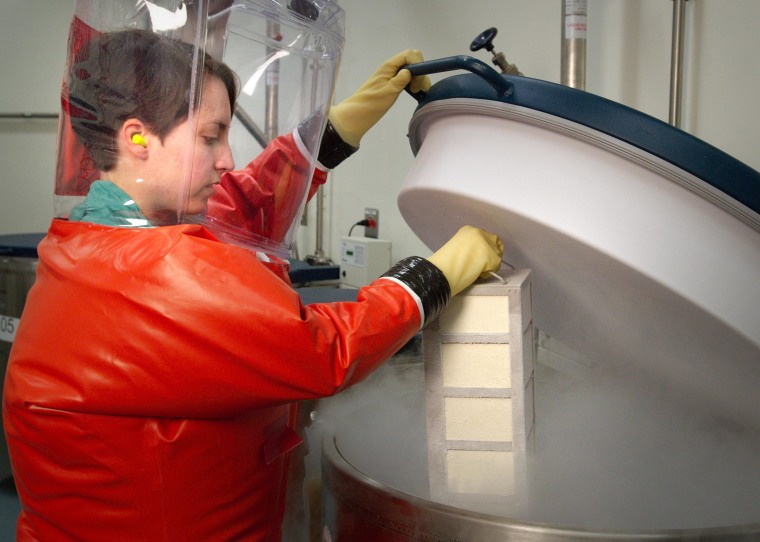 In addition to the anthrax and H5N1 incidents, CDC officials said laboratory lapses had occurred on three other occasions in the past decade. That included another accidental release of live anthrax at the Bioterrorism Rapid Response and Advanced Technology, or BRRAT lab, in 2006, and that same year, the release of live botulinum toxins from another CDC lab. In 2009, another lab showed that a strain of Brucella bacteria was released.
The news of mishandling of the pathogens drew swift reaction from Congress. Rep. Fred Upton, R-Mich., and Rep. Tim Murphy, R-Pa., said they would demand answers from Frieden at a hearing next Wednesday already scheduled to address the anthrax blunder.
"We've learned that the dangerous transfer of possible live anthrax bacteria by the CDC's Atlanta lab was not an isolated incident by a rogue scientist, but rather one of multiple mishaps over the last several years that were violations, or apparent violations, of federal regulations for handling deadly biological material," Murphy, chairman of the House Oversight and Investigations Subcommittee said in a statement.
Members of the Senate Health, Education, Labor and Pensions, or HELP, committee also sent a letter to Health and Human Services Secretary Sylvia Burwell demanding details about the incidents.
In the latest anthrax situation, lab workers failed to follow protocol that allowed live anthrax bacteria to be sent to other laboratories. In addition, they shouldn't have been using live anthrax at all in the experiment they were performing, Frieden said. The laboratory in question is closed and will remain closed to so-called "select agents," or potentially deadly pathogens.
In the smallpox situation, workers clearing out an unused Food and Drug Adminsitration storage laboratory on the National Institutes for Health campus in Maryland discovered six vials of the variola virus dating to 1954. The vials had likely been there since 1972, when control of the lab was transferred to FDA.
The samples were sent to CDC, where early tests had confirmed the presence of smallpox DNA, but new analysis revealed that two of the samples contained live smallpox, a potentially deadly virus. The remaining samples are still being tested, Frieden said.
The incident indicates a lapse in inventory protocol decades ago and a failure to detect the vials. By international agreement, smallpox samples are supposed to be stored in only two repositories in the world: at the CDC in Atlanta and at the State Research Centre of Virology and Biotechnology (VECTOR) in Novosibirsk, Russia.
The samples will be destroyed, Frieden said. "That's what should have been done a couple decades ago," he added.
The H5N1 bird flu incident is still being investigated, Frieden said. It appears that the low-level bird flu was contaminated with the highly pathogenic H5N1 strain in a single room at a CDC flu lab. The specimens were sent to a U.S. Department of Agriculture laboratory, which workers there discovered that the low-risk sample actually contained the high-risk virus.
Lab workers were never in danger because they were handling the samples while wearing protection gear and according to BSL-3 protocols, Frieden said. There was no risk to the wider community, he said.
But the recent events are "very worrisome," said Dr. Amesh Adalja, an infectious disease and biosecurity expert at the University of Pittsburgh. Even though the risk to the public is low, such events can spread fear and mistrust.
"Nobody's going to get bird flu, nobody's going to get smallpox and nobody's going to get anthrax," he said. "But there is this perceived sense of laxity in government labs that threatens the public confidence in the government labs and the ability of the government to conduct this research. This research is something that is essential to safeguard the health of the public."