The Centers for Disease Control and Prevention is talking to airlines about the possibility of testing for the coronavirus in sewage from planes, the federal agency told NBC News.
Since September 2021, the CDC has been testing international travelers for Covid on a volunteer basis via nasal swabs. The program now includes seven major airports. Expanding that surveillance to include wastewater could allow the CDC to collect more data about emerging variants.
The U.S. has been monitoring for the coronavirus in wastewater since the CDC launched its National Wastewater Surveillance System in September 2020. But that testing mainly involves wastewater from households or buildings, not samples from airports or planes.
"CDC is exploring all options to help slow the introduction of new variants into the United States from other countries. Previous Covid-19 wastewater surveillance has shown to be a valuable tool, and airplane wastewater surveillance could potentially be an option," CDC press officer Scott Pauley told NBC News.
Reuters first reported that the agency was considering airplane wastewater testing.
A study published Thursday in the journal PLOS Global Public Health shows how this approach could be useful: A team of researchers from Bangor University in Wales found that the coronavirus circulated widely in wastewater from airports and planes in the U.K., even while Covid testing was required for unvaccinated passengers.
Those results indicate that plane wastewater sampling could pick up on asymptomatic or presymptomatic infections that might get missed by Covid tests, in addition to detecting other viruses or bacteria.
"The more information you have, the more accurate decisions that you can make," said Kata Farkas, one of the study's authors and a postdoctoral research officer at Bangor University. "I believe wastewater-based surveillance is a really good tool to support any decision made on public health."
A new report from the National Academies of Sciences, Engineering, and Medicine, also published Thursday, came to a similar conclusion. It suggested that wastewater surveillance could provide critical data about existing or emerging pathogens, and it also outlined a vision for how the existing system should expand and function going forward.
As of October, more than 1,250 sites were conducting wastewater testing across the U.S. But most counties don't have the funding, capacity or will to sample their sewage yet. So according to the report, a more robust system should screen for multiple pathogens at once, and add sampling sites in underserved areas and at specific outposts like sports venues, zoos or major airports.
Making the most of wastewater surveillance
Wastewater testing can provide different information depending on where samples are collected. Those from an airport, dormitory or long-term care facility, for instance, might offer more granular insight than broader, communitywide testing.
"If you do have a new variant that's coming and you have a wastewater sample, it's going to be more concentrated coming out of a smaller sewer shed or an airport," said Sandra McLellan, a professor of freshwater sciences at the University of Wisconsin-Milwaukee, who contributed to the National Academies report. "If you just look in the municipal wastewater, you could miss it."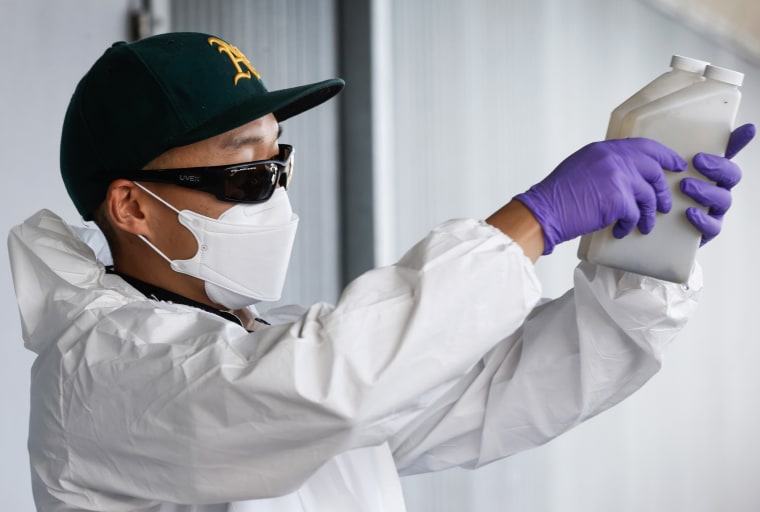 While samples from individual airplanes are unlikely to represent population-level trends, they offer a different advantage, according to Heather Bischel, an associate professor of civil and environmental engineering at the University of California, Davis: Scientists can trace a pathogen to a specific geographic origin.
"Having that kind of information about our ports of entry would certainly give forewarning to where a new spread could occur," said Bischel, who was not involved in the reports.
Farkas said she believes it would be most useful to test sewage from long international flights, since more passengers are likely to use the airplane toilets. But she also said that there could be legal and political barriers when sampling directly from airplanes.
"Some countries would consider the plane their own territory, and if you want to take anything out of it, you're basically stealing from another country, to put it bluntly," Farkas said.
For their new study, Farkas and her team analyzed wastewater samples from three U.K. airports — Heathrow, Edinburgh and Bristol — over three weeks in March 2022. Thirty-two samples came from plane sewage, while another 150 came from sewers near airport terminals or wastewater treatment plants associated with the Edinburgh airport.
All the samples collected from the Heathrow and Bristol airports were positive for the coronavirus, and 85% of the samples from the Edinburgh airport were positive.
Spotting the next pandemic threat
In addition to the coronavirus, the CDC has used wastewater data to detect the mpox (formerly called monkeypox), and polio viruses.
The National Academies report suggested that a larger nationwide system could also screen for influenza, antibiotic resistant bacteria and enterovirus D68, a common childhood virus that can cause muscle weakness or paralysis in rare cases.
"Basically, anything that is found in feces or urine would end up in the wastewater," Farkas said.
But identifying novel viruses or bacteria from sewage can be difficult if scientists don't know what signatures to look for.
"If we were to sequence everything in wastewater, there's just a lot there, and so our ability to resolve a unique, novel pathogen is somewhat limited," John Scott Meschke, a microbiologist at the University of Washington and a member of the committee that wrote the National Academies report, said in a webinar on Thursday.
"Very novel pathogens is still one of the blind spots that we have," he added.
CORRECTION (Jan. 27, 2023, 9:50 a.m. ET): A previous version of this article misstated that Sandra McLellan was not involved in a report from the National Academies of Sciences, Engineering, and Medicine. She is a co-author of the report.