When Philip Morris International took out an ad campaign in Britain claiming it wanted to "give up" smoking, American Lung Association CEO Harold Wimmer had a one-line zinger in return: "Stop selling cigarettes today."
Now the tobacco company is asking the U.S. Food and Drug Administration to endorse what it claims is a "safer" tobacco product — heated tobacco.
The FDA advisory committee meeting is being held Wednesday, the same day that the Lung Association releases its annual report on tobacco use in the U.S. — a report that finds too many people still smoke. The report calls on FDA to more strongly regulate tobacco companies and to more publicly question their claims.
Overall, the report finds, 16.4 percent of adults or about 39 million people Americans smoked cigarettes in 2016. But that percentage rises to 28.6 percent of Native Americans and Alaskan Natives.
"Americans who make less than $20,000 per year (26.7 percent) and Lesbian, Gay and Bisexual Americans (23 percent) have some of the highest smoking rates, and as a result, are at the greatest risk for tobacco-caused death and disease," the report reads. More than a third of adults who live in public housing smoke.
RELATED: E-cigarettes may be safer, but they also hook kids
Tobacco use is the No. 1 cause of both heart disease and cancer.
Higher tobacco taxes and full funding of stop-smoking efforts both work well to discourage smoking and help people quit, but too few states are doing either, the report finds. The average state cigarette tax is $1.72. Connecticut and New York have the highest cigarette taxes at $4.35 a pack, while Missouri taxes each pack just 17 cents.
The 50 states take in $27.5 billion in tobacco taxes and restitution from the big tobacco companies. But they spend just 3 percent of that on tobacco prevention, the report finds.
"It is clear that Philip Morris cannot be trusted with the data that it submits to FDA."
One important step will make it harder to smoke in public housing.
"The U.S. Department of Housing and Urban Development has taken the important step of proceeding with its rule requiring all federally-owned public housing to implement smokefree policies by July 31, 2018," the report reads.
"The rule will protect nearly 716,000 children and more than 320,000 senior citizens from secondhand smoke exposure in their own homes, as well as prompt many of the estimated 300,000 smokers living in public housing to make a quit attempt."
And while the Lung Association would like to see harm-free products on the market, it does not see either e-cigarettes or heated tobacco products as filling that role. Other medical groups also question whether burned cigarettes are less harmful.
"The evidence is a little sketchy," said Aruni Bhatnagar, director of the Diabetes and Obesity Center at the University of Louisville and a spokesman for the American Heart Association.
"We are very cautious about supporting things that might in the long term turn out not to be helpful."
Are 'heat sticks' safer?
The product being considered Wednesday and Thursday is not an e-cigarette and it's not a traditional "combustible" cigarette, either. The Marlboro-branded product, called IQOS, instead consists of a $79 heater that users can plug with "heat sticks."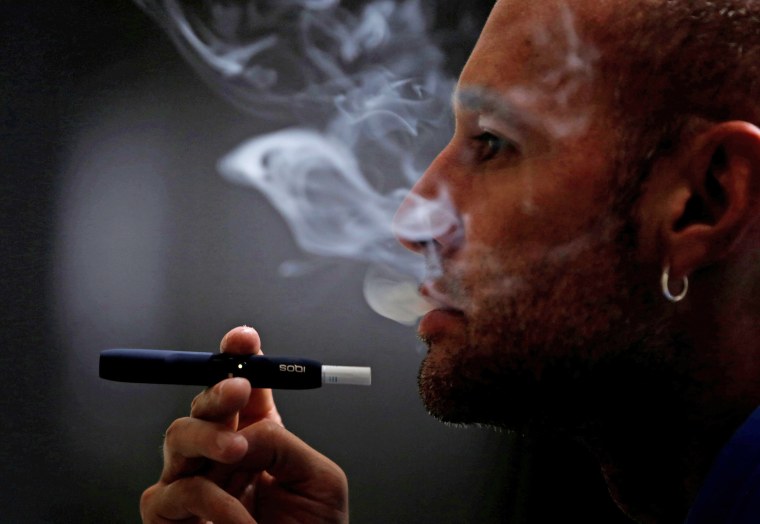 "The HeatStick contains a tobacco plug consisting of crimped cast tobacco sheet made from ground tobacco powder," the FDA says in a statement released ahead of the meeting.
"It is designed to function with the IQOS Holder to produce an aerosol when the plug is heated. It is a filtered, non-combusted cigarette."
Related: Big Tobacco finally tells the truth in court-ordered campaign
Philip Morris says it has already sold the product to 3.7 million people in countries including Canada, Colombia, France, Britain and Spain.
The FDA advisers are asked to decide whether Philip Morris should be able to sell the product in the U.S. with the claim that the product is less harmful than cigarettes. They'll be asked if the studies presented by Philip Morris hold up and they'll be asked if smokers will really switch to the product if it is offered.
Medical groups are dubious.
"This is something that really requires careful FDA review," the Lung Association's Erika Sward said.
"It is clear that Philip Morris cannot be trusted with the data that it submits to FDA. They have clearly left out some key parts of their analysis. FDA needs to make sure that it is appropriate for the protection of the public health."
Philip Morris is one of the companies ordered to run a year's worth of advertisements admitting to having lied for years about the dangers of cigarettes, and admitting to deliberately making them more addictive.
Unclear benefits of smoking less
The FDA points out some weaknesses in Philip Morris's arguments in its own briefing documents given to the committee.
"First, the studies were not designed to be representative of all smokers in the U.S. For example, light (i.e., less than 10 cigarettes per day) or non-daily smokers were not recruited into the studies," the FDA said.
Sward said that the tobacco company's data only compares heavy smokers to people using the new product, which may not represent most of the U.S. smoking market.
Related: E-cigarette ads target kids, CDC says
And, the FDA noted, "the health benefit of reducing cigarette consumption instead of quitting completely is unclear."
Public health researcher Noel Brewer of the University of North Carolina led a team that also questioned the application.
"Philip Morris's claim is misleading," they said. "For an exposure modification order, an applicant must demonstrate that consumers 'will not be misled' into believing the product is less harmful than another product. The study in the application by Philip Morris instead shows that consumers were misled into believing IQOS is less harmful than cigarettes," they said.
"Misleading 26 percent of the 36 million smokers in the U.S. means misleading millions of people. These messages could also mislead millions of susceptible nonsmokers, including adolescents. Clearly, Philip Morris has not met the requirements for an exposure modification order."
So-called consumer freedom groups urged the FDA to approve the application. "For the many smokers who want to quit using cigarettes, there is now genuine hope that this goal can be achieved," the right-leaning Heritage Foundation said in a statement supporting the application.
"These messages could also mislead millions of susceptible nonsmokers, including adolescents."
"By stepping out of the way, the FDA can fulfill its obligation to support tobacco and tobacco-alternative technological innovations, thereby allowing the market to do what decades of public health campaigns have failed to accomplish: provide smokers with satisfying alternatives to fully quit tobacco or practically eliminate tobacco-related harms," Michelle Minton of the Competitive Enterprise Institute said in her group's comments.
Congress gave the FDA the authority to regulate tobacco products in 2009, although the FDA may not ban them. Health groups have been clamoring for the FDA to crack down more on tobacco companies.
The Centers for Disease Control and Prevention says cigarettes kill 480,000 Americans a year, and tobacco use costs $170 billion in direct medical costs and $156 billion in lost productivity.
"Cigarette smoking among U.S. adults has been reduced by more than half since 1964, yet remains the leading preventable cause of disease and death in the United States. It kills more than 480,000 Americans each year," the CDC says.