New York state opened its first drive-thru coronavirus test site Friday in New Rochelle, the city that Gov. Andrew Cuomo has said has the biggest cluster of coronavirus cases in the country.
With 158 cases in Westchester County, many of them in New Rochelle, the city has become a hot spot not just for the outbreak but also for unique ways to track and minimize the spread of the virus. Earlier this week, Cuomo implemented a "containment zone" around a one-mile radius of the city as an emergency measure to limit movement in the area and shut down schools, houses of worship and other gathering places.
Full coverage of the coronavirus outbreak
The drive-thru test site is capable of testing up to 200 people a day at the moment and will eventually be able to test 500 a day, Cuomo said. Patients must make an appointment first; priority is given to New Rochelle residents but is open to anyone living in Westchester. People with underlying conditions or those who are elderly are considered more vulnerable populations and will get appointments first.
"You want to find the positive cases because you want to be able to isolate those positive cases."
"You want to find the positive cases because you want to be able to isolate those positive cases, and then find out who that person may have been in touch with so you can get them the assistance they need," Cuomo said at a press conference Friday. "This is a very creative way of testing."
New York is not the first state to do this. Locations in other states, including Colorado, Washington, California, Utah, Minnesota, Delaware and Indiana, have implemented their own drive-thru test sites this week or are in the process of setting them up. The sites aim to increase the availability of tests and are part of a greater effort by hospitals from coast to coast to contain the spread of the coronavirus.
Cuomo called the drive-thru approach "not only faster and easier, it's also smarter and safer."
"It's a new approach because these are all new problems," he told MSNBC after his press conference. "It keeps people in their car so they don't walk into an emergency room and infect other people."
Testing, Cuomo added, needs to become more widespread across the United States. On Thursday, a top public health official acknowledged America has failed to meet the capacity for coronavirus testing that it needs, an argument Cuomo and other lawmakers have made for weeks.
Download the NBC News app for full coverage of the coronavirus outbreak
"We have to get our testing numbers way up quickly if we have a shot at slowing the spread, and this is one of the ways we're trying to do it in the state," Cuomo said of the drive-thru center.
The swab for the test is done by medical professionals in personal protective equipment. Each appointment takes about 15 minutes, Cuomo said.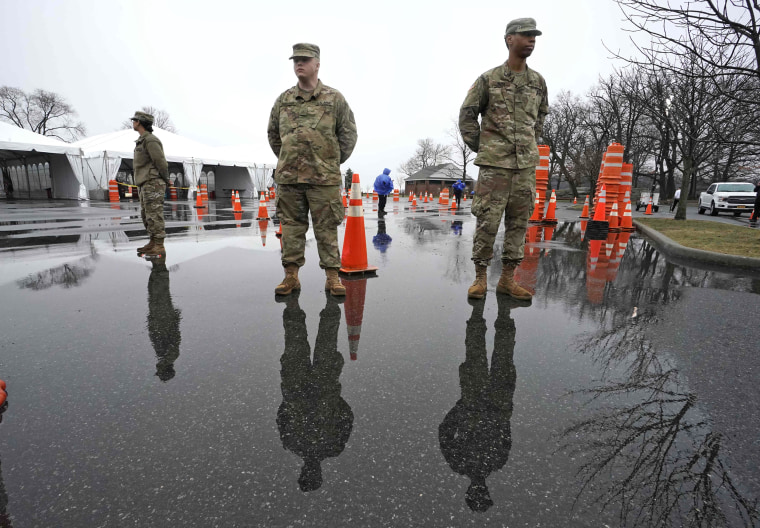 The drive-thru model follows what health care workers in South Korea were doing weeks ago, helping that nation become a leader in testing capabilities. South Korea is doing 10,000 tests per day, while the U.S. has struggled to do a fraction of that in total.
The drive-thru tests in South Korea are free and paid for by the government. In America, places like the Mayo Clinic have said they will offer the drive-thru test at no additional charge.
But the rollout has not been without hiccups. A drive-thru center in Denver was closed due to bad weather Friday. And in Wilmington, Delaware, there was such a long line of cars, health care workers were not able to test everyone.
Follow NBC HEALTH on Twitter & Facebook.