Dr. Suha Abushamma, the Cleveland Clinic trainee who was deported under President Donald Trump's immigration executive order, is back in Cleveland.
It took a team of immigration lawyers, the New York attorney general's office, a lawsuit and the celebrity power of the noted clinic to do it, but the Saudi-born Abushamma was quietly whisked through John F. Kennedy International Airport in New York on Monday, the clinic said.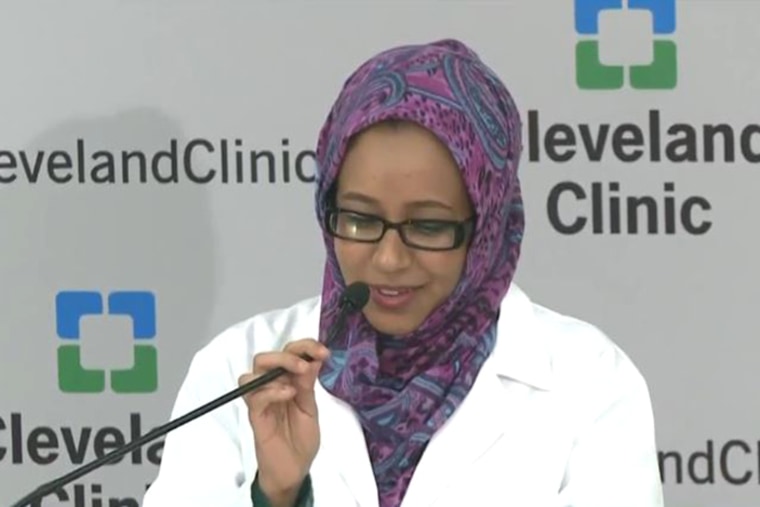 Abushamma was detained Jan. 28 after Trump's executive order stopped the entry of people from seven mostly Muslim countries into the United States. Abushamma, who carried a passport from Sudan, was sent back to Saudi Arabia, where she had been visiting her family.
David Leopold, an immigration lawyer who represents the clinic, said he and other lawyers started working on Abushamma's behalf even as she sat in detention at the airport Jan. 28.
"We are so lucky to have her, and she is among the best and brightest there is in the world."
They've been able to get her back because a federal judge in Washington state stayed Trump's order. Immigration officials stopped enforcing it.
"What we saw in the past 72 hours was a window, and we grabbed it," Leopold said. He said that Abushamma was forced to give up her visa but that she has a new H-1B visa that allows people with special skills to enter the United States.
Related: You're Scaring Away Our Greatest Minds, CEOs Tell Trump
"I'm beyond thankful for your support," Abushamma said at a news conference as the Trump administration fought to get the order reinstated.
The cheerful, bespectacled Abushamma is one of faces of a medical and scientific community outraged by Trump's order, which they say is not only unlawful but also unnecessary. Biotech chief executives, Nobel Prize winners, prominent scientists and doctors have all pressed the administration to back off.
Related: Respect Science, Scientists Urge Trump
"I chose medical training here in the United States because it's the best training in the world," Abushamma said. Medical leaders say immigrants like Abushamma pay back their training many times over by taking care of patients, starting up new companies and bringing fresh brainpower and talent to the country.
Trump's order stopped refugees and other legal migrants, along with residents and visitors, from Iraq, Syria, Sudan and other countries deemed at high risk of terrorist activity.
Related: Scientists Are Mad About Trump's Policies
Abushamma sued the federal government over her treatment, but lawyers said she is dropping the suits.
"She is a delightful, smart, warm doctor who is the top of her class. We are so lucky to have her, and she is among the best and brightest there is in the world," Cleveland Clinic spokeswoman Eileen Shiel told NBC News.
"She is amazing. She is a great doctor. She will be an amazing doctor. "