The Centers for Medicare and Medicaid Services issued new guidelines Wednesday for nursing homes to help stop the spread of coronavirus within facilities.
They come just a day after NBC News wrote about the criticisms the Trump administration faced after it tried to roll back regulations aimed at preventing infections from spreading in nursing homes.
To date, five of the deaths caused by coronavirus were among patients at the Life Care Center nursing home near Seattle.
Seema Verma, administrator of the Centers for Medicare and Medicaid Services, or CMS, made the announcement with Vice President Mike Pence, saying the guidelines aim to "focus on complying with new standards to keep our elderly safe."
The new rules include deploying 8,200 surveyors to 15,000 nursing homes across the country to ensure that the facilities are following infection control protocols.
CMS also recommends that nursing homes question staff and visitors about their recent travel to countries with known cases of the coronavirus illness, COVID-19, and possible respiratory symptoms visitors might have.
The guidelines also explain the process for transferring patients with possible or confirmed cases of COVID-19 between nursing homes and hospitals.
The agency will send an infection prevention specialist to the Atlanta headquarters of the Centers for Disease Control and Prevention "to assist with real-time in guidance development."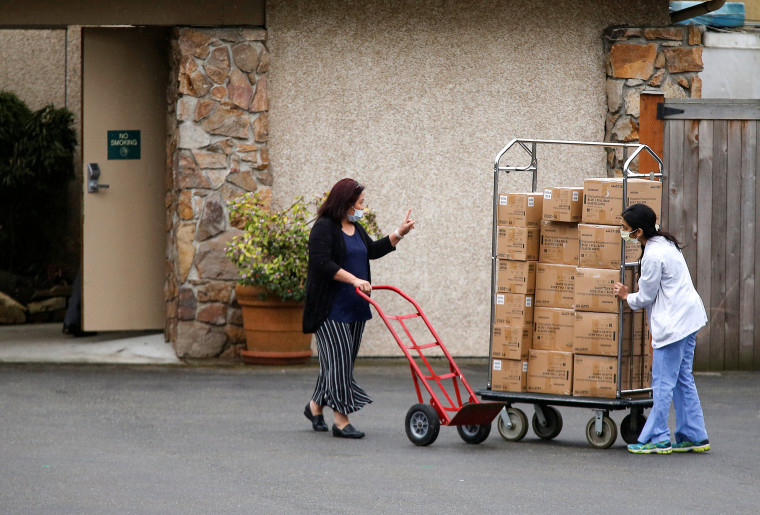 The American Health Care Association, a trade group, said it was "pleased the administration is stepping up to help us in this cause."
The organization said the new guidelines "place a greater emphasis on infection control," which will allow health care workers to "better protect residents and employees."
Full coverage of the coronavirus outbreak
After the announcement, Verma tweeted that the new measures "focused on protecting American patients & residents by ensuring #healthcare facilities have up-to-date information to adequately respond to #COVID19 concerns, while reminding providers they will be held accountable for infection control standards."
NBC News reported last summer that fines for problematic nursing homes declined by 34 percent from 2017 to 2018 under the Trump administration.