Even though Jayne Marlink has gone through cancer, a mastectomy, a hysterectomy and several other serious health scares over the last decade, she never felt the urgency to put together an advance health directive advising her son what to do in case she didn't pull through.
But last week, as she watched the coronavirus pandemic rapidly unfold from her home in California, where over 1,000cases of COVID-19 have been counted, she wrote down her last wishes.
The possibility of prolonged sickness or even death from COVID-19 triggered an urgency in Marlink, 67, a retired educator from Sacramento.
"I'm vulnerable and I'm in that target age, and I knew I had to get this end-of-life stuff done," she said. "This has put me face-to-face with my responsibility and what I need to do to make things easier for my son should anything bad happen.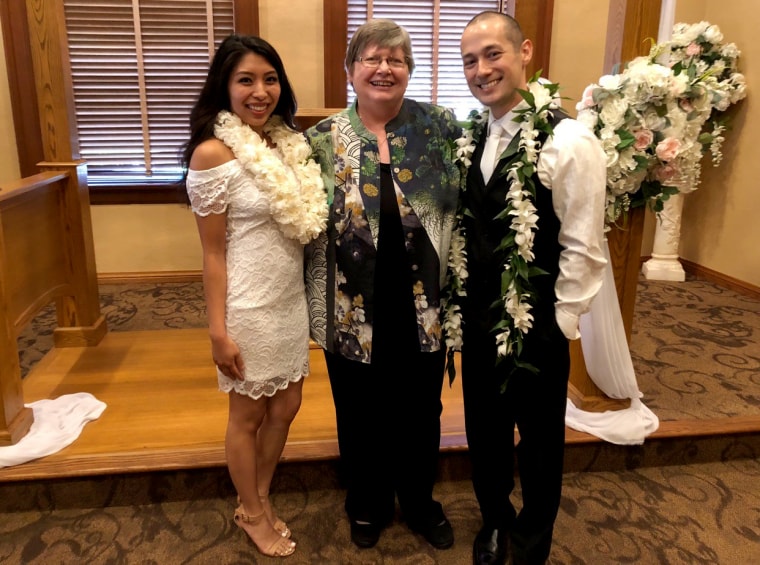 "Before, it was always a conversation my son and I put off, but we finally realized that this is a conversation we need to have now," she added.
Similar sobering realizations surrounding mortality have hit scores of individuals who have been voicing their intentions to write medical directives, guardianship designations and other legal contingency plans on various social media outlets over the last two weeks.
"Filling out an advance directive this week knowing that I won't survive catching coronavirus is the most depressing and surreal thing I've done in a while," tweeted Camille Pinsonnault, 22, a college senior at Oregon State University who has Crohn's disease.
"We just downloaded legal templates and also created an emergency document with all pertinent info this past weekend. Horrible, but also made us do a necessary evil #adulting," tweeted another user.
"When you have concern about a pandemic of unknown proportions and you compound that with a near-collapse of the economy around us, you can understand why people are focusing on these more personal, intimate and highly consequential issues," said Edward Beckwith, an attorney at BakerHostetler law firm and an adjunct professor of estate planning at Georgetown University Law School.
The concerns span beyond just those who are vulnerable and fear the virus could terminally escalate existing health concerns. They resonate in parents of young children, people with families who live abroad and those who are on the frontlines of treating the illness.
"I don't think that people need to freak out that they are going to die, but realistically we need to be better prepared for those negative events that do happen in life," said Chelsea, 33, an emergency room nurse in Colorado who wanted only her first name used to protect her privacy.
Chelsea recently updated her advanced directive in response to the outbreak because she will very likely care for a COVID-19 patient at some point.
"Healthcare workers in China were having a much higher prevalence of the virus, so it's just sensible for me to have everything ready," she said.
Advance directives are extremely helpful for doctors and other medical professionals, said Dr. Kathy Neely, a professor of medicine at the Feinberg School of Medicine at Northwestern University.
"In the context of the COVID-19 pandemic, it's really important for everyone to decide who the person is that they trust most to make medical decisions if they couldn't make those decisions themselves," she said. "A lot of us are going to get sick, and some of us are going to need that kind of decisionmaking. That's a choice we all get to make while we're thinking clearly, so that choice should be thought through right now."
The complexity of illness for patients infected with COVID-19 makes it exceedingly important to have a partner in medical decisionmaking that can take in the decisions. Neely added that having advanced directives "gives clarity" and helps doctors appropriately counsel patients and medical decision makers.
"This is not a topic people come to joyously, very few people look forward to facing their own mortality," said Beckwith, who counsels clients on estate planning. "But now is a good time, when people are focused, to get everything in order."
Beckwith recommends compiling beneficiary designations, life insurance policies, a list of passwords, key contacts, medical professionals and financial advisers in one place so someone who needs access to that information can find it easily.
He said it may be helpful to have a legal professional advise and draft these documents remotely.
Samira Bhatia, 48, who lives in central Ohio, suffers from chronic lung problems and worries about what would happen to her three children should she and her husband, a family practice physician, contract COVID-19.
"I may be one of those people that don't weather it well," she said.
Bhatia said that with both their extended families living abroad, she had a conversation this week with a close friend about becoming their children's legally designated caretaker should circumstances turn bad.
"I've wanted to do this for a long time and with what's going on, it's sort of the kick in the pants I needed," she said. "I guess it's been a kick in the pants for everyone."
CORRECTION (March 22, 2020, 11:50 a.m. E.T.): An earlier version of this article misspelled the name of an attorney at the BakerHostetler law firm and an adjunct professor of estate planning at Georgetown University Law School. It is Edward Beckwith, not Edward Beckworth.