Federal health officials confirmed on Friday that norovirus was the culprit that sickened nearly 700 people on a cruise ship this week, and said it was one of the biggest norovirus outbreaks in 20 years.
But the source of the outbreak on the Royal Caribbean ship Explorer of the Seas, which returned early to New Jersey on Wednesday, may never be known, the Centers for Disease Control and Prevention said.
"CDC has been investigating the outbreak since last Sunday but no particular source has been identified and it's quite possible a source won't be identified," the CDC said in a statement.
The report comes after passengers streamed off the Caribbean Princess Friday morning, the second cruise cut short this week amid reports of illness on board.
The ship, operated by Princess Cruises, returned to Houston a day early with a confirmed outbreak of norovirus. But spokeswoman Julie Benson told the AP the ship only returned early because of dense fog.
At least 173 people on board fell ill during the cruise, according to the cruise line and the Centers for Disease Control and Prevention. Sick patients were quarantined to their rooms, and other passengers said they no longer had access to buffet tongs as crew members handed out hand sanitizer.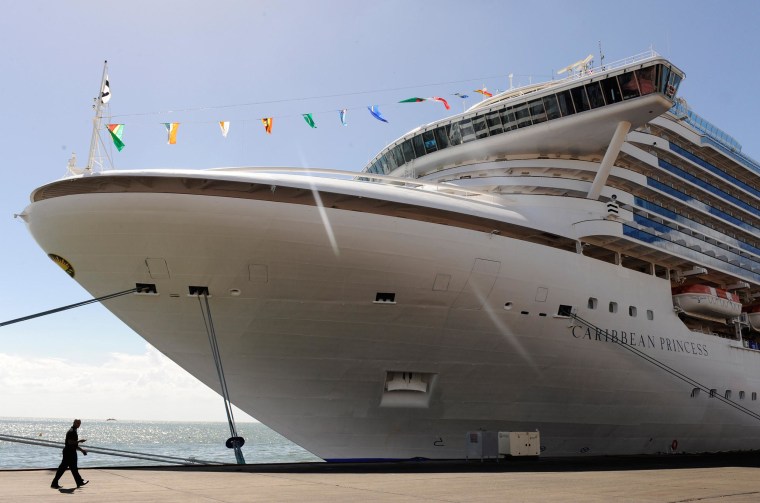 CDC health officials met the Caribbean Princess at the Bayport Cruise Terminal in Pasadena, Texas. The vessel launched on a seven-day cruise to the western Caribbean on Jan. 25 and had been scheduled to return on Saturday.
The infections follow a larger outbreak of illness on the Royal Caribbean ship Explorer of the Seas, which returned early to New Jersey on Wednesday after a fast-moving stomach bug sickened nearly 700 people.
This is the third cruise ship outbreak to occur this year alone. A Norwegian Cruise Line ship, the Norwegian Star, reported that 130 passengers and 12 crew members fell ill on two-week cruise that launched Jan. 5 from Miami.
About 20 million passengers take cruises in the U.S. each year, fueling a $37.8 billion annual industry, according to the American Association of Port Authorities. There were nine vessel outbreaks in 2013 and 16 in 2012, according to the CDC.
Norovirus is a common culprit in outbreaks on cruise ships, in nursing homes and other confined places. It is a fast-moving gut bug typically spread by infected people or contaminated food or water. Norovirus is the most common cause of acute gastroenteritis in the U.S., resulting in about 21 million illnesses, between 56,000 and 71,000 hospitalizations and as many as 800 deaths, the CDC says.
The virus lingers on surfaces and spreads very easily. Thorough handwashing with hot water and soap and meticulous environmental cleaning can help stop the spread.
-KPRC's Amanda Perez and The Associated Press contributed to this report.