The U.S. State Department extended late Friday the deportation deadline for a comatose exchange student, granting the Pakistani man an extra month in America, a lawyer handling the student's immigration status confirmed to NBC News.
But from his bedside at a Duluth, Minn. hospital, the family of Shahzaib Bajwa, 20, vowed only to dig in for a long immigration fight.
Bajwa, severely injured in a November car accident, entered the United States last August on a student-visa stay set to end Feb. 28. State Department officials pushed the expiration of his J-1 visa program to March 28, said Saiko McIvor, an immigration attorney hired by the Bajwa family.
"We still want Shahzaib to be here (in the United States) until he recovers," said his brother, Shahraiz Bajwa.
On Thursday, the student's brother accused doctors at Essentia Health-St. Mary's Medical Center of pressuring him and his mother to return the exchange student to Pakistan amid his unpaid medical bills, which now exceed $350,000.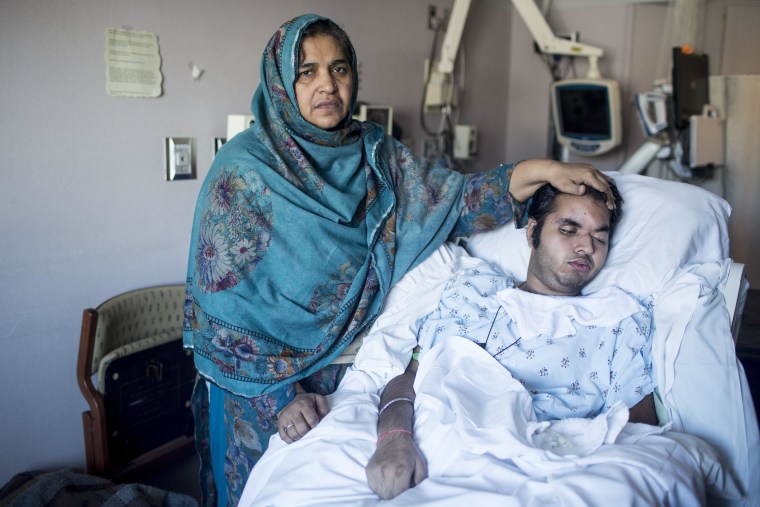 The brother and mother have been holding daily vigil in the hospital room since late last year, refusing to sign a discharge consent form, they said, adding they fear Bajwa will not survive a return to Pakistan.
A hospital spokeswoman has said patient-privacy laws prevent her from addressing the family's claim and only allow her to report that the exchange student student is in fair condition.
Bajwa has regained the ability to open his eyes, shrug his shoulders, wiggle his toes and squeeze his mother's hand, albeit inconsistently, his family said.
He was enrolled in a one-semester anthropology program at the University of Wisconsin-Superior before a car in which he was a passenger struck a deer. His family came to the U.S. on visitors' visas. His travel insurance was capped at $100,000 for emergency medical care.
To help cover his brother's medical expenses, Shahraiz Bajwa launched a GoFundMe page. In 10 days, more than 1,600 people have donated nearly $135,000. The family hopes to raise $300,000.