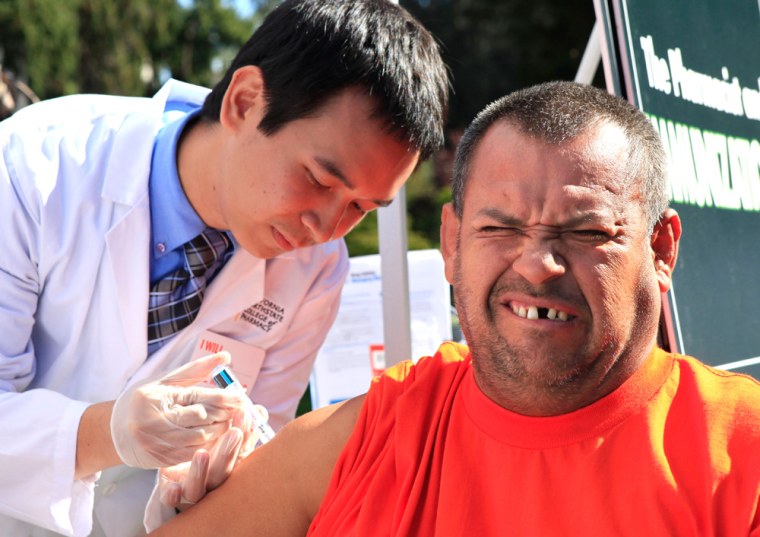 It's been a remarkably mild flu season so far this year, with far fewer reports of the fever, coughing, aches and pains that usually make winter so miserable.
Of the laboratory samples sent to the Centers for Disease Control and Prevention through the second week of January, only about 3.7 percent have come back positive for flu, compared with about 26 percent of those tested at the same time last year, records show.  
Visits for flu symptoms are only about half the national baseline, and when CDC plots the spread of flu on a national map, it shows only minimal or low flu-like illness nationwide.
So far, Colorado is the only state to report even regional flu activity, and local activity has been reported in eight states. Everywhere else has reported only sporadic flu activity -- or none at all.
But even the mildest flu season doesn't mean people should be complacent about getting vaccinated against the bug, experts say.
Those who haven't gotten their shots yet probably still should, said Dr. Neil Fishman, an associate professor of medicine and infectious disease and associate chief medical officer of the University of Pennsylvania Health System.
"I think we have yet to see the peak," he added.  "Influenza can be a serious disease resulting in anywhere from 36,000 to 43,000 deaths each year. So I would still get vaccinated.'
Flu seasons are quite variable and can start as early as October and run as late as May, according to the CDC. They often don't peak until February.
But statistics show that most people who are going to get vaccinated do so by the holidays, with only about 20 percent of all flu shots doled out between December and May. About 36 percent of people in the U.S. older than six months had received flu shots by early November, according to the CDC. That was slightly more than the same time last year.
There are two theories as to why this season seems so mild, Fishman said. One  --  which would predict little increase -- is that we're benefiting from an increased rate of vaccinations in children.  In fact, about 37 percent of kids had been vaccinated by November, up from about 31 percent the previous year.
The other theory is that the season just hasn't really kicked off yet. If that's true, some folks who thought they could get by without a flu shot this year might wish they'd gotten the jab after all.
While there was a time that the CDC suggested flu shots only for people at especially high risk, the agency currently recommends the vaccine for anyone over 6 months of age.
That change in recommendations hasn't percolated down to average Americans, though. Many still think the annual flu shot is just for the very old and those with respiratory conditions.
One clear sign of that complacency comes from a study of the response to the swine flu in 2009. Even when the nation was obsessing over that version of the flu, just 1 in 5 adults aged 36 to 39 actually got vaccinated in 2009, according to a new University of Michigan report that looked at the flu-related behaviors and attitudes of Generation X.
Many reported being concerned about the bug, but that didn't translate into high rates of immunization against a flu that was especially dangerous among children and young adults.  The author of the study suspects the low rate of immunization is related to how we've come to view the flu.
"I think historically young people think the flu affects older people," said Jon Miller, director of the longitudinal study of American Youth at the University of Michigan's Institute for Social Research. "Most people in Generation X have never experienced a major epidemic of any kind."
Fishman hopes to see a change in people's attitude towards flu vaccinations.
"This is still the largest cause of vaccine-preventable death in this country," Fishman said.
 Related stories:
Whining wanted: Project tracks flu one sneeze at a time
Get your shot! Swine flu may cause baldness
New flu virus in three Iowa kids raises concern about wider spread