LONDON — Doctors in the United Kingdom have said they are "desperate" for safety equipment and are worried that the government's failure to introduce widespread COVID-19 testing for health care workers could allow infections to spread across the country's hospitals.
In interviews with NBC News, several doctors laid bare their professional and personal concerns amid efforts to beat back the coronavirus pandemic, as the U.K. death toll continues to rise. On Thursday the country recorded 569 deaths in a 24-hour period, compared to 563 a day earlier.
According to health care professionals, the government must do more to protect the country's National Health Service (NHS) and its vast workforce.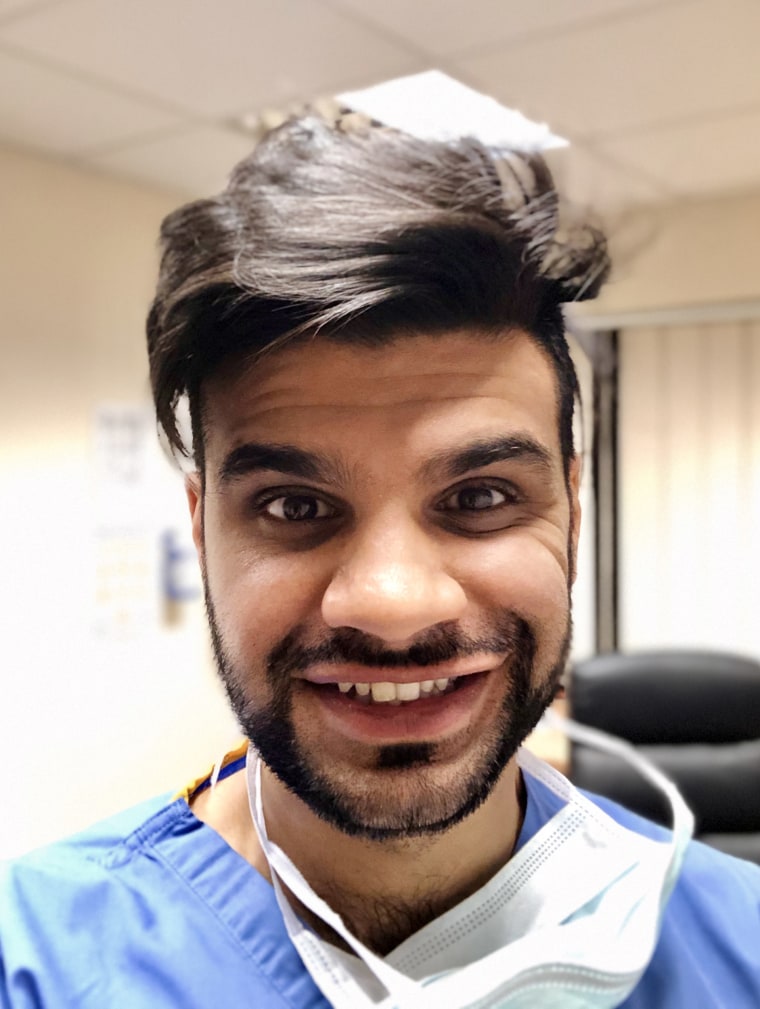 Mohammed Abbas Khaki, 34, a primary care physician from north London, recently worked more than two weeks straight, with much of his focus on treating COVID-19 patients.
"Front-line health care workers are desperate for the right and safe equipment to ensure they can continue working as hard as they possibly can to support patients and all of the health care service safely," he said.
Shortfalls in personal protective equipment, or PPE, have forced some doctors and nurses in the U.K. to purchase their own gloves, masks, eye protection and aprons to guard against infection.
Private sector companies and members of the public have stepped in to provide such items to those in need, because bottlenecks in production, centralized storage and final-mile delivery issues have hampered the distribution of government provisions.
"As much effort can be done to expedite that process, and to provide the correct personal protective equipment, is absolutely key at the stage," Abbas Khaki said.
The U.K.'s socialized health care system, run by the NHS, has become a treasured institution in the U.K. in the decades since its foundation.
Full coverage of the coronavirus outbreak
Its funding levels are endlessly debated during election cycles, the opening ceremony of the 2012 London Olympics featured a prominent tribute to it, and last Thursday quarantined Britons applauded and cheered NHS staff from doorsteps and windows across the nation.
During the current crisis the government has unveiled a behavioral mantra, "Stay Home, Protect the NHS, Save Lives," which is repeated frequently by ministers during broadcast interviews and plastered on billboards alongside major roads.
Dr. Inayah Zaheen, 27, who is training as a primary care physician, described a "palpable sense" of anxiety among some of her colleagues because they consider their own protective clothing inadequate.
"They're within the zones and it's full of coronavirus, and they themselves might have health conditions, they themselves might be on medication or can be considered vulnerable members of the population," she said.
Zaheen, who calls herself a "foot soldier" in the fight against coronavirus, blamed several years of "chronic underfunding" in the NHS along with a "complete lack of efficient resources," and emphasized the challenges British doctors face compared to their counterparts elsewhere.
"You see pictures of China and other countries, and what their personal protective equipment looks like. And it's just completely different," she said.
After an increasing barrage of public criticism, the U.K. government has acknowledged in recent days the need to accelerate delivery of necessary items.
"We will continue to do as much as we can, to get more of this equipment to the front line," said Alok Sharma, government spokesperson and business minister during a daily televised news conference from the prime minister's residence at No. 10 Downing Street on Wednesday evening.
He said more than 390 million PPE products had been dispatched to health care facilities over the past two weeks.
But despite these stepped-up logistical efforts, doctors, nurses and other hospital staff remain afraid.
"We're not anxious about illness. We're not anxious about people passing away, because that is something that we've signed up to," Zaheen said. "What we haven't signed up to do is to essentially go into a battlefield without adequate protection."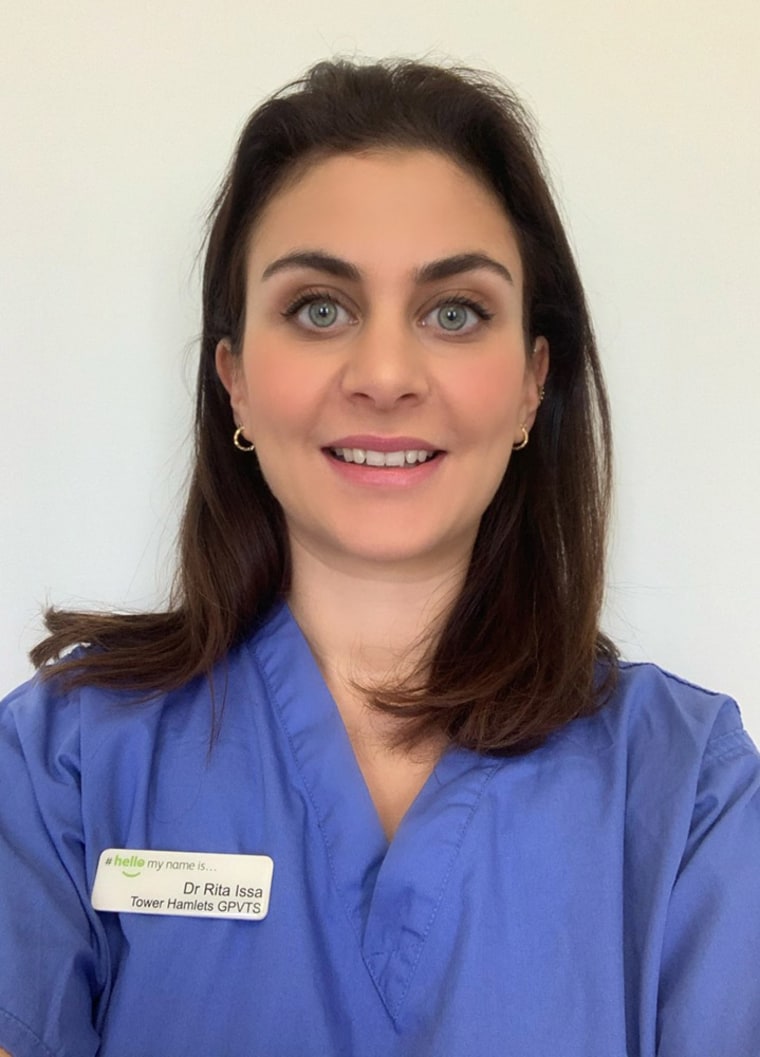 Dr. Rita Issa, 31, who has worked overseas for the World Health Organization and Doctors Without Borders, was treating patients in the east central London neighborhood of Tower Hamlets until she began to exhibit symptoms associated with COVID-19.
"We don't want to be heroes, necessarily, we're just doing our jobs," she said. "While we're doing our jobs, I do think that the sort of quite appropriate response to that, is just ensuring that we are safe and protected."
Issa said health professionals like herself face a higher risk of infection because they are in regular, close contact with potential carriers, and that may introduce a concentrated dose of the virus into their systems.
"It means that they might be less able to mount a proper and sufficient immune response to be able to tackle or fight the virus in themselves," Issa said.
The only way to confirm infections among health workers is through tests, and these too have been in short supply.
Download the NBC News app for full coverage of the coronavirus outbreak
The government, led by Prime Minister Boris Johnson, who is himself working in self-isolation after contracting COVID-19, acknowledged Wednesday that just 2,000 of the 500,000 workers inside the National Health Service had been tested for COVID-19.
Professor Yvonne Doyle, the medical director of Public Health England, told a news conference Wednesday that staff who had been close to the sickest patients would be the first to be tested, and that authorities hoped to ramp up in the coming weeks from thousands of tests each day, to hundreds of thousands.
With a significant portion of the NHS workforce currently at home in self-isolation or under quarantine with unwell family members, this failure to test is placing the system under further strain.
"I know that potentially I could be infecting patients or staff, and potentially having devastating consequences, changing and closing a whole surgery or a hospital," Abbas Khaki, the doctor from north London, said.
"By getting these tests out," he continued, "we can get more staff tested, and the ones who are healthy can go back to work."
Issa said she still has "a huge amount of faith and trust both in the NHS and also its workforce to really pull together around this."
"But there will also be many lessons for us going forwards."