Dr. Francisco Tejerina is exhausted after working 80 hours a week, and he's certain his workload will only increase.
A doctor of internal medicine who specializes in infectious diseases, Tejerina, 40, says he snatches the odd moment of sleep in the on-call room at Gregorio Marañón hospital, the largest in Madrid, Spain's capital, during a 24-hour shift. Several times a week he collapses into a temporary bed in the living room of his small apartment. His wife, also a doctor, and a caregiver sleep alongside their two young children in next-door bedrooms.
"It's quite difficult to deal with this," he said of the deluge of COVID-19 patients that has overwhelmed the hospital's wards and doubled his working hours at a time when hundreds of staff members are themselves stuck at home, fighting the virus and unable to help.
"This week and the next week are going to be really bad," he told NBC News in a late night phone call, predicting that the number of patients needing to be hospitalized will not begin to fall anytime soon. "That's not realistic. Our politicians are expecting that, but it's not the reality."
Full coverage of the coronavirus outbreak
Spain is in crisis, with the coronavirus having killed more than 9,000 people and sickened more than 100,000 as of Wednesday. The death toll is second in the world only to Italy, where nearly 12,500 have died. NBC News spoke to almost a dozen doctors on the front line of the war against the pandemic in Spain. Many said that they were physically shattered and that the endless stream of patients had desperately affected their colleagues' mental well-being.
"There are lots of young doctors that are overwhelmed by this," Tejerina said. "You see people crying once a week."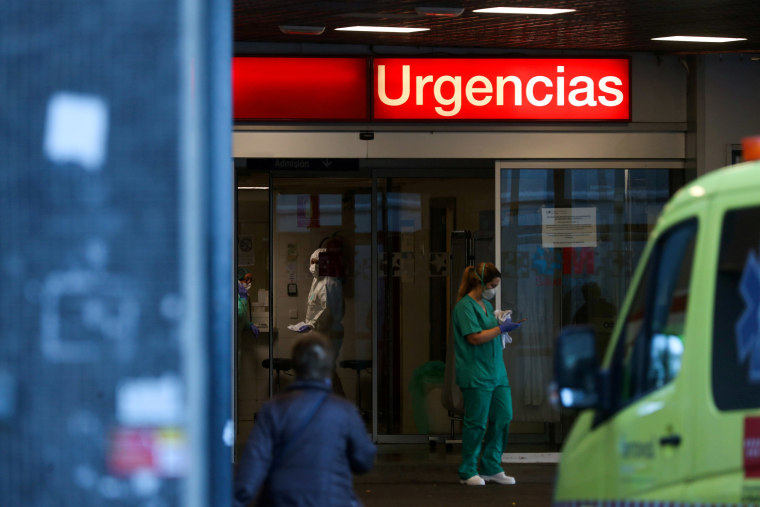 The pandemic has put an enormous strain on Madrid itself, with hundreds of city residents dying each day. Authorities have been forced to erect vast field hospitals for the thousands of spillover patients, and even converted a popular ice rink into a morgue.
Dr. Juan Jorge González-Armengol, 55, who directs the emergency room at the city's 900-bed San Carlos hospital, said he had seen a "huge avalanche of patients that would collapse any health care system, however good it is."
The pandemic was a "catastrophe by definition, it is a destruction of the city," he said, and described the coronavirus as the combination of a sprinter and a long-distance runner. He called the response "a race against time."
"This is a war, the entire country against this biological agent."
He said Spain and other European countries were simply unprepared.
"I don't see the end of this yet," he added. "The results of that is very many dead."
The vast majority of arrivals at the city's hospitals are now COVID-19 cases, and Tejerina says that, based on his experience at Gregorio Marañón, roughly half will require hospitalization. Around 1 in 10 will need urgent critical care, but the shortage of beds is severe.
"It's impossible to open enough," he says. "You don't have space for them. It is fully packed."
He describes the constant pressure of decision-making, deciding which individual needs a ventilator immediately, and who might survive a six- or seven-hour delay until one frees up.
"While they are waiting, they will collapse, and you will have to do intubation, but in the worse scenario they have a cardiac arrest," he explains. "It's not happening a lot, but it's not something rare. It's not exceptional."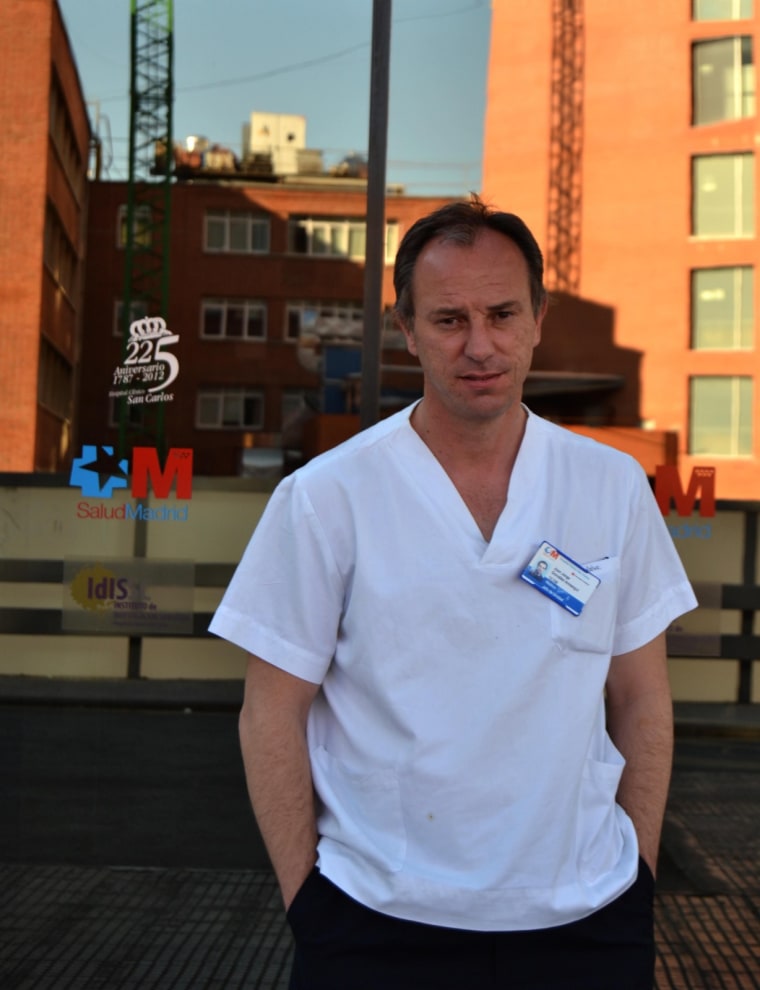 Dr. Pablo Barreiro, 50, is an infectious disease specialist who usually works at a high-level isolation ward inside La Paz hospital, but he was recently tasked with helping oversee the treatment of patients at a 5,000-bed field hospital inside one of the city's converted conference centers.
He says isolation measures ought to have been adopted earlier, and the country's health care system should have been better equipped and prepared based on events in first China and then Italy.
"We could have had more intensive-care-unit beds for them, so ventilation could have been given to more patients, and this would have saved lives," Barreiro said.
The lack of readiness has left experienced infectious disease doctors like himself trying to juggle patients and logistics, while also working to stay on top of the latest global research on drug development and treatment options.
"We have to be there, nobody else can do it," Barreiro said.
Dr. Teresa Aldamiz, 39, who works on Gregorio Marañón's infectious disease team, said that she had never seen a mortality rate this high and that she feels useless against the virus.
"In terms of our morale, we are very dark about what's going on," she acknowledged. "It's not the way that we used to think our profession should be run."
Her colleague Montserrat Jimenez, 50, called her work inside the hospital in recent weeks an "extraordinary" experience. "It feels like combat medicine," she said. "Emotionally, psychologically, it's hard, because from the beginning, we did not anticipate this, we were improvising day by day."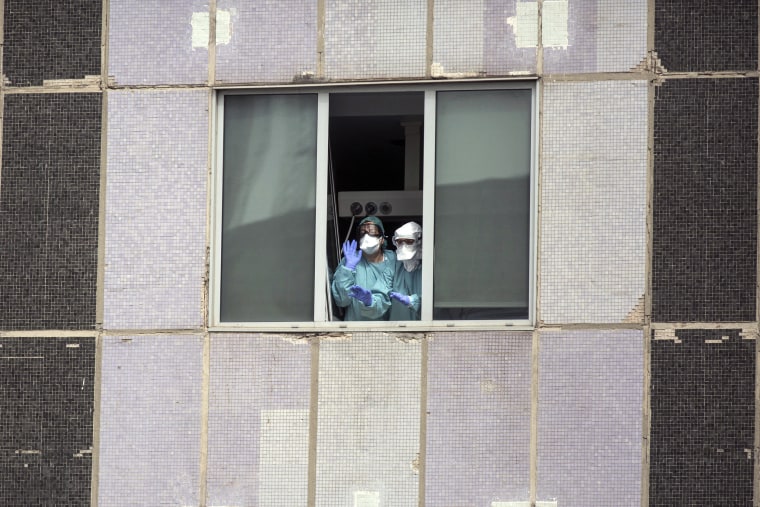 There is one thing doctors can look forward to, though, despite the long days and elevated stress levels, and that is the country's nightly public applause for health workers. Even senior medical officials say they draw encouragement from the noisy appreciation they hear across Spain from front doors, balconies and terraces every night at 8 p.m.
"It's completely emotional," says Carlos Artundo, 65, the general director of health for the Navarre region in the country's north, who is working at home in isolation and spends long days on conference calls making difficult decisions about his staff and resources. "I receive strength and a lot of good energy to continue to work."
"It is very clear they have to fight this pandemic," he says of the hundreds and doctors working under his direction. "Ultimately it is the health system that has to cope with the situation, and resolve the situation."